WASHINGTON ― Sixteen Democrats released a letter Monday pledging not to support House Minority Leader Nancy Pelosi (D-Calif.) to be speaker of the House. But while the letter indicates that Pelosi has a math problem, there are already signs she may be able to overcome the opposition.
Fudge's office has not responded to a request for comment, but after Fudge met with Pelosi last week, it's possible the minority leader won her over. It's also possible ― as one Democratic staffer involved in the efforts to dethrone Pelosi theorized ― that Fudge wants to look more deferential as she prepares for a speaker run herself. Rep. Tim Ryan (D-Ohio), whose name is on this letter, removed himself from a letter in 2016 that sought to delay leadership elections when he ran against Pelosi for the minority leader position to make it look less like the letter was about his bid for the position.
Either way, the letter also includes the signatures of Ben McAdams (D-Utah) and Anthony Brindisi (D-N.Y.), whose races haven't been called, meaning it's possible there are only 14 Democrats effectively pledged against Pelosi at the moment. She's likely to overcome such a threshold, depending on how large the Democratic majority shakes out to be. (Brindisi is expected to eventually win, while McAdams looks more likely to lose.)
Pelosi needs 218 votes on the House floor to be elected speaker, and the Democratic majority is expected to consist of around 234 members. The number of votes she needs could also change if some members vote "present," thus lowering the majority threshold. In effect, a "present" vote would be a half-vote for Pelosi, and Pelosi could convince some Democrats now opposed to her to vote "present" ― or get some moderate Republicans to do it.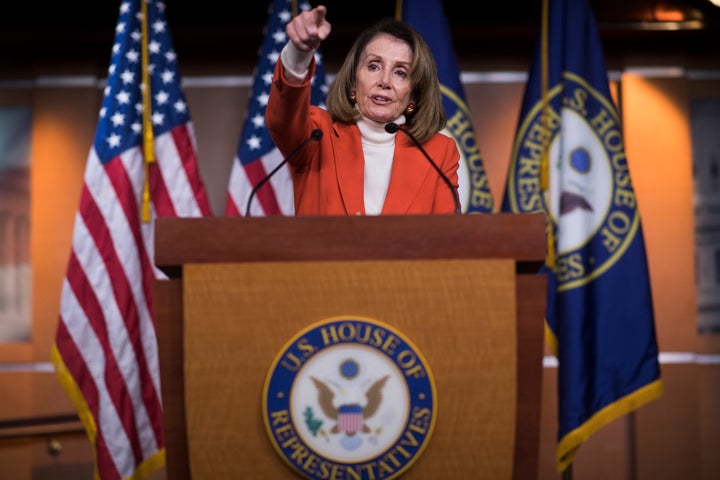 There are other Democrats who have also signaled strong opposition to Pelosi. Conor Lamb (D-Pa.), Abigail Spanberger (D-Va.) and Jason Crow (D-Colo.) have all repeatedly said they won't vote for her, and still others ― Mikie Sherrill (D-N.J.), Haley Stevens (D-Mich.), Elissa Slotkin (D-Mich.) and Jared Golden (D-Maine), whose race also hasn't been called ― have suggested they won't vote for her, though in less certain terms.
It's notable that those Democrats ― all incoming freshman with the exception of Lamb ― didn't sign the long-touted letter. They may be less solid in their opposition to Pelosi than many may think, and they may also be looking to avoid the backlash the letter is certain to bring.
The letter is signed mostly by white men, with the exception of Kathleen Rice (D-N.Y.) and Linda Sanchez (D-Calif.). Democrats opposed to Pelosi have already been slammed on Twitter for their opposition to the only female speaker to ever serve, and the hashtag #FiveWhiteMen ― though factually inaccurate ― has become a calling card of the backlash.
Pelosi allies were quick to jump on the letter Monday as proof that Pelosi will overcome the challenges.
"If your strategy relies upon Nancy Pelosi giving up, you will lose every single time," a senior Democratic aide told HuffPost. The aide also pointed out that 94 percent of the Democratic caucus didn't sign the letter.
Other Democratic aides also pointed out that the letter is vague. At 153 words, it doesn't say much other than that these members are committed to voting for "new leadership in both our Caucus meeting and on the House Floor." It doesn't vow to never support Pelosi, say, if there is a second or third ballot. And the letter actually praises Pelosi as a "historic figure whose leadership has been instrumental to some of our party's most important legislative achievements."
But Pelosi does still have a math problem.
Even with Fudge off and some Democrats shaky, the opposition is still enough at this point to block Pelosi from being speaker. She will have to flip some Democrats, and flipping those incoming freshmen means asking them to go back on the promises they made to their constituents during their campaigns that they would not back Pelosi. Those Democrats, many of whom are in Republican-leaning districts, are being asked to go back on their word within the first hour they're in Congress.
The alternative is to get incumbents from safer districts ― like Tim Ryan (D-Ohio), Seth Moulton (D-Mass.) or Bill Foster (D-Ill.) ― to flip. But that seems even more unlikely.
The last alternative is to rely on Republicans to get over the finish line. In a typically trollish move, President Donald Trump tweeted that he could get Pelosi the votes she needs from Republicans. "She deserves this victory, she earned it," he said.
But making a deal with Republicans to get the votes would also give Republicans effective veto power over a Democratic speaker, and a motion to vacate the chair could theoretically be called at any time. Such a situation is certainly one Democrats would like to avoid.
Pelosi, for her part, has signaled confidence throughout this whole experience that she will be elected. She said last week that she wouldn't need Republican votes and taunted Fudge about potentially running.
"Come on in, the water's fine," Pelosi said.
CORRECTION: A previous version of this article misidentified Jared Golden as a candidate in Colorado. He ran in Maine.
Calling all HuffPost superfans!
Sign up for membership to become a founding member and help shape HuffPost's next chapter