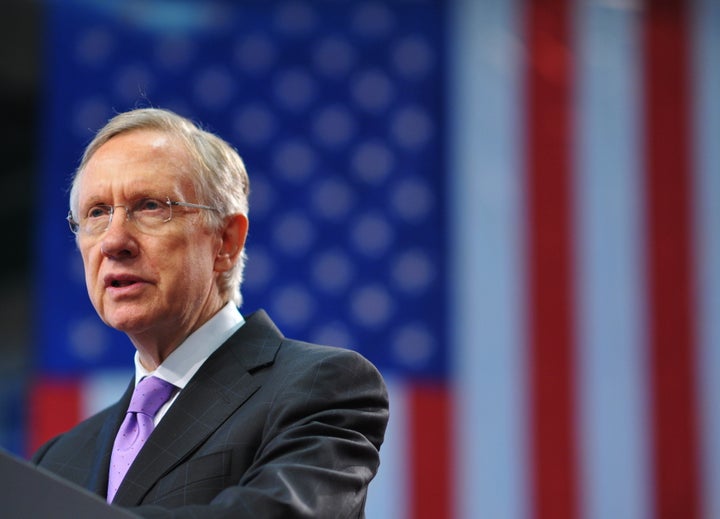 Senate Democrats are looking to punt the tax-cut debate past the November elections, facing pushback from Democrats facing re-election in 2010 who worry about getting tagged with raising taxes on small businesses, senior Democratic aides say. The party gathered Thursday afternoon for a caucus-wide meeting to set the pre-election agenda.
Democrats emerged from the meeting mostly mum about what final decision had been reached, though Sen. Tom Harkin (D-Iowa) said it was "generally accepted" that no vote would be taken before the election.
Sen. Dick Durbin of Illinois, the number two Democrat, added that "the likelihood of our passing anything by way of tax extensions is very, very slim." Like many of his colleagues, however, he said no final decision was reached. "Harry will make the final decision," Durbin said.
The White House has been pushing hard for such a vote, circulating polling showing that a majority of Americans, including wide margins of independents, support extending the middle-class tax cuts. Ultimately, though, Democrats up for election feared an assault from the GOP that the party was raising taxes on "small businesses," even though a vanishingly small portion of those who would face a tax hike are real small businesses. But, in an age of 30-second commercials, it only takes one to stare into the camera and lament the effect of the tax change on hiring.
Two members of Democratic leadership -- Majority Leader Harry Reid (D-Nev.) and Sen. Patty Murray (D-Wash.) -- are facing tight races, as are Sens. Russ Feingold (D-Wisc.), Michael Bennet (D-Colo.) and Barbara Boxer (D-Calif.).
Two Democratic aides said that Feingold has been arguing behind the scenes that the vote should not be held before the election, but a Feingold aide denied that charge, saying that his boss isn't afraid of the vote. "Senator Feingold has informed Majority Leader Reid directly that he would prefer to vote on extending the expiring tax cuts before the elections and that he is ready and willing to vote whenever leadership decides to have that vote," he said. "Senator Feingold has made his position clear - he supports extending the middle class tax cuts and he thinks we should find a way to pay for them. But he opposes extending tax cuts just for the wealthiest Americans, which would add hundreds of billions of dollars to the deficit and do little to help the economy."
Sen. Dianne Feinstein (D-Calif.) said that, politically, now is the wrong time for a vote on taxes -- not because of the substance, but because of the potential for the GOP to "mischaracterize" the vote. "I actually believe that a vote on taxes right before the election is - and I'm not up [for re-election] - because the message can be manipulated and it's such a hot-button issue, that even, let's say a hypothetical bill, something everybody agreed with, somebody would find a way to micharacterize it. I think with taxes, particularly in this economy, candidates should commit [to voting a certain way] and that's fair, but I think to pass it before the election is a mistake," she told reporters on her way into the caucus meeting.
Sen. Blanche Lincoln, up for re-election in Arkansas, walked quickly past reporters on her way into the gathering. Asked if the tax-cut vote should be held before the election, she put her hands out and shrugged, then stopped and added: "Gotta do 'em sometime."
Sen. Barbara Mikulski (D-Md.), also up for re-election, said that she was in favor of voting on extending the middle-class tax cuts before the election, but was willing to extend tax breaks for the wealthy for two years as part of a compromise.
"It's a divided caucus," said Sen. Chris Dodd (D-Conn.), who is retiring after this term.
"We're having a hard time making decisions on anything right now, don't you notice?" Sen. Claire McCaskill (D-Mo.) told reporters after the meeting.
Different Democrats, said Durbin, recommended "different approaches. People have different feelings about this." Durbin said that the inability to get to the tax debate was part of a larger problem Democrats faced with GOP obstruction. "I mean, look at what we're up against now. We can't bring a bipartisan food safety bill to the floor. We can't bring a bill to the floor related to shipping jobs overseas. And we know the reality here: We are so tightly wound up in this campaign that it's impossible to see a bipartisan answer to the challenge we face. That's the reality -- before the election."
Sen. Mark Pryor (D-Ark.) said that he didn't support extending the tax cuts due to deficit concerns, but hadn't taken an active part in the political discussion. "I think both parties like the politics of it and they're scared of the politics of it," leading to the atrophy on display, he said.
Sen. Jon Kyl, the Republican minority whip from Arizona, said that he wanted to see a vote. "I think it would be good for the American people to see where people stand on them, myself. And you know my position, which is that we shouldn't raise taxes on anybody," Kyl told HuffPost.
Democrats, instead of focusing on tax cuts, said the aides, will address legislation to limit corporate spending in the election process, expand job creation and close loopholes for companies that ship jobs offshore. The party quickly made good on the aides' prediction, moving to break a GOP filibuster of campaign finance reform -- the DISCLOSE Act -- after the meeting Thursday. The effort fell one vote vote short of the 60 needed, failing 59-39.
The Democratic decision to dodge the tax debate was foreseeable. Indeed, on September 8th, when the Senate had yet to return from the summer break, HuffPost Hill predicted: "SPOILER ALERT: This tax cut stuff will not be dealt with before the election, unless 'dealt with' is understood as a few weeks of bickering before it's punted."
UPDATE - 6:10 p.m.: Reid spokesman Jim Manley released a statement confirming that the vote will take place after the election. "Democrats believe we must permanently extend tax cuts for the middle-class before they expire at the end of the year, and we will. Unfortunately, to this point we have received no cooperation from Republicans to do so. Democrats will not allow families in Nevada and across the country to suffer or be held hostage by Republicans who would rather give tax giveaways to millionaires and corporations that ship jobs overseas. We will come back in November and stay in session as long as it takes to get this done," he said.
UPDATE - 9:10 p.m.: McConnell spokesman Don Stewart said in a statement: "Sen. McConnell introduced the Tax Hike Prevention Act which, as its name implies, ensures that nobody gets an income tax hike. We hope Democrats -- who have yet to actually introduce tax legislation to prevent tax hikes -- won't hold it hostage to their burning desire to raise taxes on small businesses and families in the middle of a recession."
This story has been updated to include interviews before and after Thursday's Democratic caucus meeting. Lucia Graves contributed reporting.
Popular in the Community