The Democrats have a serious problem in elections other than those for president -- voter turnout.
In the latest example of the ineptness of the Democratic Party and their supporters, the Democrats lost a chance to win control of the Virginia Senate because their voters failed to show up at the same rates as Republicans.
The key race for control of the nearly-evenly divided Virginia Senate was the Tenth District, a district that stretches from portions of downtown Richmond City, west through portions of Chesterfield County to encompass the entirety of Powhatan County. The open-seat contest pitted Republican Glen Sturtevant against Democrat Dan Gecker. In this swing district where Obama received 52% of the vote (as a share of Obama's and Romney's vote), the election would be decided by a battle between Democrats residing in Richmond City and Republicans in Powhatan County, as illustrated by this map of the election results from the Virginia Public Access Project.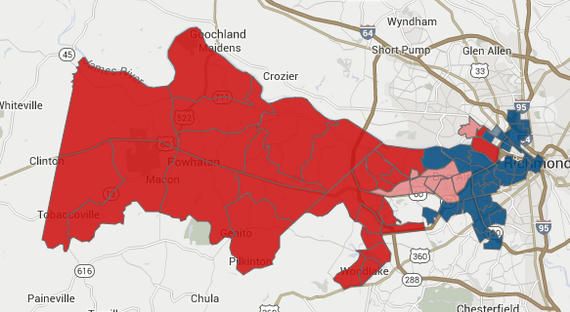 Sturtevant's win can at least partially be blamed on Democrats miserably failing to vote.
In the figure below, I plot for each precinct the vote the vote share for Sturtevant against the ratio of turnout from the 2015 Senate election to the 2012 presidential election. A higher ratio implies that more voters who participated in the 2012 presidential election also voted in the 2015 Senate election. Clear from the plot, where Sturtevant fared well, fewer voters vanished from the electorate between 2012 and 2015.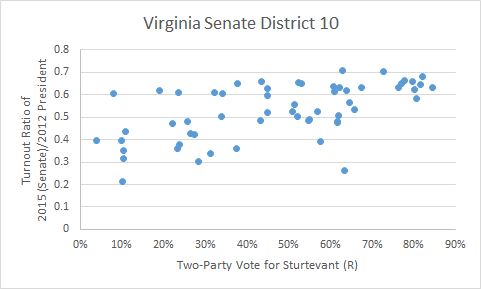 If all the voters in each precinct within the district turned out to vote at the same rate relative to the 2012 election, and these voters cast their ballots the same way those who actually voted did, Gecker would have won by roughly 1,300 votes. (There is good reason to suspect Democrats were the ones who participated at lower rates, so it may reasonably be that Gecker would have received an even higher vote margin among these missing voters.)
Until Democrats figure out how to mobilize and energize their supporters in contests like Virginia's Tenth Senate District, they will continue to lose close elections that they might otherwise have a chance to win.
Popular in the Community