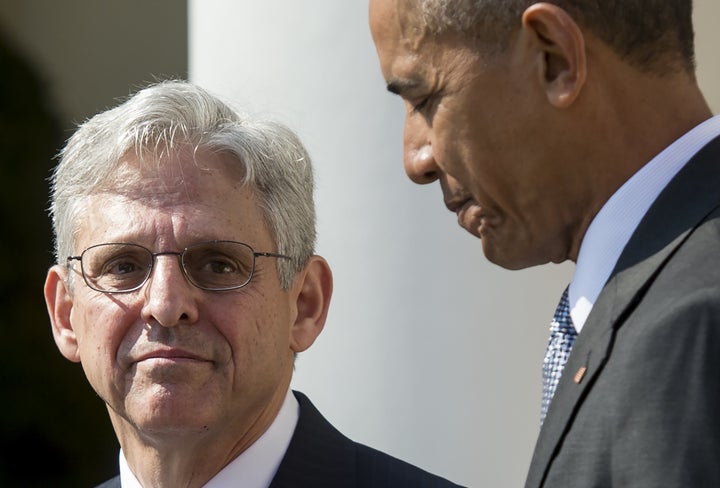 WASHINGTON ― The consequences of Republicans' denying a Supreme Court seat to President Barack Obama became real this week, as the court dealt a sweeping blow to public sector unions and voted to uphold President Donald Trump's travel ban. Both votes were 5-4, and Justice Neil Gorsuch voted with the conservative majority both times.
The reason Gorsuch is on the court at all largely comes down to one person: Senate Majority Leader Mitch McConnell (R-Ky.), who refused to give Obama's nominee, Merrick Garland, a shot at filling the seat vacated after Antonin Scalia's death in February 2016. Garland never got a confirmation hearing or a vote; many GOP senators refused to even meet with him. McConnell pushed the argument that the next president should get to choose the next justice.
Democrats didn't control the Senate at the time. But as they watch the Supreme Court now hand down major victories for conservatives, with Gorsuch playing a pivotal role, some of them wonder if they could have done more to stop McConnell.
"We should have shut down the Senate," Sen. Brian Schatz (D-Hawaii) said Tuesday. "We made a calculation that we were going to win the 2016 [presidential] election and confirm a nominee. And it didn't work out."
"Hindsight's 20/20," said Sen. Martin Heinrich (D-N.M.). "I think I would have liked us to take an even harder line."
Others weren't so sure Democrats could have done anything differently.
"Are you trying to ruin my day?" asked Sen. Richard Blumenthal (D-Conn.). "[McConnell] had the votes then. He has the votes now. Self-immolation was not an option. I have no idea what we could have really done."
For some in the party, the problem began before Obama's nominee even made it to the Senate. The issue was, frankly, with Garland himself. He was too moderate and too boring for some, and he just didn't excite progressives.
"There were options to pick someone that the base would have been mobilized to support because of who they were and what they represented for the court," said Heidi Hess, a co-director of the progressive group Credo Action. "Garland felt like a pick to play chess with Republicans, and it didn't work because they don't play respectability and civility — 'Obviously this man is qualified, so we're not going to block him.' That was never going to happen."
One Democratic strategist, who requested anonymity to speak candidly, faulted Obama for not recognizing the war he would be waging with Republicans and for not picking a candidate who could fight.
"That meant talking to reporters, going on the record, discussing meetings with GOP senators, visiting key battleground states and so forth," the strategist said.
Senate Republicans held a 54-44 majority in 2016, leaving Democrats with few good choices. One option was extreme and risky: force votes on trivial amendments in order to grind the Senate to a halt and shut down the government with a Democratic president in the White House and another Democrat hoping to win the office in November.
"Are you trying to ruin my day?"
"Obviously, we considered it, and for good reasons, we decided against it," said Blumenthal, adding that he had "trouble knowing what we could have done differently" about Garland. "We have a responsibility bigger than just one issue and it also ... would have been probably a failure in achieving the goal of moving the nomination."
Chris Kang, who worked in the Obama White House for six years and played a central role in getting his judicial nominees confirmed, said "there's no question" Democrats could have done more to push Garland's nomination through, even if they had limited options in the minority.
"They should have had regrets since the day Gorsuch was nominated," said Kang, who now works for Demand Justice, a new nonprofit aimed at motivating progressive voters on the courts and judicial nominees. "The more important question is, what will these senators do now? Just tweet their regret or actually start opposing all of Trump's judges?"
A number of Democrats ― especially those facing tough re-election fights in November ― have been voting with Republicans this year to approve some of Trump's less controversial judicial nominations, which are lifetime appointments at the federal level. That has contributed to McConnell's goal of reshaping the federal judicial bench with younger, more conservative judges.
Trump seized on the Supreme Court vacancy in 2016 and argued it was the best case for sending him to the White House, promising GOP voters who did not enthusiastically support him that he would appoint a conservative justice to replace Scalia. His campaign even released a list of people he would consider appointing to the seat.
But Democrats assumed Hillary Clinton would win the presidency. They discussed whether McConnell would relent and let Garland through during Congress' lame duck session if she won the election. And there was debate about whether she should renominate Garland or tap someone more progressive of her choosing instead. There was far less discussion about what would happen if Trump won the White House.
Blumenthal acknowledged Tuesday that Republicans are "often more strategic" about making the courts a central issue during campaign season. He lamented that Democrats aren't as good at exciting their voters about the stakes involved.
"We care about Medicare and Social Security, and they know there is this really important third branch that can scuttle what is done here [in Congress]," he said of the GOP. "I regret it. I talk about it continually."
Support HuffPost
The Stakes Have Never Been Higher
Popular in the Community