WASHINGTON -- If American voters want to see the minimum wage raised, they sure have a funny way of showing it.
Binding ballot initiatives that would raise the minimum wage passed by wide margins in four red states on Tuesday night. And yet the Democratic candidates who've been championing a minimum wage hike all year long got trounced in elections from coast to coast. The Republican Party, which has steadfastly opposed raising the federal minimum wage, took control of the Senate and picked up even more seats in the House.
This dichotomy didn't apply just to the minimum wage. On the whole, Democratic issues fared pretty well on Tuesday. It was the Democratic politicians who did not.
Whether it was the minimum wage, paid sick leave or reproductive rights, majorities of voters in states around the country made it clear they aren't on the same page as congressional Republicans on these issues -- even if they didn't show much love for Democratic candidates.
"Republicans scored major political victories, but I don't believe there's any mandate for what their governing philosophy is," said Brad Woodhouse, president of Americans United for Change, which supported Democrats. "Progressive issues continue to animate where the American people are."
In Massachusetts, voters overwhelmingly approved a referendum that will require most businesses in the state to provide paid sick days to workers -- a bread-and-butter Democratic issue. And yet Charlie Baker, a Republican, managed to beat Democrat Martha Coakley for the governor's mansion in a reliably blue state. Baker opposed the sick leave measure, which voters ultimately approved 60-40, in favor of one that would carve out more businesses.
A similar dynamic played out with reproductive rights issues. While Colorado voters overwhelmingly rejected a ballot measure that would have added fetuses to the definition of a person under the state's criminal code, they also provided a strong margin of victory for Republican Rep. Cory Gardner, who remains the sponsor of a federal "personhood" bill that medical and legal experts say could have similarly disastrous consequences for abortion and birth control.
Democratic Sen. Mark Udall's campaign tried to harness Gardner to his record supporting state-based measures similar to the one defeated Tuesday in order to drive up Udall's support from women voters. That strategy appeared to fall flat. It may have lost its potency because Gardner got ahead of the inevitable Democratic attacks on the issue by disavowing his past support for personhood measures and publishing an op-ed in The Denver Post announcing his support for making birth control available over the counter.
"Republicans have learned to run as Democrats on reproductive freedom," Neil Sroka, a spokesman for the progressive group Democracy for America, told HuffPost Wednesday. "Cory Gardner figured out a way to nuance his way out of the radical positions he had on personhood."
Some high-profile Republican candidates also managed to worm their way out of unpopular positions on the minimum wage. Dan Sullivan, the Alaska Republican challenging Sen. Mark Begich, had said at the beginning of this year that raising the minimum wage "isn't the answer" to our economic problems. Come September, he said, he would support Alaska's minimum wage referendum, which will raise the state wage floor to $9.75 per hour and peg it to inflation. Sullivan is currently leading Begich as of this writing, though the race hasn't been called.
In similar fashion, Rep. Tom Cotton (R-Ark.) had largely dodged the minimum wage question during his campaign against Sen. Mark Pryor (D-Ark.). Like Alaska, Arkansas had a minimum wage measure on the ballot that proved highly popular with the state's residents. Eventually, Cotton, a staunch conservative, ended up coming out in support of the Arkansas measure, which was approved by a 65-35 margin and will raise the state minimum wage to $8.50 an hour. Cotton ended up defeating Pryor.
"Obviously, the presence of these initiatives did not boost the fortunes of these Democrats in some states as much as was anticipated," said Arun Ivatury, campaign strategist at the National Employment Law Project Action Fund, which advocates for higher minimum wages. "But I think it's important to note that you had Republican candidates embrace the minimum wage or at least run away from their initial opposition to raising the minimum wage -- clearly because they saw the will of the voters, and clearly because they saw that it's a political liability to take a position against a very popular issue."
In President Barack Obama's home state, Illinois voters rejected Democratic Gov. Pat Quinn and elected Republican venture capitalist Bruce Rauner, even as they backed a flurry of progressive ballot initiatives. Voters supported a "Right to Vote" amendment, an amendment cementing a tax on millionaires to sustain education funding, a minimum wage increase and an amendment requiring that insurance plans cover contraception. Rauner's win was all the more striking given that he made it clear he opposed both the millionaire tax and the minimum wage increase.
As the self-recrimination and soul-searching on the left began, progressive groups said Democratic candidates lost because their support for populist issues emerged too late in the game.
"Mark Pryor, after dithering and being worried about whether Walmart would go after him, finally came out for the minimum wage but he didn't show real leadership, he was unable to show the leadership that the left has on it," Sroka said. "If voters know where Democrats are then Democrats win, because Democrats are right on these populist issues."
And while Republicans are saying that their victories mean voters want Obama to work with the GOP-controlled Congress, progressives urged him to avoid moderating his administration's economic priorities.
"The brand of the Democratic Party needs to be as clear and strong as the brand of minimum wage and other progressive priorities that voters overwhelmingly supported yesterday," Progressive Change Campaign Committee co-founder Stephanie Taylor said in a statement to HuffPost. "It's their only route back to power. That's why we're calling for President Obama to make Elizabeth Warren's agenda the center of his 2015 agenda, so that Democrats can rebuild a brand about economic issues again."
Support HuffPost
The Stakes Have Never Been Higher
Before You Go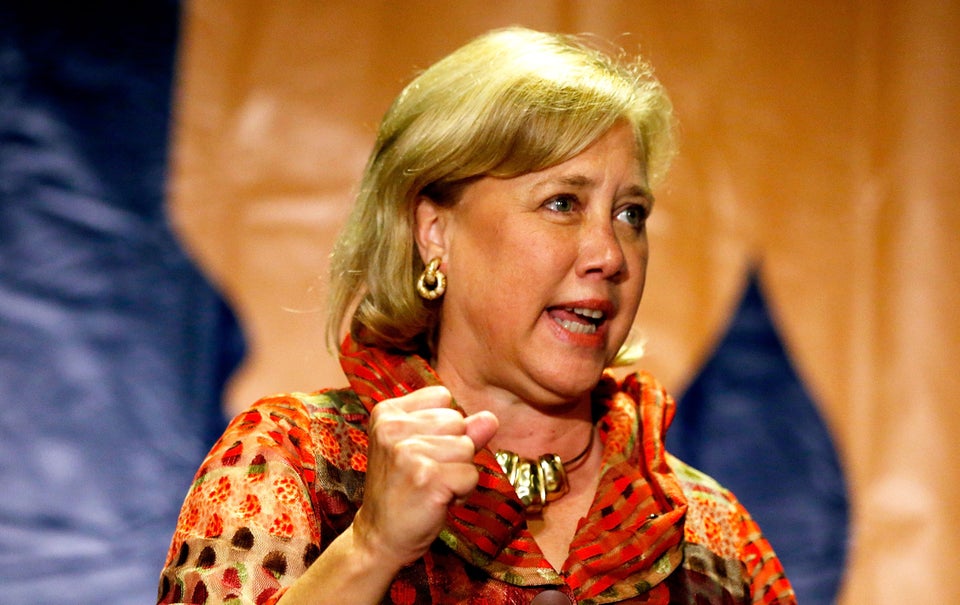 2014 Election Results: Winners & Losers
Popular in the Community