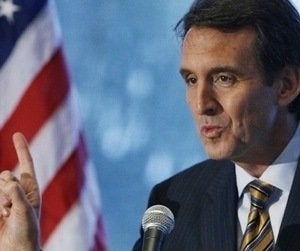 Democrats moved swiftly on Thursday to frame potential 2012 Republican presidential candidate Tim Pawlenty as a political creature cut from the same cloth as George W. Bush and the rest of the GOP.
Just hours after news broke that the Minnesota governor was setting the stage for a White House run with a new leadership PAC and a host of new advisers, officials at the Democratic National Committee peppered reporters with opposition research and acid-laced quotes. The committee's press secretary, Hari Sevugan, accused Pawlenty of "recycling advisers from George W. Bush and relying on Washington insiders and lobbyists" to propel his political career.
The push continued late into the afternoon, when the DNC sent over copy of a new web video, in which it went through the list of T-Paw advisers, tying each one either to the Bush administration or the 2008 McCain campaign.
Coming more than three years before the votes will be cast, these early 2012 salvos are at once remarkable and a reminder that election season truly never ends. Clearly, Pawlenty's camp sees the benefit to getting an infrastructure in place early in the 2012 process - perhaps calculating that two other potential primary opponents, Mitt Romney and Sarah Palin, already have national recognition. Likewise, the DNC -- either driven by concern with a Pawlenty bid or simply sensing that the governor's a blank slate for many voters -- certainly sees profit in framing his candidacy in a negative light.
Calling all HuffPost superfans!
Sign up for membership to become a founding member and help shape HuffPost's next chapter