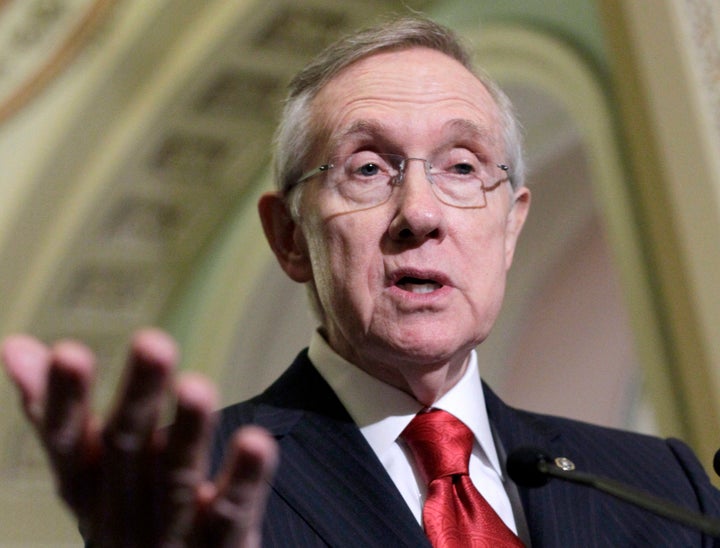 WASHINGTON -- After months of arguing that millionaires should have to pay their fair share for the costs of the president's job bill, Democrats are poised to drop a provision that would make them do so.
In a Wednesday meeting between Senate Democratic leaders, President Barack Obama and Vice President Joe Biden, lawmakers discussed alternative methods of paying for a payroll tax cut extension, which is set to expire at the end of December and remains stuck in limbo in Congress. Early in the day, Democrats had pushed for a surtax on income above $1 million to pay for a one-year, two percent extension of the tax holiday. But after Republicans beat back the proposal in the Senate and passed something different in the House, lawmakers began mulling alternatives.
Among the new pay-fors being considered, according to Democratic sources, are a proposal to boost the fees that mortgage giants Fannie Mae and Freddie Mac collect from lenders -- something already contained in a House-passed payroll tax package -- and reductions in mandatory spending (though it remains unclear exactly where those cuts will be made). Another mystery is what the party will do with a proposal to expedite consideration of the controversial Keystone XL pipeline that was included in the GOP-backed bill the House passed Tuesday evening. But the State Department has warned that if the Keystone language were to pass, it would result in them ultimately nixing construction of the pipeline system designed to transport crude oil from Canada through the United States.
One top Democratic Senate aide said that the alterations to the payroll tax pay-fors would "hopefully get us closer" to a resolution on the matter. Currently, Senate Democrats are stalling consideration of an omnibus spending bill until the payroll tax cut issue is dealt with.
But it also will likely open up the White House to charges that it caved, once again, on the issue of raising tax rates on the wealthy. A Senate Democratic leadership aide stressed that the party's members "have always been flexible" about how to pay for a payroll tax cut and that at the White House meeting "adjusting or changing [the] pay-for was certainly discussed."
Aides to House Democratic leaders, who were not in Wednesday's meeting at the White House, signaled that they, too, could support dropping the provision.
"We've always made it clear that we need to extend the payroll tax cut holiday and that it should be paid for," said a senior House Democratic aide. "While we think asking millionaires to contribute their fair share is a reasonable way to pay for it, we've said that we're willing to work with Republicans to make sure people don't see their taxes go up in a few weeks."
A White House spokesman declined to comment on the meeting.
If, indeed, Democrats are criticized for the decision to drop the millionaire's surtax, they will have a ready response. For months, the White House and congressional allies have argued that Republicans were willing to protect the tax rates of the super-wealthy at all costs. As the GOP has brought the debate over the payroll tax cut to the absolute brink, Democrats have been able to solidify that perception. Polls certainly show that Republicans are on the wrong side of the issue and paying a political price for it.
In the end, however, Democrats are finding themselves once again negotiating out of necessity. Time is running out for Congress to extend the payroll tax cut, which expires at the end of the year and translates to a $1,500 tax hike on middle-class Americans. On top of that, Congress has to pass some kind of spending bill by Friday, when the current continuing resolution funding the federal government runs out, in order to avoid a government shutdown. And on Wednesday morning, Senate Minority Leader Mitch McConnell (R-Ky.) denied a request to pass a short-term continuing resolution to allow for future negotiations.
Administration officials are already preparing for the possibility of the government running out of funding: on Wednesday afternoon, federal agencies sent emails to employees alerting them of the possibility of a shutdown and explaining how it would affect them.
"We do need to be prepared for any contingency," said Ken Baer, spokesman for the Office of Management and Budget. "And in case Congress does not act, we are taking the steps necessary to be prepared if a lapse in funding should occur."
Popular in the Community