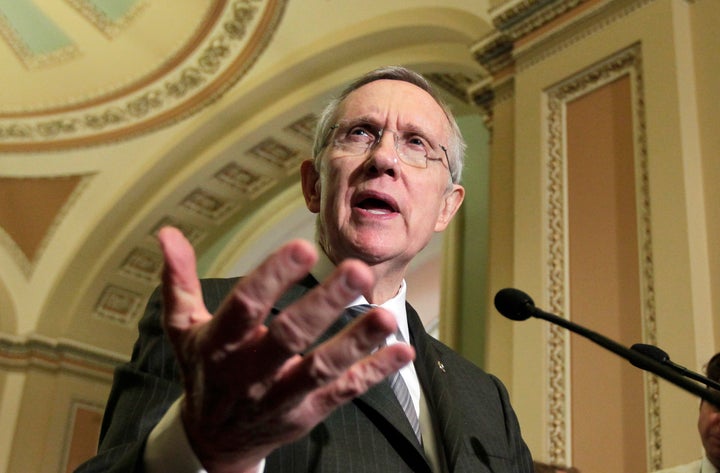 WASHINGTON -- At a briefing with reporters late Friday afternoon, a group of top Democrats familiar with debt ceiling negotiations laid out the increasingly narrow path that they see for getting a bill passed into law.
It is expected that Speaker John Boehner (R-Ohio) will have the votes needed to get his bill through the House of Representatives when it comes to a vote on Friday evening. It will then be adopted by Majority Leader Harry Reid (D-Nev.) and entirely replaced with legislative language that his office is working on with Senate Minority Leader Mitch McConnell (R-Ky.). Because Reid is set to file for cloture on the bill before midnight on Friday, the window to work out the remaining difference is precariously small. According to the Democratic officials, it could be as short as four and a half hours.
The goal is to target moderate Republican Senators as well as those who have worked on other debt-reducing compromises in the past to help reach 60 votes. At the briefing, the Democratic officials specifically listed Sens. Scott Brown (R-Mass), Lisa Murkowski (R-Alaska), Bob Corker (R-Tenn.) and the GOP members of the Gang of Six as targets. Sen. John McCain (R-Ariz.), who has warned against the dangers of default, and John Thune (R-S.D.), who has suggested that Reid's bill would pass the Senate, were also mentioned as potential "yes" votes.
On Friday afternoon, Brown's office strongly suggested that he would vote in favor of a Reid bill.
"We are days away from default," said Brown spokesman Colin Reed. "Senator Brown will support a bill that contains spending cuts and doesn't increase taxes and allows us to avoid default. That could be a Republican bill, or a Democrat bill -– it doesn't matter. He believes we need to set aside our party loyalties and get the job done for the people we represent."
Murkowski, likewise, hinted that she was in the negotiating mood, telling Bloomberg News that she didn't believe "compromise is a dirty word."
Getting a bill through the Senate -- which could be done, potentially, as early as Monday afternoon -- is only half the battle. It then would have to be sent back to the House, where its fate would be, perhaps, more uncertain. Democratic officials at the briefing said they expected their party to support a measure in full, which would mean only 25 Republicans would be needed for passage. It would also require Boehner to bring the measure to the floor, which he is expected to do. White House officials have been in contact with congressional offices throughout this process. But President Obama and Speaker Boehner have not individually spoken with each other since Sunday.
The Democratic officials at the briefing laid out the possibility that both congressional chambers would pass a two-day extension of the debt ceiling in order to allow for more time to let the legislative process play out. Such a measure could originate in either chamber and would simply extend the date until which the Treasury could continue to borrow money. Whether it would pass the House, however, is not entirely clear -- nor did the Democratic officials care to speculate on the matter, choosing instead to focus on the need to get a full debt ceiling increase through that chamber.
The optimistic expectation, one of those officials said, is that Boehner will end up bringing 33 percent of his caucus with him when or if the Senate bill comes back to the House floor. The historical precedent, the Democratic official added, is that the Speaker of the House has at least 50 percent of his party with him on votes that he allows.
The Treasury is expected to exhaust the emergency measures it has been using to pay its obligations at 12:01 a.m. on Wednesday morning.
Popular in the Community