The grassroots resistance to President Donald Trump has targeted many things: His apparent disregard for ethics and the rule of law. His Cabinet appointments. His campaign's reported contacts with Russia. His pledge to repeal and replace the Affordable Care Act. His executive orders targeting immigrants and minorities.
With the date nearing, progressive groups are beginning to get serious about the nominee, forming the The People's Defense ― a new activist coalition aimed at bringing Gorsuch down at all costs. Or at least sounding the alarm about a nominee who even opponents say comes across as likable.
"I'm happy to sit down to lunch with him," Ilyse Hogue, president of NARAL Pro-Choice America, said in a call with reporters to lay out the coalition's goals. "That's way too low a bar for a jurist of the highest court of the land."
The collective, which includes established advocacy organizations and newer ones formed in the wake of Trump's election, wants to channel the anti-Trump sentiment sweeping the Democratic base. And they want to make it clear that the political battle over the empty Supreme Court seat ― which President Barack Obama lost when Republicans successfully blocked Judge Merrick Garland's nomination in the Senate ― is part of that resistance.
Senate Democrats are the only firewall we have left now against the Trump court.

Murshed Zaheed, CREDO's political director
"Any Democrat, any elected official who is wondering whether the Supreme Court fight is a priority for the grassroots, needs to understand that the answer is an unequivocal yes," said Anna Galland, the executive director of MoveOn.
"Senate Democrats are the only firewall we have left now against the Trump court," added Murshed Zaheed, Credo Action's political director. He warned that any Democrat who supports the Gorsuch nomination "will permanently damage his or her political career."
With only 48 senators in their ranks, Democrats' leverage is limited. Senate Minority Leader Chuck Schumer (D-N.Y.) has suggested he'd demand at least 60 votes to confirm Gorsuch ― the number needed to break a filibuster. In his view, anything less means that Gorsuch is not mainstream enough to be confirmed.
But even that process argument implies that some Senate Democrats would have to break ranks and join Republicans, who have shown a unified front in their support for Gorsuch, all but guaranteeing his confirmation.
"We are going to confirm him before the April recess," said a confident Senate Majority Leader Mitch McConnell (R-Ky.) on Thursday, as he took credit for shooting down the Garland nomination, according to Politico.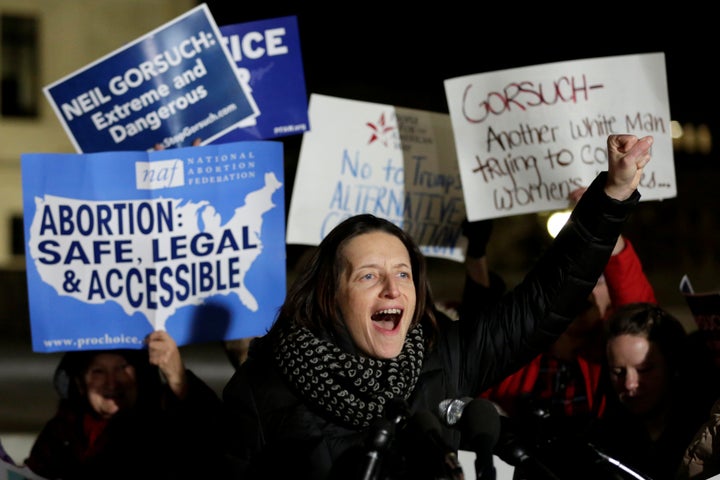 In the face of that bullishness, progressive groups are demanding that Senate Democrats not cave in to Gorsuch's charms, if anything to show that they're listening to their base and those who have been mobilizing against Trump in the streets, at town halls, and in Congress, now in disarray over how to get rid of Obamacare.
"We want the Democrats to act as the opposition party, not as the minority party," Zaheed said.
Meanwhile, Gorsuch has been meeting with senators from both parties, hoping to curry favor. Moneyed interest groups such as the conservative Judicial Crisis Network are spending millions on pro-Gorsuch ads in key states, hoping to win over Democratic senators who may be on the fence. 
"They have money because they don't have people," Hogue said, adding that equating lavish ad campaigns with progressive organizing is "an apples-to-oranges comparison."
"We're actually dedicated at lifting the voices of our collective membership," Hogue said.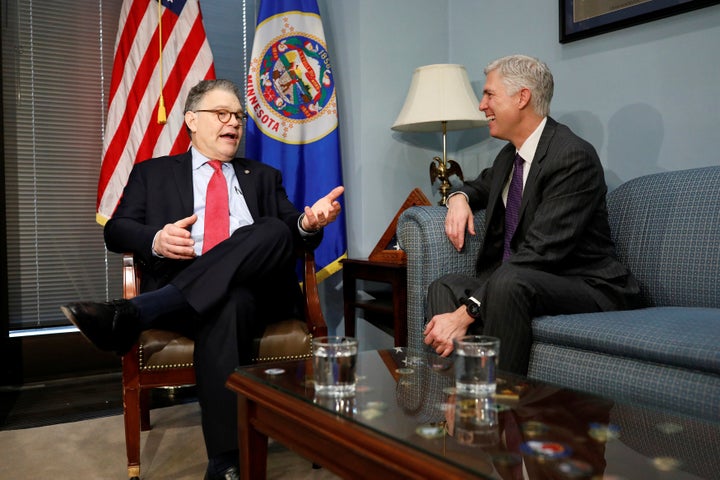 The furious pace of the Trump era news cycle may explain why opposition to Gorsuch has been more muted than for other Trump nominees and actions. Moreover, the opposition's messaging hasn't been exactly cohesive. 
Early on, there was talk about presenting the fight as about the Supreme Court seat that Republicans "stole" from Obama and Garland. Others have called for making it about Trump's policies and disrespect for the Constitution and the role of the courts. Some commentators have even suggested that Trump's alleged Russian connections cast a cloud over his legitimacy, which means Gorsuch simply cannot be confirmed at this time. 
Others, like NARAL's Hogue, argue that Gorsuch's record on women's rights ― like his position in the Hobby Lobby case, in which he sided with a religiously owned corporation before the dispute went to the Supreme Court ― should speak for itself.
Gorsuch's "record lays out an agenda that appears to go hand-in-hand" with Trump's vision, Hogue said.
Ian Millhiser, a longtime Supreme Court observer who is a senior fellow at the liberal Center for American Progress Action Fund ― which opposed the Gorsuch nomination the day it was announced ― agreed that progressives would be best served by just opposing the judge on his merits, rather than shooting every which way.
"The question I think Senate Democrats have to ask themselves is, 'Do they stand for women's access to birth control or do they not? Do they stand for the right of Planned Parenthood to continue to provide lawful services to women or do they not? Do they think that the Environmental Protection Agency should combat global warming or do they not?'" Millhiser said.
"And if they're ambivalent about those things, maybe they're in the wrong line of work."
CORRECTION: An earlier version of this article misspelled Chuck Schumer's first name.
Calling all HuffPost superfans!
Sign up for membership to become a founding member and help shape HuffPost's next chapter
BEFORE YOU GO