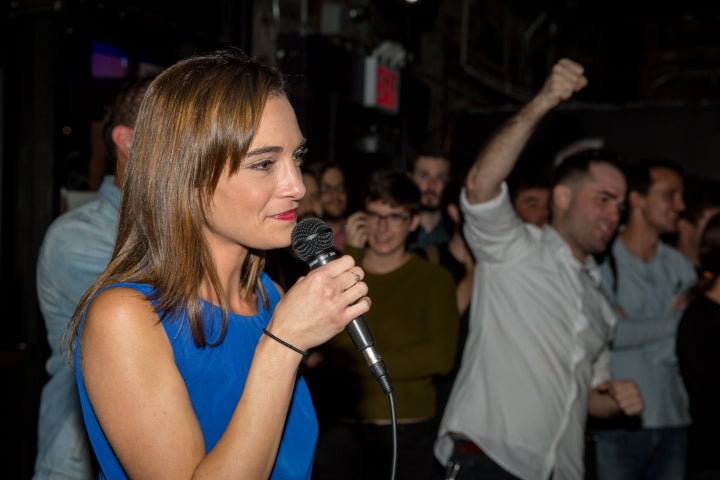 Democrats won the majority of New York's state Senate seats on Tuesday, taking hold of the legislative body for the first time in years.
"With Democrats' leadership in the state solidified, New York can pass policies previously blocked by Republicans to expand health care coverage, address climate change, and ensure women retain the right to make their own medical decisions," Jessica Post, executive director for the Democratic Legislative Campaign Committee, said in a statement on Tuesday.
"New York will once again be a progressive beacon as Democrats continue to build the blue wall of resistance against Washington Republicans' extremist agenda," she added.
State Senator Andrea Stewart-Cousins celebrated the sweep on Tuesday night. "We will finally give New Yorkers the progressive leadership they have been demanding," she tweeted.
Political action committees and outside groups spent more than $11 million on races for the state Senate, including more than $6 million on campaigns for just four seats, The New York Times reported on Monday.
Tuesday's victory for the Democrats follows a turbulent primary season in which establishment Democrats up and down the ballot faced pressure from a wave of progressive candidates. Cynthia Nixon challenged Democratic incumbent Andrew Cuomo for New York governor. Constitutional law professor Zephyr Teachout ran for attorney general on a platform of disrupting the financial and real estate industries' influence over public spending priorities. Both Nixon and Teachout lost their primaries.
But when it came to candidates for state Senate, Democratic primary voters threw their weight behind progressive candidates, including 27-year-old democratic socialist Julia Salazar — who actively campaigned on issues like sex workers' rights and racial injustice — and Alessandra Biaggi, another millennial and first-time candidate. Both Salazar and Biaggi were both slated to win their races on Tuesday.
Six of the seven Democratic state senators unseated in the primaries were members of the now-defunct Independent Democratic Conference, a coalition of wealthy Senate Democrats. Progressive activists and several Democratic state senators had criticized the IDC for cozying up to Republicans and blocking bills drafted by Democrats.
"If we actually care about women's health and we actually are a state that's a leader in this country, then the Reproductive Health Act is one of those bills that will make sure that we protect women," she added.
Popular in the Community