Rep. Debbie Wasserman Schultz (D-Fla.) had stern words for the National Rifle Association on Tuesday, responding to the gun group's new president attacking student survivors of the shooting in Parkland, Florida, for allegedly engaging in "civil terrorism."
"The NRA is kind of just shy of a terrorist organization," Schultz told HuffPost. "They have done everything they can to perpetuate the culture of violence that we have in our country with the spread of assault weapons across the nation."
In an interview with The Washington Times last week, newly elected NRA president Oliver North accused students of Parkland's Marjory Stoneman Douglas High School of using "intimidation and harassment and lawbreaking" in the anti-gun efforts they launched following the Valentine's Day massacre that left 17 people dead at their campus.
"They call them activists. That's what they're calling themselves. They're not activists — this is civil terrorism," North said.
The retired Marine Corps lieutenant colonel previously served on the NRA's board of directors. He is best known for his involvement in the Iran-Contra firearms scandal in the 1980s, in which he was found to have played a key role in the clandestine sale of weapons to Iran, which was under an arms embargo at the time. Funds from those transactions were then funneled to bolster terrorist efforts against Nicaragua's socialist government.
North was convicted of three felonies related to the scheme, including charges of obstructing a congressional inquiry and destroying evidence. The convictions were later vacated amid concerns that tainted testimony had been used in the case.
Still, Wasserman Schultz said she considered it ironic for someone with North's past legal troubles to accuse young people of criminal behavior simply for "standing up to make sure that we can keep people safe."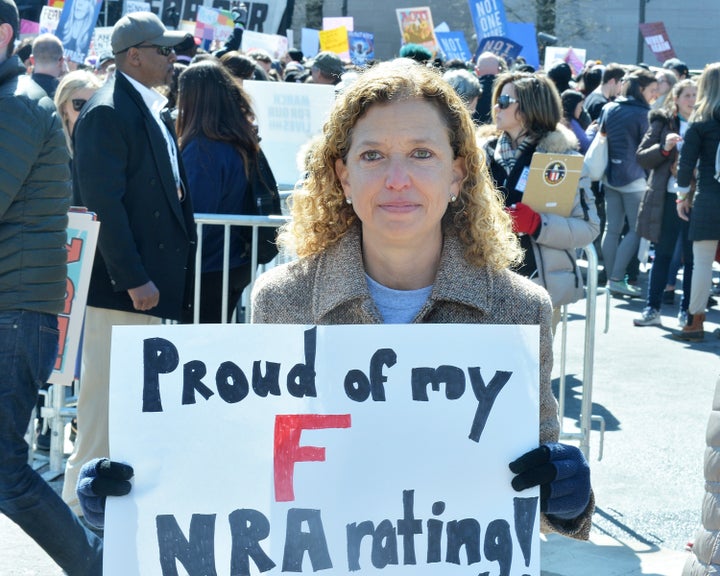 She also rebuffed North's contention that the pressure the NRA now faces has "never been seen against a civil rights organization in America," and is worse than "the terrible days of Jim Crow."
"The Jim Crow laws actually resulted in the deaths of people standing up for their rights," said Wasserman Schultz, who headed the Democratic National Committee from 2011-16. "People that are dying as a result of the infection that is the spread of assault weapons thanks to the NRA are being murdered in cold blood without any cessation or interest on the part of the NRA to do anything about it."
In the months since the mass shooting, several of the students have emerged as the most vocal and visible members of a nationwide gun violence prevention movement that has eagerly positioned itself as a foil to the nation's largest gun group.
They've campaigned for a renewed ban on assault weapons and high-capacity ammunition magazines and the closing of a legal loophole to ensure that all firearms transactions are accompanied by a background check. But their enthusiasm has yet to translate into changes to federal gun laws
A number of states, including Wasserman Schultz's home state of Florida, have pushed forward on their own. In March, Florida Gov. Rick Scott (R) signed a legislative package implementing a three-day waiting period for most gun purchases, raising the minimum age to 21 to purchase any firearm and enacting a so-called red flag law giving police more authority to confiscate weapons from dangerous individuals. The NRA opposed the measures.
Despite some signs that the NRA's stranglehold on gun policy may be loosening, North rejected the idea that the group is "on its heels," or that the Parkland shooting changed the contours of the national conversation around firearms and gun violence.
Wasserman Schultz said North was "deluding himself and his members" with that claim.
"It's kind of like a spoiled child stamping their feet on the ground, insisting that something right in front of their face isn't true," she said.
Popular in the Community