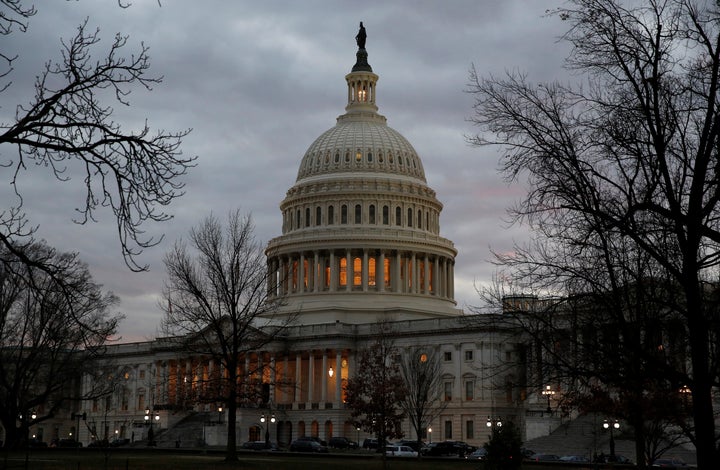 But with a president who campaigned as the ultimate outsider facing his first midterm elections, and speculation about 2020 challengers beginning to mount, it seemed a good time to take each party's temperature about the relative values of outsider cred versus political experience. And a new HuffPost/YouGov poll finds relatively little appetite among Democrats for unconventional or insurgent candidates, while Republicans ― despite their current control of the White House and Congress ― remain less enamored with their party establishment.
Democrats and Democratic-leaning independents say, 56 percent to 13 percent, that they'd rather be represented in Congress by someone with experience in how the political system works, rather than someone outside the existing political establishment. By an even wider margin, 59 percent to 7 percent, they say they'd rather the next president have political experience, too.
Democrats and Democratic-leaners also generally favor candidates with their party's stamp of approval. By a roughly 2-to-1 margin, they say that they'd prefer to be represented in Congress by a candidate favored by the Democratic establishment, and that they'd prefer their 2020 presidential nominee to have the establishment's imprimatur. In both cases, more than 40 percent are unsure or say it doesn't particularly matter to them. (Narrowing the results to just self-identified Democrats has little impact on the political experience questions, but increases the ratio in support of an establishment presidential nominee to about 3-to-1.)
Republicans and Republican-leaning independents, by contrast, say, 49 percent to 16 percent, that they'd rather their congressional representative be an outsider; by 45 percent to 14 percent, they'd rather the next president be one, too. Members of the GOP also tend to prefer outsiders over candidates favored by the Republican establishment.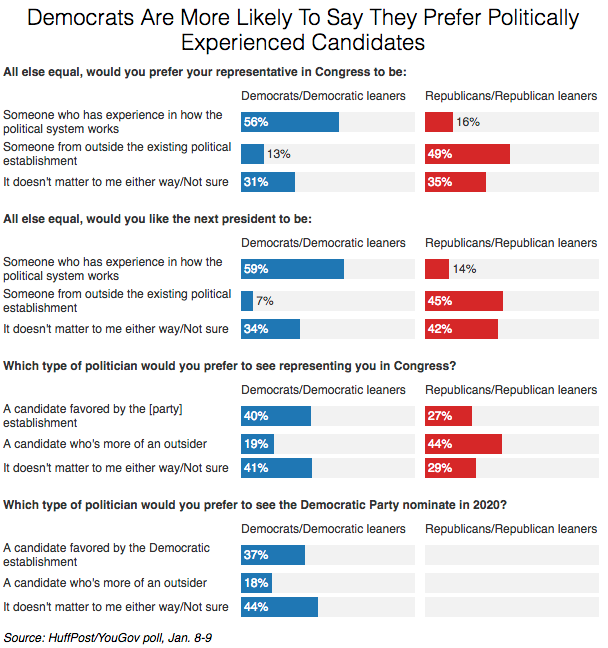 There are a few important caveats to interpreting these kinds of surveys. For one, people's willingness to state a preference for a certain quality in their candidates doesn't necessarily mean that's the quality that will be foremost in their minds when making a decision.
And, even more fundamentally, the cause-and-effect between the traits people say they're looking for and the candidates they pick doesn't always run in the direction it might be expected to. Rather, voters often show a preference for the traits embodied by a candidate they're already supporting.
It would be easy, for instance, to assume that the GOP chose Trump because they were looking for an outsider candidate. But it was only after the former businessman became the party's frontrunner that the desire emerged. Months before Trump declared his candidacy, Republican voters said by a 26-point margin that they preferred "experience and a proven record" over "new ideas and a different approach," while Democrats were about evenly divided on the question. 
The poll results, then, don't mean that Democrats are intrinsically less inclined to back a non-politician. But they do suggest that, at the moment, outsider cred isn't exactly at the top of the party's wishlist.
Use the widget below to further explore the results of the HuffPost/YouGov survey, using the menu at the top to select survey questions and the buttons at the bottom to filter the data by subgroups:
The HuffPost/YouGov poll consisted of 1,000 completed interviews conducted Jan. 8-9 among U.S. adults, using a sample selected from YouGov's opt-in online panel to match the demographics and other characteristics of the adult U.S. population.
HuffPost has teamed up with YouGov to conduct daily opinion polls. You can learn more about this project and take part in YouGov's nationally representative opinion polling. More details on the polls' methodology are available here.
Most surveys report a margin of error that represents some, but not all, potential survey errors. YouGov's reports include a model-based margin of error, which rests on a specific set of statistical assumptions about the selected sample rather than the standard methodology for random probability sampling. If these assumptions are wrong, the model-based margin of error may also be inaccurate. Click here for a more detailed explanation of the model-based margin of error.
REAL LIFE. REAL NEWS. REAL VOICES.
Help us tell more of the stories that matter from voices that too often remain unheard.