Democrats, who started this campaign cycle staring at an election map that could keep them out of power in the Senate for a political generation, now have a real but narrow shot to win control of Congress' upper chamber in November ― a turn of fortune that drastically increases the stakes of the fight over Supreme Court nominee Brett Kavanaugh's confirmation.
GOP operatives argue that the chances of a flip in Senate control are part of what's driving Democrats to push for a full investigation of the sexual abuse allegations Christine Blasey Ford and Deborah Ramirez have lodged against Kavanaugh. The Republicans say Democrats are simply trying to delay any confirmation vote on any Supreme Court nominee until either a lame-duck session of Congress or until the seating of a new Congress in January.
Democrats insist they want to stop Kavanaugh on the merits ― he'd be bad for women's rights and health care, and someone facing sexual assault allegations shouldn't be fast-tracked onto the nation's highest court. But there's no doubt that they are thinking about what could happen if Kavanaugh's nomination stalls and their party gains the Senate majority.
The first move under those circumstances "needs to be to pressure Republicans to not move ahead with a nominee (from President Donald Trump) during the lame duck," said Brian Fallon, who served as press secretary for Hillary Clinton's 2016 presidential bid and now is the executive director of Demand Justice, an advocacy group.
Then, upon Democrats taking control of the Senate in January, "their position needs to be anyone on Trump's list is unacceptable," he said, referring to the list Trump released during the campaign, shaped largely by suggestions from the conservative Heritage Foundation.
He said the Democrats shouldn't embrace the 2016 tactic adopted by Senate Majority Leader Mitch McConnell (R-Ky.) that blocked Merrick Garland, then-President Barack Obama's Supreme Court nominee, from even having a hearing. "They should consider a nominee that's a true moderate," Fallon said.
It's unclear if Democrats, especially those who have built their careers on claims of political moderation and bipartisanship, would follow Fallon's advice.
Still, looming over these various calculations is the escalating battle for the Senate.
"If you believe that there's a shot that [Democrats] could take back the Senate, you have to confirm Brett Kavanaugh now," said a former member of Trump's administration who is monitoring Senate races and requested anonymity to comment. "There isn't a shot in hell that Chuck Schumer (the New York Democrat who presumably would become Senate majority leader) is going to confirm a Trump Supreme Court nominee."
"There is a credible path to a Democratic Senate majority. It's a narrow path, but it's gotten wider as the months have gone on."
None of this would matter if Democrats didn't have a chance to win the Senate and claim a mandate. But such a scenario could happen, according to interviews with 10 strategists on both sides of the aisle. None would venture as far to predict a Democratic victory, but all admitted it was a possibility.
"If we were gathered here in January 2017, nobody would even be talking about [winning back the Senate]," the head of the Democratic Senatorial Campaign Committee, Sen. Chris Van Hollen of Maryland, told reporters last week. "There is a credible path to a Democratic Senate majority. It's a narrow path, but it's gotten wider as the months have gone on."
Reasons for that include:
* The solid re-election prospects for Democratic incumbents in four rust-belt states ― Pennsylvania, Ohio, Michigan and Wisconsin ― that Trump carried in 2016.
* The improved re-election chances for Democratic incumbents West Virginia and Montana ― states Trump won by double digits.
* The likelihood of a continued close race in Florida, where the GOP had been banking that Democrats would be forced to abandon the incumbent, Sen. Bill Nelson.
* The pickup opportunities that have developed for Democrats in races for open seats in Arizona and Tennessee, and the stunning possibility that Rep. Beto O'Rourke's could upset GOP Sen. Ted Cruz in Texas.
All of this has Republicans worried, although they insist the Democratic chances for a Senate majority remain low. GOP operatives are guaranteeing Rep. Kevin Cramer will deliver a pickup for the party by defeating Democratic Sen. Heidi Heitkamp in North Dakota. And in that case, Democrats would have to pretty much have to have every other competitive race go their way to overcome the GOP's current 51-49 Senate majority.
Midwest Nice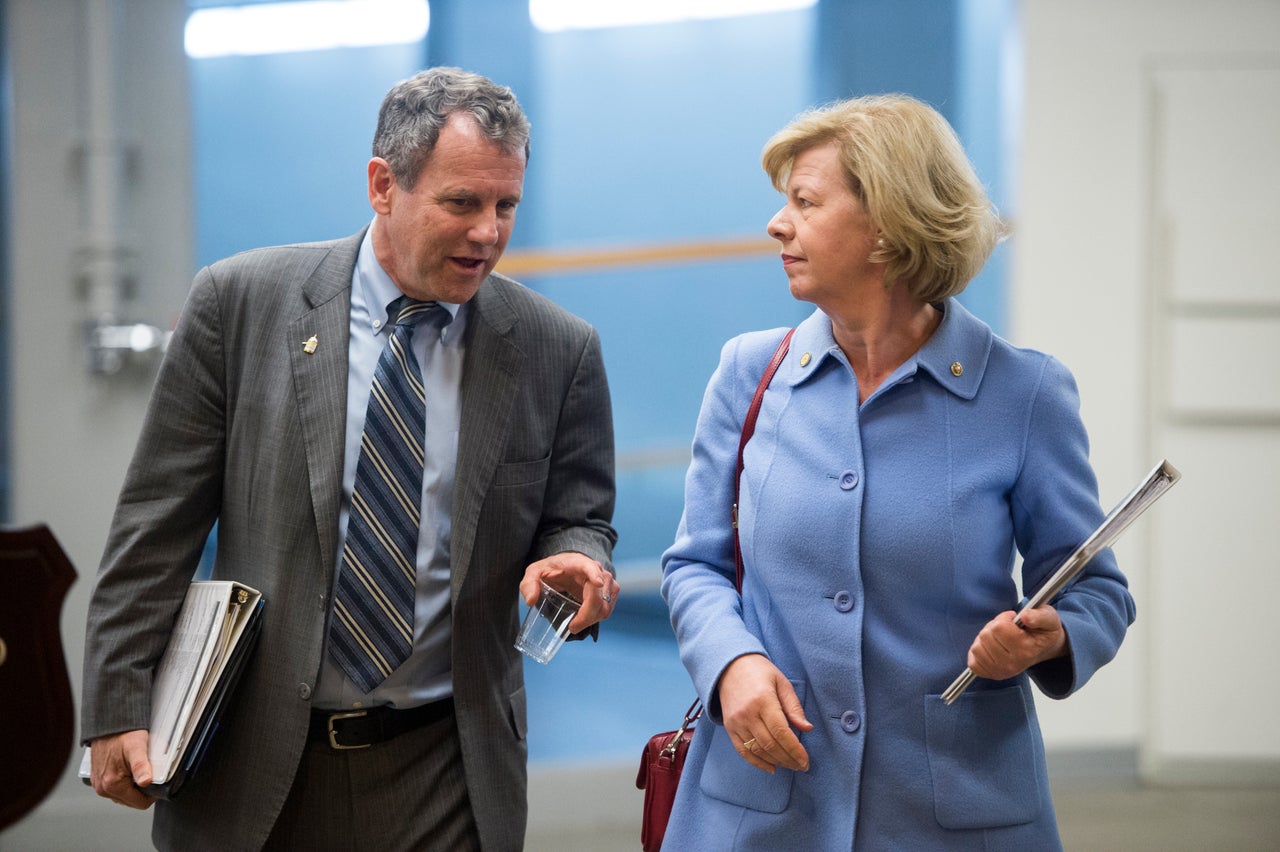 The first requirement for Democrats to take back the Senate is to protect their own incumbents. Twenty-five of the senators who comprise the chamber's Democratic caucus are up for re-election this year; just eight GOP seats are on the ballot. Among the seats the Democrats need to hold onto, 10 races are in states won by Trump.
Republicans began this cycle confident they could add ― perhaps significantly ― to their slim Senate majority and block Democrats from any real chance of controlling the chamber until 2022, at the earliest.
But critically, Sens. Bob Casey in Pennsylvania, Sherrod Brown in Ohio, Debbie Stabenow in Michigan and Tammy Baldwin in Wisconsin ― all from states Trump won after Obama had carried them twice ― are favored to fend off Republican challengers.
So far, neither party's outside groups are spending a dime in Pennsylvania, Ohio and Michigan. And most are steering clear of investments in Wisconsin (though Democrats still have some concerns about Baldwin, given that the Koch network of conservative donors has targeted her and Republican Sen. Ron Johnson defied polls showing him trailing to win re-election in 2016.)
"Trump has alienated working-class voters in a lot of these states to a greater degree than people recognized," said J.B. Poersch, a top Schumer ally head of the Senate Majority PAC.
Nelson Stays Alive In Florida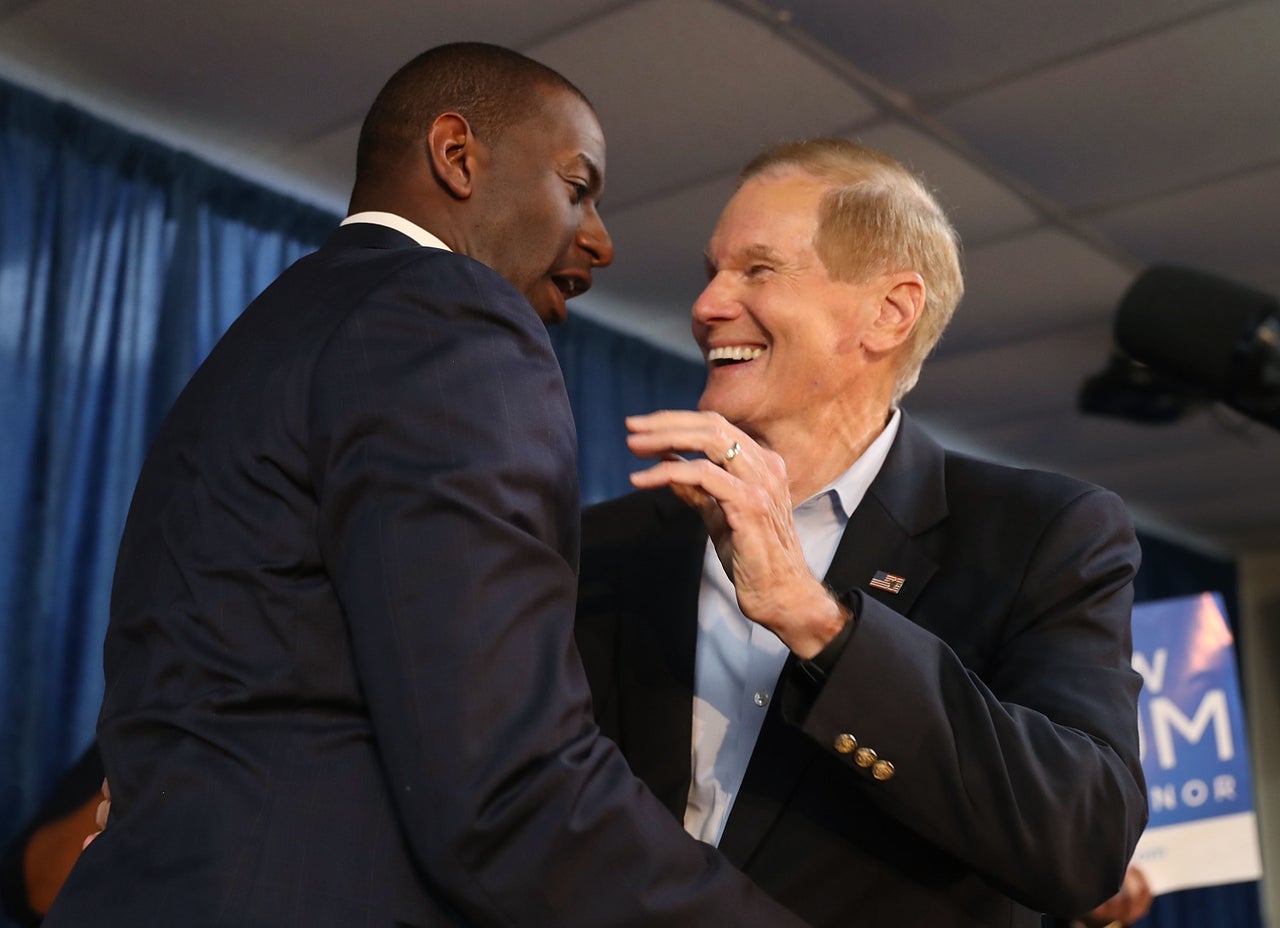 The money Democrats don't envision having to spend in those four rust-belt states – Ohio was the site of 2012's most expensive Senate race, and Pennsylvania was the costliest contest in 2016 ― frees up cash to funnel to Florida, one of the nation's most expensive locales to run a political campaign.
For months, Republicans had been promising that the fundraising prowess and personal wealth of their Senate contender in the state ― Gov. Rick Scott ― would force Democrats to abandon Nelson, who's seeking a fourth term.
"Come mid-September, national Democrats are going to hand Bill Nelson a canteen and a pistol and leave him for dead," Steven Law, president of the Republican super PAC Senate Leadership Fund, predicted to Politico in June.
Instead, Nelson survived a GOP barrage. Scott and his allies outspent Democrats by about $20 million over the summer, to almost no effect. Polls show a tight race, and Democrats and Republicans are now spending about equally on Florida's airwaves.
Democrats still worry about a last-minute injection of cash from Scott ― he spent $14 million in the last week of his gubernatorial re-election campaign in 2014 ― and Republicans think he has defied the national political environment to keep the race close.
Operatives in both parties agree Tallahassee Mayor Andrew Gillum's triumph in the Democratic gubernatorial primary could help Nelson by increasing turnout among black voters.
To Texas Or Not To Texas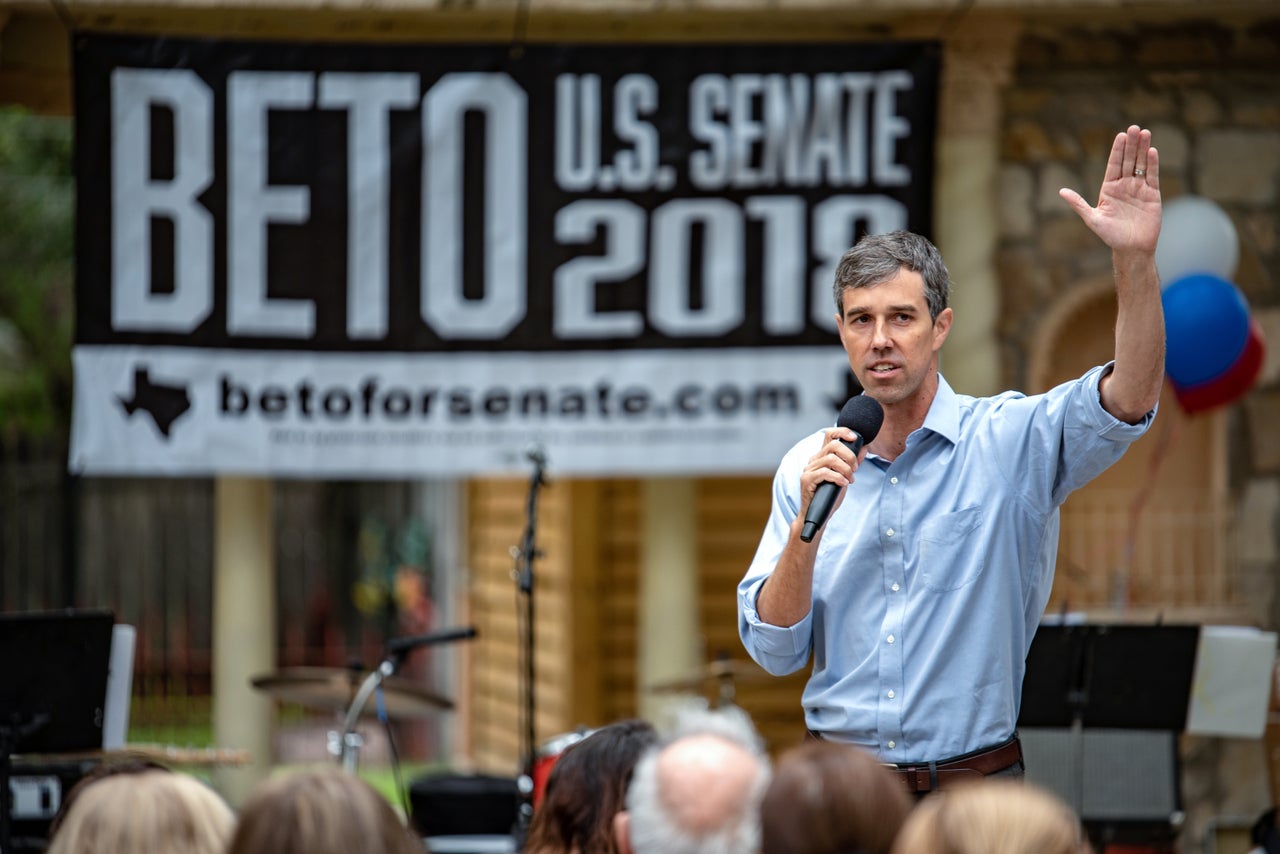 The only state on the Senate map more expensive than Florida is Texas, where a week's worth of advertising across the state's 19 media markets can cost $4 million or more. Despite the high cost, the Democrats' main Senate super PAC is now looking at entering the contest.
"It's possible," Poersch told HuffPost. "There's no reason to take it off the table."
National Republicans have yet to make a full investment in the race, either, though the Club for Growth made a $1 million buy attacking O'Rourke in two of the state's mid-sized media markets ― El Paso and San Antonio.
Right now, however, Texas isn't central to either party's plan for Senate control, even though among the Democratic base, O'Rourke has emerged as perhaps the cycle's most exciting candidate and is generating unheard of amounts of cash for his uphill bid against Cruz. O'Rourke raised $9 million online in August. That means it's possible he could force national Republicans to spend without any response from out-of-state Democrats.
The Goal Line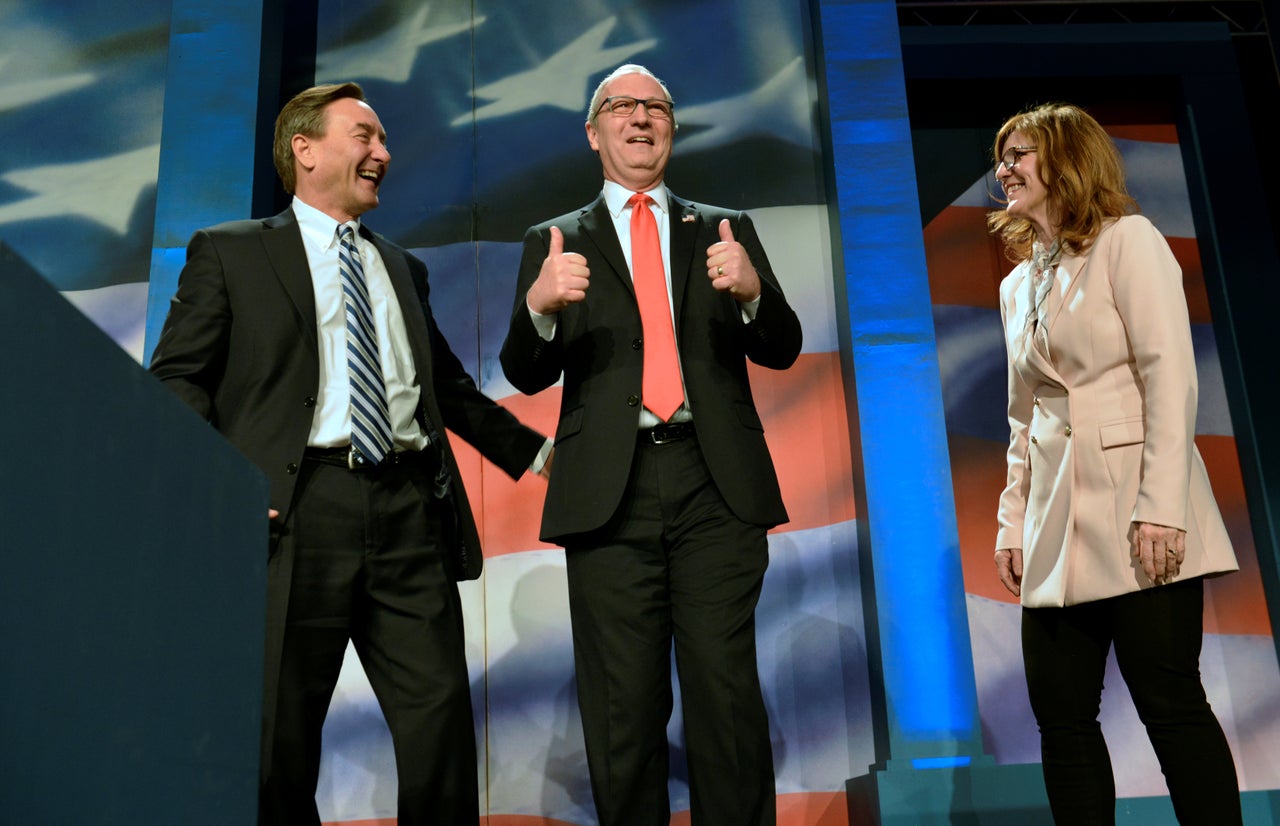 Beyond Florida, there are eight states where both parties are spending heavily on Senate races. Democrats are bullish about their prospects in two of those contests ― the re-election bids by Sens. Jon Tester in Montana and Joe Manchin in West Virginia.
Trump seems to have maintained his popularity in each state after winning them by overwhelming margins two years ago. But both Tester and Manchin are seasoned politicians, and they've had success depicting their opponents as out-of-state carpetbaggers.
Other Democratic incumbents face especially tough races in Indiana, Missouri and North Dakota. Of those, GOP strategists are convinced that Cramer will unseat Heitkamp.
Democrats are "going to lose North Dakota," said Josh Holmes, a top political lieutenant to McConnell. "That's what's going to happen." And that would mean, he asserted, that Democrats "have got to run the table" elsewhere to win the Senate.
Holmes is probably right: If they lose their seat in North Dakota, Democrats would need to sweep the GOP seats in Nevada, Arizona and Tennessee to claim a Senate majority ― assuming they can't take down Cruz in Texas. This scenario also assumes the Democrats can keep their seats in Indiana and Missouri, which is far from a safe bet.
In Missouri, Sen. Claire McCaskill is under heavy assault from GOP outside groups criticizing her as a corrupt career politician. But she has a major money edge over GOP challenger Josh Hawley and should be able to air more ads in the final weeks of the campaign. In Indiana, some public polls show Sen. Joe Donnelly pulling away from Republican Mike Braun, who as a candidate so far has underwhelmed national GOP operatives.
In Nevada, Dean Heller is the only Republican senator up for re-election this year in a state Clinton won in 2016. He's in a tight contest with Rep. Jacky Rosen.
In Arizona and Tennessee, meanwhile, GOP incumbents decided against seeking re-election. Each race features Democratic moderates who are two of the party's strongest recruits this cycle: Rep. Kyrsten Sinema in Arizona and former Gov. Phil Bredesen in Tennessee.
"The Republicans are guarding the goal line" in the Nevada, Arizona and Tennessee races, Poersch said. "If Democrats want to win back the Senate, that's where they have to break through."
Republicans are countering Sinema and Bredesen with strong candidates of their own: Reps. Martha McSally in Arizona and Marsha Blackburn in Tennessee, both of whom have been strong fundraisers.
Bredesen has repeatedly told reporters he doesn't believe control of the Senate is at stake in his contest. "I really don't think so, when you look at all the things that have to happen," he said in an interview in Nashville earlier this month.
While that might be helpful to his campaign's goal of winning over Republican voters, it has caused Democrats some complications in their messaging.
The DSCC's e-mailed fundraising missives to supporters hype the party's path to a Senate majority as running through the southwest ― Arizona, Nevada AND Texas ― even though Tennessee is a far more likely pick-up opportunity for Democrats than the Lone Star State. Indeed, the DSCC has yet to indicate it plans on spending money in Texas.
The Kavanaugh Effect
If there remain unknowns in the battle for the Senate, they center around the political impact of the turmoil that has come to surround Kavanaugh. Republicans, for now, insist any move to abandon or withdraw his nomination to the high court would devastate GOP voters' morale.
"I think most Republican voters will think 'What's the point of voting? They didn't even stand by Kavanaugh,'" the former Trump administration official said.
Democrats have been skeptical Kavanaugh's nomination ever had the ability to turn swing voters against Democrats, even those running in states Trump won handily. Polling showed most undecided voters said a Supreme Court nomination wouldn't impact their vote.
But in the wake of the sexual assault allegations, polls have shown that supporting Kavanaugh would hurt Democrats with core voters they need to win.
"Even before the allegations, red-state Democrats had more to lose by supporting Kavanaugh then they had to gain," Fallon said. "Now that he's been credibly accused of sexual assault, there's no reason for them to consider (backing) Kavanaugh's nomination. They're risking a backlash from women and progressive voters that they need. There's nothing but downside to vote for him now."
This story has been updated with detail on the Missouri and Indiana Senate races.
Support HuffPost
The Stakes Have Never Been Higher
Popular in the Community