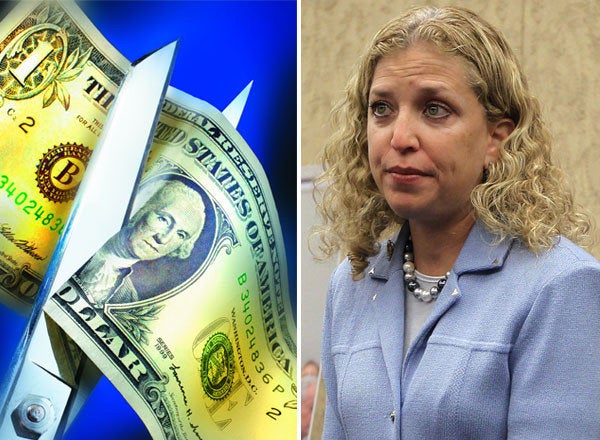 WASHINGTON -- Setting the stage for a more aggressive posture on taxes and jobs, the Democratic National Committee is launching a campaign to pressure Republicans to extend the payroll tax cut past the end of 2011.
The campaign will involve a wide range of party assets -- from lawmakers to new media operatives -- and take place in a number of states, including New Mexico, Colorado, Arizona, Iowa, Virginia, Pennsylvania, Florida, Nevada, New Hampshire, North Carolina, California, Minnesota, Wisconsin, South Carolina and Missouri.
According to a DNC official, members of Congress will be holding coordinated press conferences this week alongside allied groups and other elected officials. There will also be what the official described as a strong social media component involving Facebook campaigns and Twitter posts from members of Congress and the DNC -- all toward the general effort of "hammering the hypocrisy of individual members who signed [Grover] Norquist's pledge [not to raise taxes]."
The cut affects the 46 percent of all Americans who pay payroll taxes but do not qualify to pay federal income taxes. In the bipartisan deal last December to keep the Bush-era tax cuts in place for another two years, lawmakers signed off on a proposal to reduce the percentage of taxes that workers pay towards Social Security from 6.2 to 4.2 percent. That rate is set to go back up to previous levels on Jan. 1, unless Congress acts.
The payroll tax cut is one of President Obama's favored policies, and a rare chance for the Democratic Party to tarnish the opposition as willing to allow tax hikes.
But the DNC's campaign does risk potential pushback from the base. Progressives have been wary of the proposal, arguing that it depletes funds from a Social Security program that could clearly use them. When the payroll tax cut was first passed in December, Social Security advocates expressed concern that it would simply be routinely extended by lawmakers wary of allowing any tax cut to lapse.
While the vast majority of Democrats now seem fully behind an extension -- arguing that it is both a financial relief to workers and a backdoor stimulus -- Republicans are now the ones balking. In an Associated Press report on Monday, Rep. Jeb Hensarling (R-Texas) acknowledged it would be a "net positive" to let workers keep the specific tax break. But because the payroll tax isn't being made permanent -- and because its benefits are not being felt by employers as much as employees -- the GOP seems poised to oppose an extension.
If Republicans do so, Democrats would have a pointed argument to push at a time when the party is hoping to regain control of the economic narrative.
At the very least, disagreement between the parties on extending the tax cut would provide yet another telling contrast; Republicans recently blocked Democratic efforts to close tax loopholes for high-end products and earners during the debt ceiling debate.
"This week's push is just the tip of the iceberg of an effort to highlight exactly who the party of 'corporations are people' is really fighting for," the DNC official said. "We will continue pushing this message during our rapid response activities during the debate and during the jobs bill debate this fall."
UPDATE: John Kartch, the director of communications at Norquist's Americans for Tax Reform, sends over the following remark about the impending lapse of the payroll tax cut:
Obama in late 2010 asked for the reduced tax rate for Social Security as a temporary tax cut -- a stimulus measure like the temporarily refundable tax credits of the 2009 'stimulus' package. (This is unlike the R and D tax credit or AMT patch or 2001/2003 tax cuts whose proponents argued for them as permanent policy changes even though they were made temporary for budgetary/filibuster reasons...) One could argue that therefore allowing it to lapse was not a tax hike. But safer to either continue the lower rate or cut some other tax rate by the same total amount so that any change was revenue neutral.
The Bush tax cuts, too, were passed on a temporary basis (with an expiration date 10 years after they were signed into law). And while during the debt ceiling debate, Norquist seemed to suggest that he wouldn't count the reversion of those rates to pre-Bush levels as a "tax-increase," he quickly backtracked from that position.
Popular in the Community