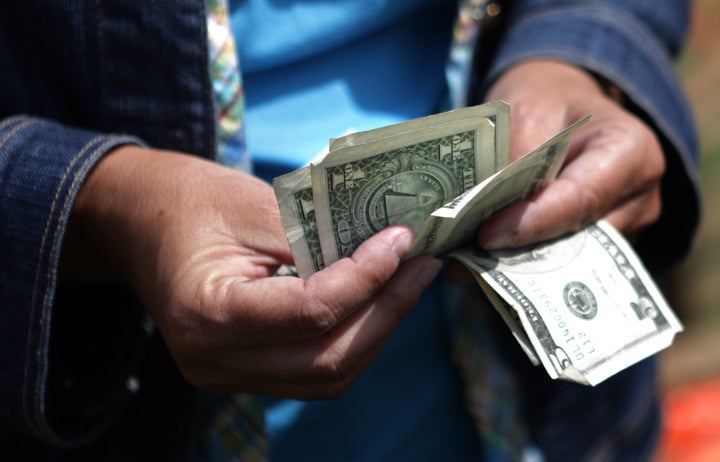 Democrats are starting an effort to tie the entire Republican Party to the controversial statements made by a few of its candidates supporting the elimination or restructuring of minimum wage laws.
Strategists have begun urging members to press both incumbents and their general election challengers to formally state where they stand in the debate. The template is the campaign that Democrats ran in 2006 forcing GOP lawmakers and candidates to explain where they stood on privatizing social security.
"We ought to be telling everyone in the House who is a Democrat to say, 'I challenge you, I want my opponent to commit to not lowering the minimum wage,'" said one top-ranked strategist who consults on several races.
In addition, there has been some talk about finding a legislative vehicle that would symbolically reaffirm the party's commitment to not letting the minimum wage dip below its current level of $7.25. Nothing could be formally considered, however, until after the November elections.
The effort is being charted out for obvious reasons. The minimum wage debate is, empirically, a slam-dunk for the Democratic Party. Back in 2006, several states ran ballot initiatives to raise the minimum wage and in basically every contest the margins weren't close. In Nevada, voters favored raising the wage by a 69 percent to 31 percent margin. In Missouri those numbers were 76 percent to 24 percent. In Ohio, it was 56 to 44 percent. In Arizona it was 66 percent to 34 percent. In Montana it was 73 percent to 27 percent. Only in Colorado was it moderately close, with 53 percent favoring a hike and 47 percent opposing this.

Reading the obvious indicators, union officials have already begun to push the minimum wage debate as a wedge issue in the 2010 races. The AFL-CIO has put out mailers in three gubernatorial races, accusing Illinois Republican Bill Brady, Minnesota Republican Tom Emmer, and Oregon Republican Chris Dudley of all having voted or worked against raising the minimum wage.
On the heels of statements from Senate candidates Joe Miller (R-AK) and John Raese (R-W.V.) casting federal minimum wage laws as unconstitutional, AFL-CIO header Richard Trumka argued on Tuesday that the proposal should be considered part of the larger GOP platform.
"You can only look at the facts," Trumka said, in a small briefing with political reporters. "In West Virginia the Republican Party has given massive amounts of money to [John] Raese. One of Raese's main platforms is that they ought to do away with the minimum wage... I mean, if they are sponsoring that candidate you have to assume they are sponsoring that statement. They believe in that statement. The same with Rand [Paul], I mean every one of them, Sharron Angle, Miller up in Alaska. All of those candidates are saying do away with the minimum wage do away with regulations and they are getting massive amounts of money from the Republican Party. So you have to say the Republican Party agrees with them. So if they get elected is that their platform? Are they going to do away with the minimum wage? Ask them."