WASHINGTON ― Before President Donald Trump appeared before cameras Tuesday night to bestow his Supreme Court rose on Judge Neil Gorsuch, protesters were already gathering outside the Brooklyn office of Senate Minority Leader Chuck Schumer (D), demanding he take a firm stand against whichever man Trump nominated.
Later that evening, he did just that, announcing that Gorsuch would need 60 votes to get through the Senate, a declaration that Democrats planned to filibuster. The move came not long after he had chided Sen. Jeff Merkley (D-Ore.) for suggesting that he would filibuster Trump's pick no matter who it was. Whether Schumer's decision was specifically driven by the thousands outside his office, who had been organized by the Working Families Party, or the crowds who had gathered at JFK airport, or the millions who had marched across the country the week before is impossible to know for certain.
But there can be no denying that Democratic spines have stiffened noticeably.
On Monday night, Democrats, led by Schumer and House Minority Leader Nancy Pelosi of California, held an impromptu rally outside the Supreme Court. With the audio faltering, Pelosi led the assembled politicians in a rendition of "This Land Is Your Land," with Sen. Cory Booker of New Jersey even trying his hand at a bullhorn.
Democrats couldn't have looked any more awkward if they tried, and Trump didn't miss the opportunity to mock them on Twitter. But the next morning, the organized resistance continued, with Senate Democrats boycotting two votes scheduled for Trump nominees who have either lied, misled the committee or withheld information about their financial background. Later that day, they used a rare parliamentary maneuver to force a delay on a vote on the nomination of Sen. Jeff Sessions (R-Ala.) for attorney general.
The obstruction, defiance and stiff opposition came after a week of progressive outrage at Democratic elected officials, who activists said were too quick to cave to and normalize Trump's presidency. Progressive activists, of course, have been criticizing elected Democrats for being too weak for decades. But this time the charge is actually landing, and it's changing the way the party is positioning itself against Trump.
Rep. Adam Schiff (D-Calif.), in an interview with the L.A. Times editorial board, said the energy coming from the base is "different in kind, certainly different in intensity, than I think we've ever seen after an election."
Over the weekend, some 2,000 progressives gathered in Providence, Rhode Island, to protest Sen. Sheldon Whitehouse (D-R.I.), who they said had been too soft on Trump. Whitehouse said he was heartened to see the energy. "Their message was: do be strong and do not accept the legitimacy of Trump's policies or his presidency. It was a very strong message in terms of its content," he said.
Asked if he agreed with the message, he said, "I think I agree with the heart of it. The policies that this president, who was elected in a highly questionable way, is trying to inflict on the American people are going to be very bad for the American people, and that he does not have the mandate for the kind of destructive change that he's trying to wreak."
He said it was "hard to tell" if Senate Democrats would be as emboldened in their opposition as they have become if the base hadn't been pushing them.
The intensity of the base's opposition to Trump was first on display the weekend after his inauguration, as more people took to the streets in a single day at various Women's Marches than at any protest in American history. On Saturday and Sunday, demonstrations broke out at airports around the country in the wake of Trump's announced Muslim ban, and elected officials found their way to those demonstrations.
Sen. Elizabeth Warren (D-Mass.), skewered for her vote in support of Ben Carson for secretary of Housing and Urban Development, rallied the crowd at Logan International Airport with a bullhorn, while Democratic congressmen traveled to Dulles, Virginia, to challenge law enforcement officials who were detaining Muslim travelers.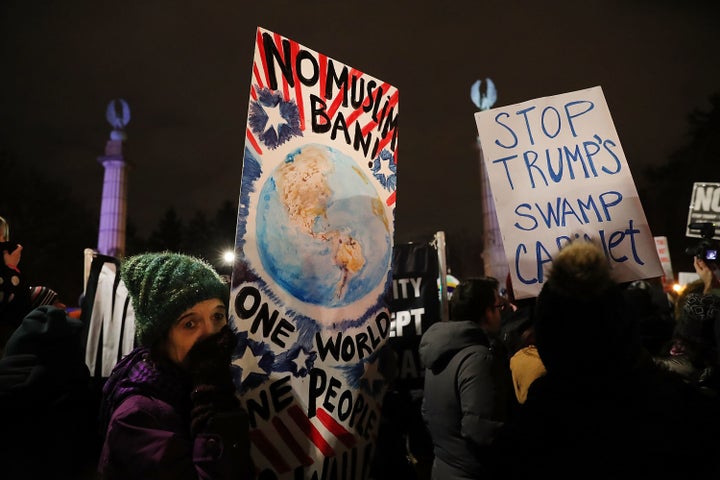 Protests have broken out everywhere, from Pittsburgh to Dayton, Ohio, to Palmer, Alaska. And Democrats are well aware that the base wants action. But the base itself is not unified, with some preferring a scorched-earth approach, and others open to a more pragmatic approach to stopping Trump. "Some are day one, literally, why-haven't-you-impeached-him-yet type people," said Sen. Dick Durbin (D-Ill.).
"There are various gradations within the opposition, and some are scorched-earth. As you'll see from some of my votes and our votes, we believe some of these cabinet nominees should move forward. That's fact," Durbin added.
"I voted yes for Mattis, I voted yes for Kelly. Today I voted yes for Elaine Chao," he continued, referring to Defense Secretary James Mattis, DHS Secretary John Kelly and Transportation Secretary Chao. "Some of my folks in the base don't want me to vote yes for anyone. But I'm not gonna take that position and most Democrats won't. We're gonna try to find a reasonable position allowing those nominees to go forward who can do a good job and who really don't represent radical views and who filed their required ethics statements for the position."
Indeed, not all Democrats want the earth scorched. Arlene, a 79-year-old D.C. resident who joined the protests outside the Supreme Court on Monday night and declined to give her last name, said Democrats are smart not to oppose all Cabinet nominees because they'll weaken their standing with GOP senators they need to go up against Trump.
"You need the rational Republicans with you," she said. "So if you've alienated them for something that's not really that important, versus for something stopping the Looney Tune in the White House, it's not in our interest to do that."
Schiff said he's not sure where it'll go. "The more radical the administration is, the more radicalized our base becomes, which just feeds the Breitbart crowd, and who knows where that ends," he said.
After the Democrats themselves, nobody may be more surprised to see the spine-stiffening than their friends on the other side of the aisle. "I think it's kind of embarrassing myself," Sen. John Cornyn (R-Texas) said of Democrats staging rallies and boycotting hearings. "Other than just protesting and continuing to not accept the outcome of the election, I'm not sure what it really gets them. But it's obviously making it difficult to make the transition from one administration to the next, and maybe that's their point."
He said he sympathizes with Schumer. "I think Sen. Schumer's got a very difficult job, trying to manage the Bernie Sanders/Elizabeth Warren wing of the party. But I don't think that's going to win them many votes by kowtowing to them and not working to try to solve problems," he told HuffPost.
Sen. John McCain (R-Ariz.) chalked the unusual behavior up to a state of shock.
"Look, I'm the last person who's an expert on the inner workings and hidden mechanisms of the Democratic Party. But I sense ― and I have a lot of friends over there ― they're still not over the shock," McCain told HuffPost. "I mean, people weren't just measuring the drapes, they picked out their offices and they were hiring assistants. I just don't think they've recovered yet to put together a cohesive plan. So what's the easiest thing to do? Block everything. Do you remember what we went through when we shut down the government, as our approval rating dropped to negative numbers?"
He said he thinks it will backfire. "I may be wrong, but I don't see how productive that is. You know, many times, when we were in the minority, we were very frustrated and the government shutdown is a classic example of everybody got frustrated ― 'So by God, we'll shut down the government,'" McCain said.
"So we had to fly food from the St. Mary's food bank in Phoenix up to the employees of the hotels and resorts around the Grand Canyon. Everybody thought that was a great idea, shutting down the government. It's almost like a mob mentality ― 'By God, let's show them,'" he added.
Whitehouse said that if the energy can carry through to the 2018 midterms, it could begin to halt the Trump agenda. So far, though, Trump and his allies on Capitol Hill are marching right on. While the Muslim ban was scaled back to exclude green card holders, elements of it remain in place, and polling shows it to be at least somewhat popular. On Wednesday, Republicans suspended Senate rules so they could push through the two nominees despite the Democratic boycott. And Republicans have strongly hinted that if Democrats successfully filibuster Gorsuch, they'll simply end the filibuster.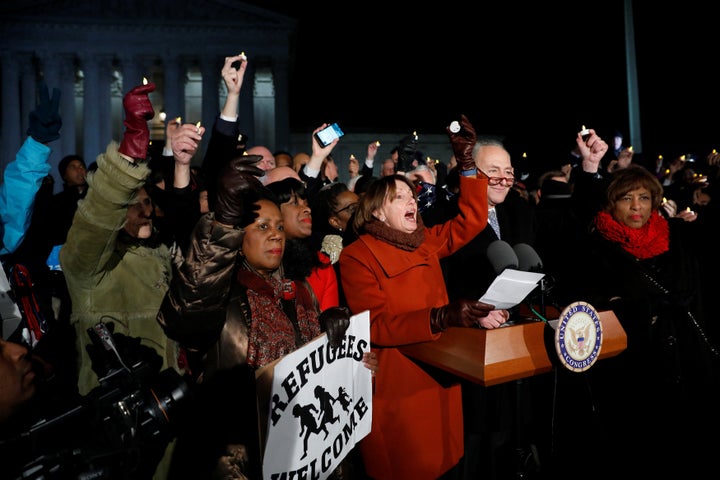 "We're going to follow the regular order of the Senate, and we're going to give the Democrats a chance to confirm this outstanding nominee. And I'm not going to answer the hypothetical question about how this may end, other than to say Neil Gorsuch will be confirmed," Senate Majority Leader Mitch McConnell (R-Ky.) promised.
Democrats rallied again outside the Capitol on Wednesday, joined by Gold Star father Khizr Khan.
"We will not be withdrawing. We will not be pushed back," Khan said. "Don't take me there yet, as Rep. John Lewis said. Don't take me there yet, we are not willing to go that way yet. But this needs to stop. If it doesn't stop here, the world is waiting to join us. We will boycott everything and anything, Trump, if this continues. The world will boycott. We are not going there yet. Don't push us in that direction."
The newfound alliance between Democratic leaders and the base bodes well for Democrats in 2018 if the party can turn out its voters in a midterm election, which they have mostly proven unable to do.
"The grass-roots movement is growing exponentially, and we judge that by the phone calls in our offices every afternoon in Rochester and Washington," said Rep. Louise Slaughter (D-N.Y.). "We would average 10-20 a day ― now we're up to 50 and 60 a day from each office. So many people saying, 'What can I do? We're ready to go!' And that's new since Trump."
But it also holds risks, if a new split arises and the skepticism returns. Just as leaked emails helped sow division during the presidential campaign, there's no reason to think a rift couldn't emerge again. For now, though, Democrats are cautiously welcoming the uprising. Not that they have many other options.
Igor Bobic, Jen Bendery, Laura Bassett and Laura Barron-Lopez contributed reporting.
Take the survey below. Results will be posted here at the end of the day on Friday, Feb. 3.
Support HuffPost
The Stakes Have Never Been Higher
Popular in the Community