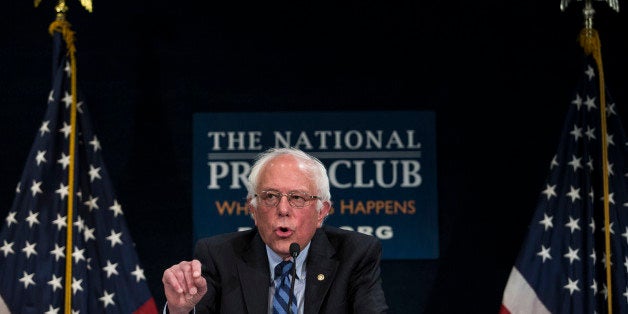 Bernie Sanders will become Democratic nominee, primarily because Hillary Clinton is a brilliant individual, and far too intelligent to simply use a private server for "convenience." While a former U.S. attorney general has already made the case for Clinton indictments, every defense from "legal scholars" ignores one obvious fact: Clinton didn't own the server merely for convenience. There was a political motive, and the same experience in politics lauded by supporters ensures that circumventing U.S. government networks had a specific purpose.
If you combine the fact that Clinton's excuse of convenience is most likely an overt lie, along with the "gross negligence" clause, then it's easy to see why Democrats must rally around Bernie Sanders. I explain to Hillary supporters why this email fiasco is very simple to understand in the following YouTube segment. These issues are straightforward, not difficult to comprehend, and I also highlight why Clinton likely faces indictments in this YouTube segment.
If you want a great summary from an IT perspective, Tim Black of Tim Black TV has a brilliant segment titled Hillary Clinton's Email Investigation Just Went Thermonuclear.
The actual Espionage Act "gross negligence" passage is worded in the following manner:
(f)Whoever, being entrusted with or having lawful possession or control of any document, writing, code book, signal book, sketch, photograph, photographic negative, blueprint, plan, map, model, instrument, appliance, note, or information, relating to the national defense, (1) through gross negligence permits the same to be removed from its proper place of custody or delivered to anyone in violation of his trust, or to be lost, stolen, abstracted, or destroyed, or (2) having knowledge that the same has been illegally removed from its proper place of custody or delivered to anyone in violation of its trust, or lost, or stolen, abstracted, or destroyed, and fails to make prompt report of such loss, theft, abstraction, or destruction to his superior officer--

Shall be fined under this title or imprisoned not more than ten years, or both.
Every defense of Clinton's emails assumes that there was no intent, or motive, to circumvent U.S. government computer networks.
In reality, Hillary Clinton is too intelligent to simply claim "convenience." Clinton intended to circumvent government networks, for the purpose of hiding information, knowing that Top Secret data shouldn't be anywhere else other than government servers.

Most importantly, "gross negligence" or carelessness isn't a defense. It's the basis for prosecution.
Also, there were 31,830 deleted emails, that Clinton's team destroyed. This too, falls under the Espionage Act, since as it's written, classified intelligence can't be "lost, stolen, abstracted, or destroyed" through "gross negligence."
If only one government document was deleted, guess what happens?
Last year, the reasons Clinton could face Espionage Act indictments were highlighted in great detail within a Huffington Post piece titled How Hillary Clinton Could Be Targeted Under The Espionage Act:
The relevant section of the law says that it is a crime to retain classified material. Clinton, for her part, said Tuesday that she did not send classified information from the personal address, and that the server she used was protected by the secret service and suffered no security breaches.

The Justice Department leveled just that charge against NSA whistleblower Thomas Drake and James Hitselberger, a former Navy linguist who sent classified documents to an archive at the Hoover Institution.

...There are two big hurdles to making such a determination in Clinton's case, said Steven Aftergood, who heads the Federation of Americans Scientists' Project on Government Secrecy. Officials have said it does not appear as if Clinton discussed classified matters over email, and the secretary of state has broad latitude to decide what is classified.
While American whistleblowers are sent to jail, Clinton likely broke the same laws. First, we now know that Clinton had 22 Top Secret emails stored on her private server. Second, we know that hackers in foreign nations already tried to hack into her server. Third, we know a Romanian hacker ("Guccifer") was recently extradited to the U.S. and successfully hacked into the email of Clinton's confidant. Fourth, and most importantly, Clinton communicated with the White House, and President Obama, via her private server.
As explained in POLITICO, "As State Department releases the latest batch, the White House is trying to hold back the release of Clinton's emails with Obama."
For all of these reasons, and more, I explain in this YouTube segment why the FBI's reputation is at stake with Clinton's emails.
While Bryan Pagliano was recently granted immunity, "Guccifer" should also be given immunity if he can help with this investigation. Guccifer's role in this scandal is highlighted in a POLITICO piece titled Trial set for suspect who allegedly hacked Bush family, Sidney Blumenthal:
Marcel Lazar, alleged to be the hacker known as "Guccifer," entered a not guilty plea...

Lazar's actions may have resulted in the first public disclosure of Clinton's private email address in 2013, when the hacker using the name "Guccifer" obtained access to an AOL account used by Sidney Blumenthal, a former White House adviser to President Bill Clinton who frequently traded back-channel intelligence, diplomatic messages and political gossip with Hillary Clinton during her tenure as secretary of state.

...He did apparently obtain access to Blumenthal's account, leaking some of his exchanges with Clinton and prompting her to change her email address.
It's feasible that a hacker could have gained access to Clinton's account, via the email of a close confidant. Remember, as stated in POLITICO, others "traded back-channel intelligence, diplomatic messages and political gossip with Hillary Clinton during her tenure as secretary of state."
But how was Clinton to know that a hacker would hack into a friend's email account, thus posing a risk to U.S. national security?

Again, gross negligence, or carelessness, isn't an excuse. Under the law, if you're Secretary of State and you're so careless, that you allow state secrets to be compromised, then you could face repercussions from the Espionage Act.
Furthermore, Clinton knowingly sent and received classified information, as Secretary of State. First, did Hillary Clinton really believe she'd never receive Top Secret intelligence, on her private server? It would be impossible to perform the tasks of Secretary of State.
Second, the NSA denied her request for a secure Blackberry. This state of affairs is described in a CBS article titled Emails show NSA rejected Hillary Clinton's request for secure smartphone:
WASHINGTON -- Newly released emails show a 2009 request to issue a secure government smartphone to then-Secretary of State Hillary Clinton was denied by the National Security Agency.

... "We began examining options for (Secretary Clinton) with respect to secure 'BlackBerry-like' communications," wrote Donald R. Reid, the department's assistant director for security infrastructure.

"The current state of the art is not too user friendly, has no infrastructure at State, and is very expensive."
Reid wrote that each time they asked the NSA what solution they had worked up to provide a mobile device to Obama, "we were politely told to shut up and color."
Thus, the NSA didn't want Clinton to use a Blackberry. When the NSA says you can't use a device, and you use the device anyway, then you've knowingly jeopardized classified data.
Of course, according to CBS News, "The following month, in March 2009, Clinton began using private email accounts accessed through her BlackBerry to exchange messages with her top aides."
Hillary Clinton used a Blackberry without NSA approval.

What could go wrong?
Since we don't know the real reasons Clinton had the server, it's only logical that Bernie Sanders is the true Democratic front-runner, regardless of delegate count. In the 2016 Democratic Primary, it's never been about delegate count; it's the fact Bernie Sanders has created a progressive political revolution, and isn't linked to an FBI investigation.
As for the Espionage Act, the Top Secret data and deleted emails constitute not only carelessness, but "gross negligence" and perhaps far more. Ultimately, the great thing about Bernie Sanders is that he beats Trump by a much wider margin than Clinton, as I explain on CNN International and CNN New Day. He can also type an email without scandal, which is why Democrats must rally around Vermont's Senator sooner than later.
Popular in the Community