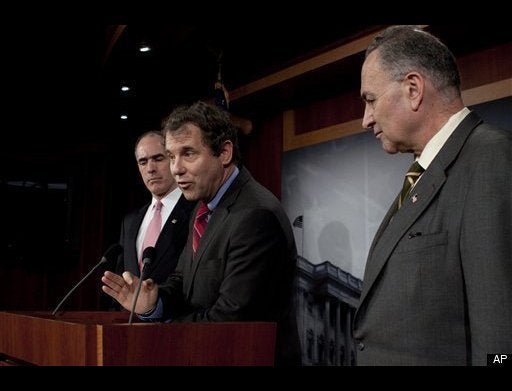 As the Senate debates a bill to reauthorize expired domestic aid programs, including a provision to extend jobless benefits for the long-term unemployed, Sens. Bob Casey (D-Pa.) and Sherrod Brown (D-Ohio) have introduced an amendment that would add COBRA back into the extenders bill.
"Millions of Americans have been hard hit by the recession and lost their jobs through no fault of their own," said Senator Casey in a statement Wednesday. "Unfortunately, some people in Washington want to pull up the ladder and take away help for these struggling families. Not extending COBRA premium assistance will hurt hundreds of thousands of people in Pennsylvania and across the country and it will add further strain on our recovering economy."
Fifteen percent of all unemployment insurance recipients rely on the reduced insurance premiums offered by COBRA, the program that allows workers to continue buying their employer-provided health coverage after they've been laid off.
Without the 65 percent subsidy created by the stimulus, COBRA is too expensive for many: Family premiums for COBRA coverage average $1,107 a month for unemployed families without subsidy--that's 84.3 percent of their monthly unemployment insurance checks.
Unless the law is changed, any worker laid off after June 1 will not be eligible for COBRA subsidies, though workers laid off earlier will continue receiving the subsidy.
Extending COBRA will cost $8 billion, but Casey, who led the last effort to extend benefits , is unfazed. "It's an emergency and when you're in an emergency you use emergency spending," he said in a conference call with progressive media Wednesday. "My amendment will make sure that we have eligibility for COBRA extended through November. To do otherwise would be a terrible mistake for real people, for real families, and a terrible mistake for our economy."
The amendment was introduced just a day after President Obama pressed Congress to extend COBRA subsidies in a statement during a town hall question and answer session. The President suggested that while not a long-term solution, COBRA subsidies are necessary since the major provisions of health care reform have yet to kicked in.
A letter from Casey and Brown sent Wednesday to Majority Leader Harry Reid and Finance Committee Chairman Max Baucus calls for support for adding COBRA to the extenders bill though November of 2010.
Popular in the Community