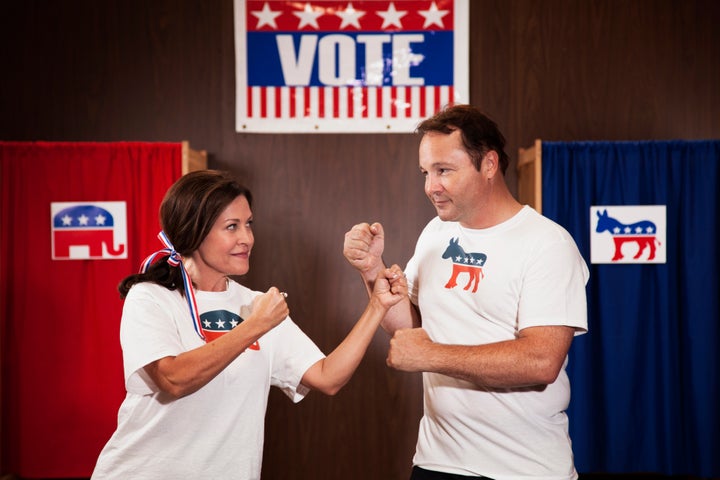 A new Pew report shows how divided Republicans and Democrats are. Most Americans favor a pathway to legal status for undocumented residents. And final Brexit polls indicate the vote could go either way. This is HuffPollster for Thursday, June 23, 2016.
MANY DEMOCRATS AND REPUBLICANS ARE AFRAID OF THE OTHER PARTY - Pew Research: "[S]izable shares of both Democrats and Republicans say the other party stirs feelings of not just frustration, but fear and anger. More than half of Democrats (55%) say the Republican Party makes them 'afraid,' while 49% of Republicans say the same about the Democratic Party. Among those highly engaged in politics – those who say they vote regularly and either volunteer for or donate to campaigns – fully 70% of Democrats and 62% of Republicans say they are afraid of the other party. Across a number of realms, negative feelings about the opposing party are as powerful – and in many cases more powerful – as are positive feelings about one's own party." [Pew]  
Americans cite opposing party's policies as a main reason for their party allegiance - More from Pew: "Why do people choose to identify as a Republican or a Democrat? For Republicans, about as many (68%) cite as a major reason the harm that Democratic policies inflict on the country as cite the beneficial impact of GOP policies (64%). The balance of views among Democrats is only slightly more positive: 68% say a major reason they belong to their party is that Democratic policies are good for the country. However, concern over Republican policies also looms large: 62% say a major reason for their party choice is that 'the Republican Party's policies are harmful to the country.' For members of both parties, other factors rank far behind the parties' policies among reasons for choosing a party. Roughly four-in-ten Democrats (41%) and Republicans (38%) say a major reason for identifying with their party is that they 'have a lot in common' with the people who belong to the parties. Fewer people – 31% of Democrats and 26% of Republicans – say the lack of common ground with members of the opposing party is a main reason why they are a Democrat or Republican." [Pew]
The polarization extends to this year's election - HuffPollster: "On a zero-to-100 scale, Republicans rate Hillary Clinton on average a 12, while Democrats rate Donald Trump an 11. A full 59 percent of Republicans and 68 percent of Democrat give the opposing party's presumptive nominee a rating of zero. Even those whose preferred candidate lost in the primaries are likely to consider supporting the other party a greater evil. Fifty-six percent of Republicans who supported someone besides Trump say that the Democratic Party makes them feel frustrated, with 53 percent saying it makes them afraid and 44 percent saying it makes them angry. Democratic supporters of Sen. Bernie Sanders (I-Vt.) are even less positive toward the Republican Party, with 68 percent saying that it makes them afraid, 64 percent that it makes them frustrated and 57 percent that it makes them angry." [HuffPost]
MOST AMERICANS FAVOR A PATHWAY TO CITIZENSHIP FOR UNDOCUMENTED PEOPLE - Betsy Cooper, Daniel Cox, E.J. Dionne Jr., Rachel Lienesch, Robert P. Jones and William A. Galston: "Americans remain firmly committed to an immigration policy that would allow illegal immigrants a way to become citizens, compared to other policy options. More than six in ten (61%) Americans say immigrants living in the U.S. illegally should be allowed a way to become citizens, provided they meet certain requirements. Roughly one in five (17%) say they would prefer illegal immigrants to be eligible for permanent residency status but not citizenship, and a similar number (21%) say all immigrants living in the U.S. illegally should be deported….Support for immigration reform is fairly strong across racial and ethnic lines. Close to six in ten white Americans (57%) and more than seven in ten black (71%) and Hispanic Americans (75%) favor a policy that would offer illegal immigrants a chance to become citizens…. More than seven in ten (72%) Democrats say illegal immigrants should be allowed a way to become citizens, a view shared by fewer than half (49%) of Republicans…. Clinton supporters are far more likely than Trump supporters to support a policy that would allow immigrants living in the U.S. illegally a way to become citizens (71% vs. 45%, respectively)." [PRRI/Brookings]
FINAL U.K. BREXIT POLLS SHOW 'REMAIN' WITH A NARROW LEAD - Ann Gripper, Mikey Smith and Dan Bloom: "The Remain camp swung back into the lead in the three final polls before the EU referendum. The final poll conducted before polls opened was by Populus for the Financial Times. The survey of 4,700 people was conducted right up to midnight last night, and put Remain on 55%. Earlier today, Ipsos MORI published a poll for the London Evening Standard, which shows Remain in the lead on 52%. It was carried out from June 21-22 - right up to 9pm last night - and surveyed 1,592 people. The poll also found 12% of those surveyed might change their mind in the few short hours before they cast their vote. A survey by ComRes for the Daily Mail and ITV News gave Remain a 6-point lead over Leave - on 48% compared to 42%. But the phone poll of 1,032 people on June 17-22 also underlined the confusion among voters as 11% of people said they were still undecided." [Mirror]
HuffPost Pollster average shows a dead heat: With the final polls added to the HuffPost Pollster Brexit chart, which aggregates all publicly available polls, the race is just about tied. "Leave" takes 45.5 percent of the vote, while "remain" takes 45.4 percent and 9 percent are undecided. Mode effect -- differences stemming from how each poll was conducted -- still seems to be an issue. Phone polls show "remain" with just over a 2-point lead, 46.7 percent to 49.3 percent, while internet polls show "leave" with just over a 1-point edge, 46.3 percent to 44.5 percent. However, phone and internet polls seem to have narrowed the gap and converged in the final days.
Some pollsters are bound to get it wrong - Peter Kellner: "As the referendum results flow in, the pollsters will be as nervous as the Brexit and remain campaigns. Having worked hard to scrape the egg of their faces after last year's general election, they would hate having to do the same again.As things stand, some pollsters seem certain to be more embarrassed than others. A year ago, their final headline figures were much the same; they were all wrong together….This time there have been big variations, both between individual surveys by the same companies and, on average, between polls conducted online and those conducted by telephone. Monday night was typical – the ORB/Telegraph phone poll showed remain 7% ahead, while the YouGov/Times online poll reported a 2% leave lead. If that difference persists in the final polls, somebody is bound to have awkward questions to answer. That said, the pollsters' long-term record is generally outstanding – especially when one takes account of their little secret: that it's becoming much harder to obtain representative samples." [Guardian]
UPDATE ON THE POLLSTER GENERAL ELECTION CHARTS - HuffPollster: "We've made a lot of tweaks and adjustments to the HuffPost Pollster charts in the last few months. The updates have been great progress for the site — for example, the charts are responsive on mobile now! — but there have been a few bugs along the way, as there are with any updating process…. We added the ability to filter by respondents' partisanship, which inadvertently caused our averages to be slightly off for a few days... [Wednesday's] fix resolved that….In the coming weeks we will separate the questions that include [Libertarian candidate Gary] Johnson into a separate chart. That means we'll have two general election charts: Trump vs. Clinton with an "other" category, and Trump vs. Clinton vs. Johnson. Our default general election chart will still be the Trump vs. Clinton chart, but in response to high demand and the aforementioned methodological issues, we're adding one that will explicitly include Johnson." [HuffPost]
HUFFPOLLSTER VIA EMAIL! - You can receive this daily update every weekday morning via email! Just click here, enter your email address, and click "sign up." That's all there is to it (and you can unsubscribe anytime).
THURSDAY'S 'OUTLIERS' - Links to the best of news at the intersection of polling, politics and political data:
-Democrats like Elizabeth Warren but most don't think she's the right vice presidential pick for HIllary Clinton. [CNN]
-David Rothschild explains that in the Brexit vote, "remain" and "leave" camps are basing their choices on very different issues. [HuffPost]
-Nearly seven in ten voters think Trump should cut business ties while he is running for president. [CNN]
-The U.S. Census releases a new report that highlights the country's changing demographics. [Census Bureau]
REAL LIFE. REAL NEWS. REAL VOICES.
Help us tell more of the stories that matter from voices that too often remain unheard.