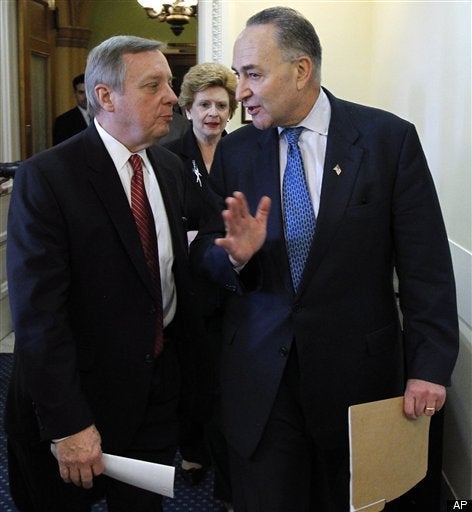 WASHINGTON -- Hoping to craft a set of rules changes that will have the support needed to get through the chamber, Senate Democrats have begun scaling back the reach of the legislation proposed by some of their caucus' staunchest filibuster-reform advocates.
Lawmakers are set to debate -- and possibly finalize -- recommendations during what promises to be a high-stakes caucus meeting Tuesday afternoon. The weekly lunch could set up an effort later that day to push reforms through on a straight up-or-down vote, but activists warned Monday morning that negotiations could be extended longer. Some Democrats are wary of exercising the so-called "constitutional option" -- which would allow them to set the chamber rules with just 50 votes -- pushing instead to settle for a smaller package of reforms capable of garnering the 67 votes needed for a midsession rules change.
In the past few days and weeks, Senate Rules Committee Chairman Chuck Schumer (D-N.Y.) and ranking Republican Lamar Alexander (Tenn.) have held talks on some of those measures. The result is less ambitious than the initial proposal, top Senate aides say, but more likely to attract GOP support.
Lawmakers have generally agreed that the Senate should eliminate the use of secret holds, which allow members to stop votes on nominations anonymously. They have also found some agreement on a deal that would limit the majority leader's ability to "fill the tree," a parliamentary maneuver to prevent the minority party from offering amendments, "in exchange for filibustering less," a senior aide said. There also appears to be an informal deal to reduce the number of judicial and executive-branch nominations requiring confirmation.
All of those elements are contained in a package that was introduced by Sens. Tom Udall (D-N.M.) and Jeff Merkley (D-Ore.) in early January. What are missing, according to the top aide, are the more far-reaching suggestions, including a proposal "guaranteeing post-cloture amendment votes for each side." There was some bipartisan agreement on scrapping that proposal, which had Democrats worried that Republicans would use it to force tough or embarrassing votes.
Other aides said it's all but certain that lawmakers would drop another element of the Udall-Merkley package that would require a filibustering party to explain, on the floor of the Senate, the reason for their filibuster.
"Leadership has been against it," said one Democratic Senate aide, speculating that visions of being in the minority party in the future has left some members unwilling to commit to such a policy.
Left unclear at this point is what exactly a deal on nominees might look like. The Udall-Merkley approach would have limited the post-cloture window to two hours of debate on a given nominee, a substantial shift from the 30-hour window that currently discourages leadership from bringing nominees to the floor unless as part of a large group.
Also unclear is whether Democrats will attempt to pass the suggested reforms on Tuesday -- which is still, technically, the first day of the legislative session -- or whether they will continue to work with Republicans to build support for the measure. The former could be sent through the Senate by simple majority vote. The latter path would require 67 members.
On the Hill, lawmakers who have long championed filibuster-reform measures, like Sen. Tom Harkin (D-Iowa), seemed unwilling to throw in the towel on the more ambitious provisions.
"Senator Harkin continues to advocate for long-overdue substantive rules changes," Harkin spokeswoman Kate Cyrul said. "This effort is not about party or agenda, but about moving the country forward. It remains Senator Harkin's intention to push for a vote on rules reform, which includes an effort to reform the filibuster, to see if senators stand for obstruction or solutions to the nation's problems."
But most of Harkin's colleagues appear to have greatly dialed back their expectations. The Udall-Merkley approach, said one former Senate aide following the talks, was more or less dead because "the votes aren't there" for doing something via the constitutional option. And since that means Democrats need 14 Republican votes, the party was all but assured to settle on the low-hanging fruit.
"[There are Democrats] who think that in the long run this would be harmful to the body and to themselves should they be in the minority themselves in two years," the former Senate aide said.
With Reporting By Ryan Grim
Calling all HuffPost superfans!
Sign up for membership to become a founding member and help shape HuffPost's next chapter