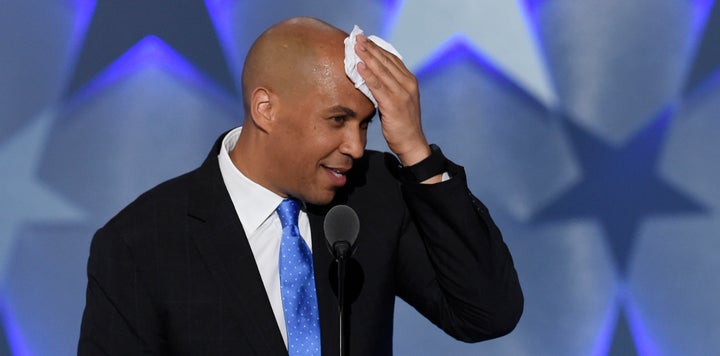 On Wednesday, Donald Trump said Americans were paying too much for prescription drugs because big pharmaceutical companies have too much power in Washington. "We have to … create new bidding procedures for the drug industry, because they're getting away with murder," Trump told reporters on Wednesday. "Pharma has a lot of lobbies, a lot of lobbyists and a lot of power."
The murder spree continued into the final hour of Wednesday night, as 13 Senate Democrats proved Trump right by joining 39 Republicans to vote down a bill designed to lower prescription drug prices.
Pharmaceutical companies have the highest profit margins of any industry, and prescription drug prices are increasing by an average of over 18 percent per year. Well before Trump gave his press conference, Sens. Bernie Sanders (I-Vt.) and Sen. Amy Klobuchar (D-Minn.) had crafted a budget resolution designed to rein in medication prices by allowing cheaper, identical versions of prescription drugs to be imported from other countries, including Canada, where medicines are cheaper.
Twelve Republicans voted for the bill ― more than enough to ensure its passage. It failed by a vote of 46 to 52 because 13 Democrats opposed it.
There was a strong correlation between states where the drug industry is concentrated ― such as New Jersey, Washington, Pennsylvania and Delaware ― and Democratic opposition to Wednesday's vote. A cynic might conclude that industry influence had something to do with the outcome. Not at all, the Democrats told HuffPost. They were only concerned with patient safety.
Seven of the Democrats who voted against the Sanders-Klobuchar plan ― Sens. Cory Booker of New Jersey, Bob Menendez of New Jersey, Chris Coons of Delaware, Robert Casey of Pennsylvania, Tom Carper of Delaware, Maria Cantwell of Washington and Heidi Heitkamp of North Dakota ― all defended their opposition by arguing the bill didn't address consumer protections for imported drugs. (The others didn't immediately comment.)
"I support the importation of prescription drugs as a key part of a strategy to help control the skyrocketing cost of medications," Booker said in a statement provided to HuffPost. "Any plan to allow the importation of prescription medications should also include consumer protections that ensure foreign drugs meet American safety standards. I opposed an amendment put forward last night that didn't meet this test. The rising cost of medications is a life-and-death issue for millions of Americans, which is why I also voted for amendments last night that bring drug prices down and protect Medicare's prescription drug benefit. I'm committed to finding solutions that allow for prescription drug importation with adequate safety standards."
In an odd coincidence, the rationale provided by Booker et al. was strikingly similar to the objections raised by the nation's chief prescription drug lobby, the Pharmaceutical Research and Manufacturers Association (commonly known as PhRMA).
"The importation of unapproved and potentially counterfeit medicines into the United States jeopardizes our secure medicine system and presents a serious risk to public health," a PhRMA spokesperson told HuffPost in a statement. "Even Canada has said it would be unable to guarantee that U.S. citizens would receive products that are safe, effective and of high quality. Guaranteeing patient safety is crucial, and we must have policies that ensure patients safely have access to the medicines they need."
PhRMA has issued similar warnings to several state governments that have legalized Canadian drug imports in the past. In 2003, Minnesota Gov. Tim Pawlenty (R) reacted to the PhRMA pushback incredulously: "Where are the dead Canadians? Show me the dead Canadians."
The actual text of the amendment restricts its applicability to "safe and affordable prescription drugs" ― language that should make clear to the committees drafting the more detailed legislation that they shouldn't be clearing poison. It's almost as if the lawmakers who voted "no" are using consumer concerns about medication safety to mask what might have been an industry-driven move.
Drug importation alone probably wouldn't make a big difference in the overall price of American drugs. The U.S. market is so big that other countries won't have enough drugs to meet the domestic demand. A 2004 study by the Congressional Budget Office concluded that allowing importation would reduce drug spending by about $4 billion a year, roughly 1 percent. And the budget resolution was largely symbolic ― it would not have actually implemented any new policy, only directed committees in Congress to get the ball rolling.
But drug companies have long viewed any shift in drug price policy as the first step on a slippery slope to big changes. Massive profitability for prescription drugs in the U.S. is driven by a series of standards that allow companies to set prices free of market competition or government pressure. If lawmakers stop viewing that principle as inviolable, more significant reforms could follow.
The irony, of course, is that if voting down the amendment was a political decision, it wasn't a smart one. "This is exactly why Democrats have lost for the last decade," said RoseAnn DeMoro, executive director of National Nurses United, which endorsed Sanders during the presidential campaign, noting the 900-odd federal and state seats shed since Obama took office. "But they don't care, they're looking for their next jobs."
For DeMoro, that the amendment would only have instructed committees to look into the issue at some point in the future made the cowardice that much more galling. "That's what makes them so fundamentally shameless," she said. "They're basically letting their masters know they're in line."
The seven other Democrats voting against the bill were Sens. Joe Donnelly of Indiana, Michael Bennett of Colorado, Martin Heinrich of New Mexico, Patty Murray of Washington, Jon Tester of Montana and Mark Warner of Virginia.
This story has been updated to include comment from Booker and PhRMA.
Support HuffPost
The Stakes Have Never Been Higher
Popular in the Community