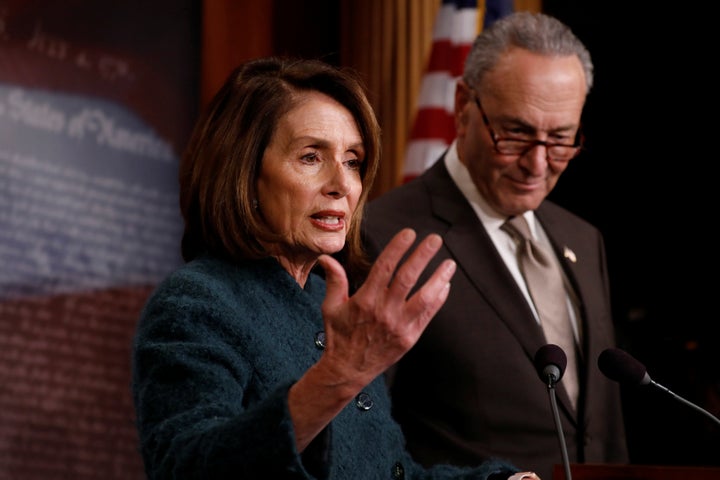 As more and more teachers protest their states' funding cuts, Democrats in Congress say they have a plan to restore school spending and boost teacher pay.
On Capitol Hill on Tuesday, party leaders joined teachers' union officials to promote a slate of policies aimed at addressing the growing number of teacher walkouts that have shaken up statehouses across the country. The measure would steer $100 billion in federal funds toward schools and ensure that teachers could bargain collectively on salaries, benefits and working conditions.
"We're here because teachers are marching on state Capitols across the country," said Senate Minority Leader Chuck Schumer (D-N.Y.). "Teachers of America, the Democrats hear you loud and clear."
Democrats said their plan would pay for those investments by paring back some of the tax cuts for the wealthy in the Republican tax package passed by Congress last year and signed by President Donald Trump. Parts of the plan were introduced last year as the Democratic Party's new "Better Deal" agenda, which is heavy on antitrust and labor law reform.
The leaders didn't specify which parts of the Republican tax plan they would target for repeal, referring only to tax breaks for the rich and special-interest loopholes. At the heart of the Republican plan was a massive corporate tax cut. Although families in all income brackets are expected to have smaller tax bills next year, independent analysts say most of the benefits from the plan will go to the wealthy.
"The very wealthiest should not have such a large tax cut," Schumer said. "I think the odds of something like this [education proposal] passing are large in the next several years … Our day is going to come sooner than you think."
The Democrats' plan isn't going anywhere for now, as Republicans still hold a majority in both chambers and occupy the White House. But the education plan helps Democrats put down a marker before the midterm elections, just as the teacher walkouts have galvanized grassroots activists and spurred a backlash against Republican austerity.
Most states pulled back on education funding when tax revenues fell during the Great Recession. Spending still hasn't returned to 2008 levels in certain states, several of which went on to implement tax cuts that left even less money for schools and salaries. The teacher strikes have tended to hit states with the deepest cuts.
"Republicans are fighting to slash teacher and school budgets. This is one of the dumbest things Republicans have done," said House Minority Leader Nancy Pelosi (D-Calif.).
The walkouts began in late February, when West Virginia teachers went on strike to protest low pay, rising health costs and poorly equipped classrooms. The successful work stoppage prompted similar walkouts and school closures in Oklahoma, Kentucky, Arizona and North Carolina, all with Republican-controlled statehouses that have cut taxes in recent years while school funding has dropped, when adjusted for inflation.
The images of striking teachers and crumbling textbooks has prompted several states to increase school funding and teacher pay to varying degrees. Congressional Democrats said it still isn't enough. Their plan would dedicate $50 billion to states to raise teacher pay and another $50 billion to states to spend on school infrastructure and curriculum.
Another, less direct way the plan could boost teacher salaries is through more union contracts. The states that have seen teacher strikes and walkouts tend to have weak labor laws, in some cases even outlawing collective bargaining by public-sector workers. In West Virginia, for instance, the unions have no ability to bargain contracts and guaranteed raises with school districts, only to lobby lawmakers for higher salaries.
The Democratic plan would change that by enshrining public-sector workers' ability to bargain as a group, just like workers in the private sector, through a federal law. Such bills have been proposed in the past but never received enough votes. If Democrats succeed in passing it someday, it's likely that conservative states would challenge it in court.
Popular in the Community