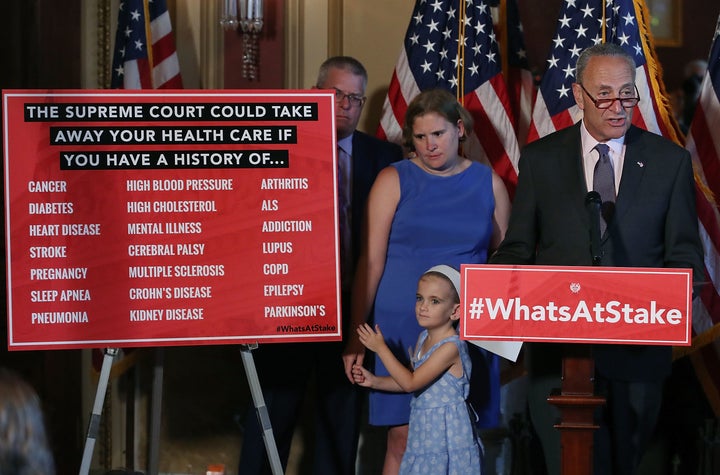 WASHINGTON ― Democrats are still sore from letting President Barack Obama's final Supreme Court pick slip through their fingers. But this time ― this time! ― they're vowing to fight like hell to try to stop President Donald Trump's conservative nominee from getting confirmed.
Trump nominated Brett Kavanaugh, currently a judge on the powerful U.S. Court of Appeals for the D.C. Circuit, to replace retiring Justice Anthony Kennedy. His confirmation would swing the court further to the right and hand Republicans a much more reliable 5-4 majority.
Progressive groups are energized and working directly with Senate Democrats to try to sink his confirmation. This week, Senate Minority Leader Chuck Schumer (D-N.Y.) organized daily calls between about a dozen groups and top Democrats on the Judiciary Committee. Going forward, they plan to talk several times a week to keep refining their strategy.
"The substance is the way to win this," Schumer said on the Senate floor. "The American people care about their substantive rights being taken away. Whether it be civil rights, labor rights, health care rights, women's rights to choose. That's what we're focusing on."
Democrats have settled on women's reproductive rights and the Affordable Care Act as the two biggest issues at stake. It makes sense; both are issues that voters feel strongly about, and ones that the entire Democratic caucus feels comfortable running on. They also happen to be the two areas where moderate Republican Sens. Susan Collins (Maine) and Lisa Murkowski (Alaska) have stood with Democrats in the past.
Strategically, Democrats have two objectives: Keep their caucus unified against Kavanaugh, and try to win over at least one Republican senator. The GOP's majority is so slim ― with Sen. John McCain (R-Ariz.) out for health matters, it's at 50-49 ― that they can't afford to lose a single vote if they want to confirm Kavanaugh.
Preserving the Affordable Care Act is on the minds of red-state Democrats who voted with Republicans to confirm Trump's previous Supreme Court nominee, Neil Gorsuch. The Trump administration recently signed on in support of a lawsuit challenging some of the most popular parts of Obamacare, including protections for pre-existing conditions. The case could make its way to the Supreme Court, so Kavanaugh's stance on the issue is crucial.
"This decision will directly impact almost 40 percent of my state," said Sen. Joe Manchin (W.Va.), one of the three Democratic senators who voted for Gorsuch. "So I'm very interested in his position on protecting West Virginians with pre-existing conditions."
"People could die because of this appointment."
On abortion, Democrats will argue that replacing Kennedy with a more conservative justice could mean the end of abortion access across the country.
"Kavanaugh recently argued that a young woman, despite meeting all of Texas' burdensome requirements to get an abortion, should not be permitted to access essential healthcare," said Ilyse Hogue, president of NARAL Pro-Choice America, referring to a case argued in the D.C. Circuit last year. "He has also been a long time conservative activist working to elect anti-choice politicians. It is clear that he will be a reliable vote to end Roe v. Wade, criminalize abortion, and punish women."
The fight won't only be about health care and abortion, though. Democrats plan to highlight what Kavanaugh's confirmation would mean for other issues, such as the rollback of voting rights, LGBTQ rights, consumer protections, labor unions and environmental protections. Kavanaugh is also a proponent of the unitary executive theory and has argued that a president shouldn't be burdened by lawsuits, investigations or indictments. That is not sitting well with Democrats as special counsel Robert Mueller continues his investigation into Russian meddling in the 2016 election to help Trump.
Sens. Richard Blumenthal (D-Conn.) and Cory Booker (D-N.J.), both members of the Judiciary Committee, plan to ask Kavanaugh to recuse himself from any case that involves Trump's financial dealings or the Mueller investigation. Sen. Patrick Leahy (D-Vt.), a senior member of the committee, plans to push for the release of a vast cache of documents from Kavanaugh's years in the George W. Bush White House before deciding what to ask him.
Despite some in their base demanding that they shut everything down in the Senate to stop Kavanaugh's confirmation, Democrats say there's not much they can do. They're in the minority, and the idea that they all just not show up for work, and therefore deny a quorum to prevent any business from being done, is difficult and wouldn't stop Kavanaugh's confirmation, and it could backfire.
"[Republicans] could unanimously consent to all kinds of things we'd never want to see done without Democrats on the floor to block them," Schumer told reporters this week.
The quorum-busting theory, essentially, would require a Democratic senator to constantly be on the Senate floor raising questions about whether there's a quorum ― 51 senators ― present. Senate Majority Leader Mitch McConnell (R-Ky.) would have to round up all 50 GOP senators to come to the floor, but with that one Democrat there, it hits 51, making it a quorum.
Even in the event that McConnell couldn't get all 50 GOP senators to the floor, he has the power to direct the clerk to read the roll call as slowly as he wants ― giving him time to get all his members there. If it came to it, McConnell could even instruct the Senate's sergeant at arms to go find missing senators and arrest them.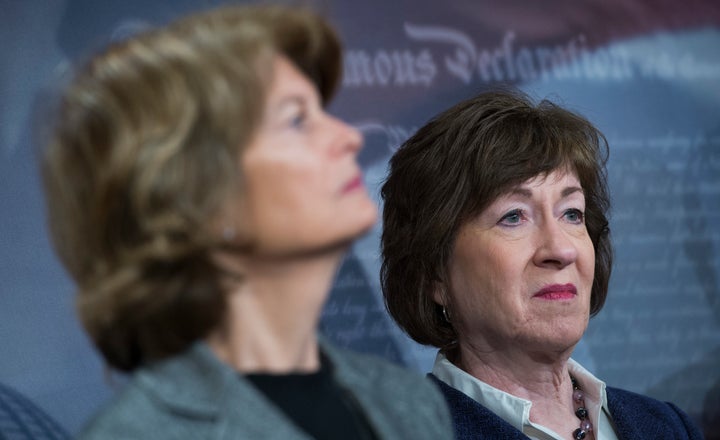 Amid all the strategizing, Democrats still regret that they didn't fight harder in 2016 to confirm Obama's court pick, Merrick Garland. McConnell spent the year denying Garland a hearing, arguing that the court seat should be left open until after the election for the next president to fill it. Democrats argued about Senate process in Garland's defense, a strategy that flopped.
They're trying a totally different tack with Kavanagh.
"This time, it's a swing vote and we're going right to the things that people care about," said a top Senate Democratic aide who requested anonymity to speak candidly. "We're not talking about abstract theories of judicial moderation. It's not process-focused. ... It is, 'These are the issues that the court could decide that will affect people's lives.'"
Democrats know this is an uphill battle. Collins and Murkowski have given early signs that they're comfortable with Kavanaugh. And it's not clear that all Democrats will stick together. A right-wing judicial advocacy group is already running ads in four states ― West Virginia, Alabama, Indiana and North Dakota ― pressuring vulnerable Democrats to support Kavanaugh.
But progressive groups want Schumer to do whatever it takes to keep his party united, regardless of the outcome. Local chapters of Indivisible, the resistance activist network, held a rally in New York City on Monday demanding that the Democratic leader "whip the vote."
"If a Democrat is voting for this guy, what's the point of their being a Democrat?" said Liat Olenick, founder of Indivisible Nation BK. "We acknowledge that the elections are coming up and there are these Democrats in redder states, that that's something they have to contend with. But this is a lifetime appointment that will impact millions and millions of people."

She added, "People could die because of this appointment."
Popular in the Community