Democrats have only a 16 percent chance of taking the Senate majority outright, and there's a 24 percent chance the chamber ends up tied at 50 seats per party.
Obviously, that's not the happiest forecast for the Democrats. The odds are that they will pick up some seats. They just might not win enough to control the Senate. Democrats need to gain five seats to take the majority whoever wins the White House. They need only four if Hillary Clinton becomes president and Tim Kaine holds the tie-breaking vice presidential vote.
According to the HuffPost model, the most likely outcome next January is a Senate with 51 Republicans and 49 Democrats (including those independents who vote with the Democrats). The next most likely outcome: a 50/50 split.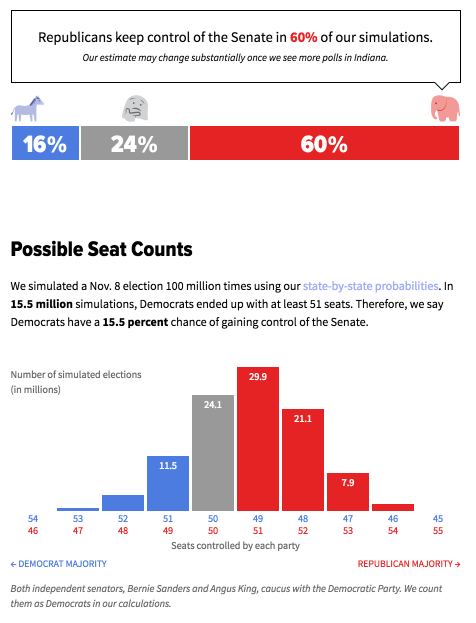 The most likely Democratic gains are in Wisconsin and Illinois, with a pickup in Indiana possible and extremely close races in Pennsylvania and New Hampshire.
The HuffPost model currently indicates a 99 percent chance that the Wisconsin seat will flip from incumbent Republican Sen. Ron Johnson back to former Democratic Sen. Russ Feingold, whom Johnson defeated in 2010.
Illinois also looks like a probable switch from Republican to Democrat. There aren't enough polls for our model to calculate a poll-based likelihood, but according to the nonpartisan Cook Political Report, the race "leans Democratic." That's good for the Democratic challenger, Rep. Tammy Duckworth, and bad for the GOP incumbent, Sen. Mark Kirk.
When we don't have enough polls, HuffPost bases the probability of a win on an analysis of past Cook ratings and election results. Historically, races that are rated "leaning" one direction by Cook end up going in that direction 81 percent of the time, so we give Duckworth an 81 percent chance of winning ― until there are more survey data.
Polls have shown tight races in Pennsylvania and New Hampshire. In Pennsylvania, Republican Sen. Pat Toomey is the slight underdog. The HuffPost model picks challenger Katie McGinty, but only with 54 percent certainty. New Hampshire is even more of a tossup, with our model giving Republican Sen. Kelly Ayotte and Democratic challenger Gov. Maggie Hassan even odds.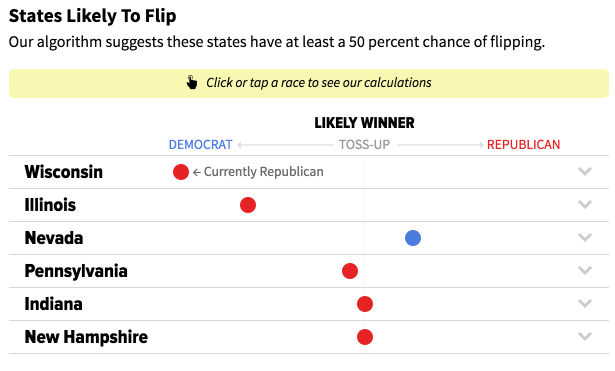 The wild card for the model right now is Indiana. There's not much polling in the state, so we're relying on the Cook rating of "tossup" to give the race 50/50 odds. But if more polling shows Democratic candidate Evan Bayh ahead in Indiana, as many expect they will ― or Cook updates its rating to indicate a Democratic swing ― the model will move Indiana into the Democratic column. And that will increase the Democrats' overall chances of winning the Senate.
Our model gives Democrats much lower odds of taking the Senate than it did in mid-August, when the chance of a majority shift was 55 percent. It's also currently more bullish on the Republicans' chances than other Senate forecast models, which give Democrats a likelihood between 55 percent and 72 percent of retaking the majority. As more polling data have become available, we've seen the Republicans better their chances in key states.
The differences between HuffPost's results and those of other models are due to methodological choices. The HuffPost model relies solely on polling data, with assistance from Cook ratings only when there aren't enough polling data to support our model (usually we need about five surveys).
One big effect of that choice is our Indiana prediction. Other models have Indiana's Senate race firmly in the Democratic column, while we're using the Cook tossup rating. (This is a change from our August model run, when we did use the limited available polls to show a substantial Democratic advantage.)
HuffPost's model estimates what would happen if the polls stayed basically the same until November and then adjusts for the uncertainty that undecided voters cause. Other models that now show more Democrat-friendly results incorporate "fundamentals" like past election results, candidates' political experience and fundraising prowess. The other models may not give much weight to these fundamentals by the end of the campaign, but they can be helpful for forecasting several months out.
Another notable difference where our model is more bullish on Republicans occurs in Florida. The HuffPost model gives GOP Sen. Marco Rubio a 97 percent chance of winning the state based on his substantial polling lead over Democratic challenger Rep. Patrick Murphy. Other models give Rubio probabilities of victory that range from 67 percent to 83 percent.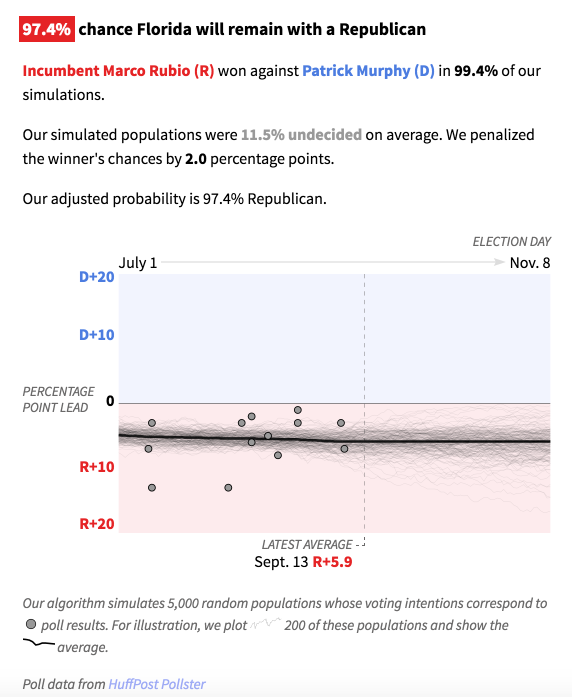 HuffPost's model also rates Republicans as more likely to win in North Carolina (84 percent, compared to 66-79 percent in other models) and Missouri (95 percent, compared to 72-84 percent in other models).
Nobody's predictions on the Senate should be seen as final yet. The electoral situation could change quickly and often in the remaining weeks. There are razor-thin margins between the candidates in some races, and polls will pour in between now and Nov. 8.
CORRECTION: An earlier version of this story included an incorrect first name for Rep. Patrick Murphy.
REAL LIFE. REAL NEWS. REAL VOICES.
Help us tell more of the stories that matter from voices that too often remain unheard.