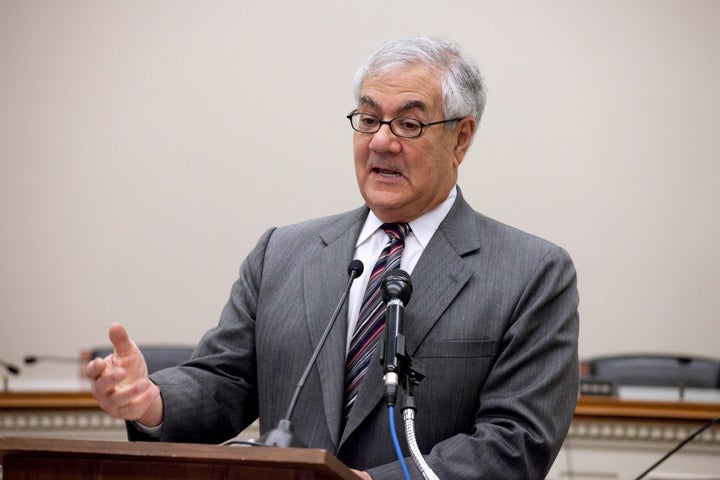 WASHINGTON -- Democrats launched a repeal effort against the Defense of Marriage Act on Wednesday, introducing companion bills in both chambers of Congress to end the law and mounting a messaging effort to argue that same-sex marriage strengthens the American family.
The bill, coined the Respect for Marriage Act, would end DOMA, the 1996 law that banned the federal government from recognizing same-sex marriage even if a couple has been married under state law. The legislation comes on the heels of a February announcement from the Obama administration that the Department of Justice will no longer defend DOMA in court.
As the fight over gay marriage plays out through the judiciary, gay-rights advocates in Congress aim to capitalize on growing public support for an end to DOMA to push for a more immediate solution.
Reps. Jerry Nadler (D-N.Y.) and John Conyers (D-Mich.) partnered with the four openly gay members of Congress, Reps. Tammy Baldwin (D-Wis.), David Cicilline (D-R.I.), Barney Frank (D-Mass.) and Jared Polis (D-Colo.), plus more than 100 cosponsors on the legislation, which is slated for formal introduction Wednesday afternoon.
In the Senate, the DOMA repeal effort will be led by Sens. Patrick Leahy (D-Vt.), Dianne Feinstein (D-Calif.) and Kirsten Gillibrand (D-N.Y.), with about 20 cosponsors signaling support.
The bill faces a steep climb in the House, where Republican leaders announced earlier this month that they will step in to defend DOMA as the Justice Department ends its involvement.
Sponsors of the repeal effort in the House acknowledged that they likely face an uphill climb in a Republican-led chamber, but said public polls and actions by some Republicans show the tide is turning. Slightly more than half of voters oppose DOMA, while only 34 percent support it, according to a poll released on Tuesday by the gay-marriage advocacy group Human Rights Campaign and Greenberg Quinlan Rosner Research. The poll also indicated that 54 percent of voters oppose House leadership's decision to defend DOMA.
Frank said the decision to defend the controversial law was made to keep Republican members from having to make a potentially-damaging vote on the issue.
"The movement is clearly in our direction," Frank said at a press conference. "Some of us were here a few years ago and Republicans ... were eager to give their members a chance to vote against same-sex marriage. Today, they are eager to protect their members against same-sex marriage."
Meanwhile, the centrist Democratic advocacy group Third Way is circulating a memo around the Hill suggesting ways for congressional supporters of DOMA repeal to speak about same-sex marriage. The messaging emphasizes family values, such as love and commitment, that transcend sexual orientation.
"Gay and lesbian couples may seem different from straight couples, but we all share similar values -- like the importance of family and helping out our neighbors; worries -- like making ends meet or the possibility of losing a job; and hopes and dreams -- like finding that special someone to grow old with, and standing in front of friends and family to make a lifetime commitment," the memo reads.
At a press conference to announce the repeal bill, House Democrats emphasized those same points, calling on couples and widows who were legally married in their state but denied rights affording to heterosexual couples under the law. Edie Windsor, 81, spoke about her 44-year relationship with Thea Spyer. When Spyer died in 2008, Windsor paid more than $360,000 in federal estate taxes because the government did not recognize their marriage. She is now the plaintiff in an American Civil Liberties Union-backed lawsuit to combat the law.
Windsor, like the Democrats who introduced the repeal bill, said she thinks the Obama administration's decision to stop defending DOMA could make ending the law easier.
"It looks like right now my legal fight is far from over," she said. "But ... I think our chances of defeating DOMA are becoming more and more possible."
Popular in the Community