Two years into Donald Trump's presidency, most Democrats in Congress are embracing stances on health care, legal marijuana and the minimum wage that would have been considered far outside the mainstream just two years ago. But when it comes to the rights of some of the most vulnerable members of society — voluntary sex workers — elected Democrats still overwhelmingly side with the religious right and consistently fail to consult the people most affected by their policies.
"At the end of the day, Democrats still want to find an issue where they can be bipartisan," said Sean McElwee, a progressive activist and co-founder of the think tank Data for Progress. "And fucking over sex workers is a way they can be bipartisan."
Now, however, a small but growing group of progressive congressional candidates are heeding the outrage of their constituents and have turned against laws that make it harder for sex workers to safely practice. At least three Democrats running in competitive House primaries are currently campaigning on their opposition to SESTA/FOSTA, legislation that passed in April and holds websites criminally liable for any potential sex trafficking that occurred on their pages.
Nearly every Democrat in Congress joined nearly every Republican to pass the legislation in the name of fighting sex trafficking. Ron Wyden (D-Ore.) and Rand Paul (R-Ky.) were the only senators to vote against the bill. And just 25 out of 435 House members voted against the bill.
But the bill effectively shut down the websites that were the safest venues for sex workers to ply their trade. Following its passage, Backpage.com and the personals section of Craigslist immediately folded. Their collapse has already prompted many sex workers to return to the streets, where conditions are much more dangerous. Critics of the bill also maintain that it undermines the severity of the crime of sex trafficking and conflates voluntary, consensual sex work with the entirely separate issue of human trafficking.
"SESTA/FOSTA has rolled back internet freedoms and inflicted deep damage on already-marginalized communities, putting lives at risk while setting the fight against trafficking back decades," Suraj Patel, who's running in New York's 12th Congressional District, wrote in an op-ed denouncing the law.
'To protect the most voiceless and marginalized among us'
Patel is challenging Rep. Carolyn Maloney (D), a co-sponsor of FOSTA (the House iteration of the bill) and has been among the most outspoken critics of the bill.
"We never started this campaign thinking we were gonna hang our hat on SESTA/FOSTA," Patel told HuffPost. "But after a while, we realized ... we're in this to protect the most voiceless and marginalized among us."
Patel, who is competing in a June 26 primary to represent a safely Democratic swath of Manhattan, Queens and Brooklyn, was unaware of SESTA/FOSTA until voters bombarded him with questions about it. He asked his policy director to look into it and discovered that the issue embodied a major theme of his campaign: a "primarily older and whiter" Democratic old guard still in the thrall of draconian 1990s-style tough-on-crime policies that he believes helped create the current mass incarceration crisis.
Patel and his staff spent six weeks consulting anti-trafficking advocates, public health experts and sex workers about the issue and published one of the first congressional campaign white papers on SESTA/FOSTA, human trafficking and consensual sex work.
"For too long, due to an oversight in federal law, trafficking survivors who were advertised online were not able to hold websites accountable that actively facilitated the sale of these victims," said Bob Liff, a spokesman for Maloney's re-election campaign.
"Law enforcement also had its hands tied when working to protect future victims," Liff continued. "This new law changes that, will prevent trafficking online and allow survivors to seek justice."
'It is important that we make a clear distinction between sex work and human trafficking'
Amy Vilela, a Democrat running in Nevada's 4th Congressional District, learned about the consequences of the legislation from discussions with district voters, some of whom are involved in the industry legally and illegally. (Sex work is legal in parts of that district.)
Vilela supports national decriminalization of sex work on the grounds that it would make the industry safer. "Who better able to help law enforcement zero in on sex trafficking than people who are sex workers and in the industry?" Vilela asked. "If we had regulation, unionization of sex workers and if we fostered a relationship between folks in the industry and law enforcement, it would probably produce much better results."
The campaign of former Rep. Steven Horsford, the Democratic Congressional Campaign Committee-backed front-runner in Vilela's primary this Tuesday, did not respond to multiple requests for comment on his position on the legislation.
In New York's 14th, composed of slivers of Queens and the Bronx, SESTA/FOSTA has not emerged as a major issue. But Democratic House candidate Alexandria Ocasio-Cortez has turned firmly against the legislation. Ocasio-Cortez, a community organizer and former Bernie Sanders presidential campaign volunteer, is challenging Rep. Joseph Crowley (D), House Democratic Caucus chairman.
"It is important that we make a clear distinction between sex work and human trafficking," said Daniel Bonthius, a spokesman for Ocasio-Cortez.
'A bright red line in the feminist movement'
The near-unanimous support for SESTA/FOSTA among Democrats in Congress reflects an enduring divide in the movement for women's equality over how society should treat sex work.
"There's a bright red line in the feminist movement," activist and former sex worker Lola Davina told HuffPost. On one side, she said, there are feminists who acknowledge sex work as actual work, and support sex workers' rights. The other side includes women horrified by the idea of receiving money in exchange for sex, who believe that to engage in sex work is to uphold patriarchy and rape culture.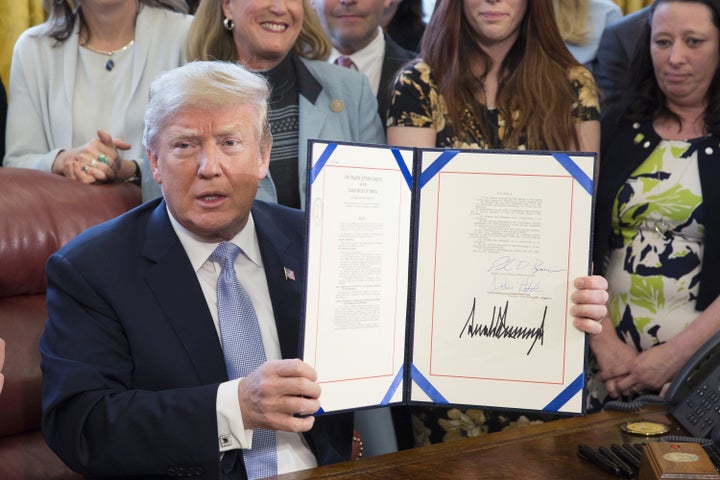 But despite personal opinions on whether sex work should be happening, it is. For that reason, Davina and other former and current sex workers are critical of Democratic politicians ― particularly those whose names are being thrown around for the Democratic presidential nomination in 2020 ― who tout progressive, feminist qualifications while ignoring the demands of a severely marginalized group of citizens.
Sens. Elizabeth Warren (D-Mass.) and Bernie Sanders (I-Vt.) voted in support of SESTA/FOSTA, and Warren is currently working to pass the End Banking for Human Traffickers Act, which sex workers fear could limit their access to banking services.
Sen. Kamala Harris (D-Calif.), who spoke at the Women's March on Washington the day after Trump's inauguration and who has remained an outspoken figure of the resistance to his administration since, spent much of her time as California attorney general trying to get Backpage.com shut down, despite criticism from sex workers.
Harris has been outspoken about criminal justice reform, police brutality, and rights for transgender people, the black community and minorities at large.
"It's wonderful that she focuses on that," Davina said. "But I also just have to ask her directly and bluntly: How do you think a lot of those folks make their money? Sex work is an avenue that a lot of marginalized people turn to. This is just the situation."
"Fucking over sex workers is a way [Democrats] can be bipartisan."
Conner Habib, a gay writer and activist who's also acted in hundreds of adult films, told HuffPost that while it's easy to join the resistance against the Trump administration, SESTA/FOSTA would very likely have passed had Hillary Clinton been elected in 2016.
"FOSTA and SESTA were basically in the works because of the Democratic Party, because of Kamala Harris' spearheading this movement to ban and attack sites like Backpage," Habib said.
"I'm not invested in supporting the Democratic Party," Habib said. He told HuffPost that he's done some consulting for the Green Party instead and admires the party's ability to adapt its policies to research that shows how damaging the criminalization of sex work is.
"They want to actually represent the people they say they are representing," he said.
National groups missing in action
The national progressive groups from which Democrats take their cues have also been silent on the sex work fight.
The Working Families Party, Credo, the Progressive Change Campaign Committee, Democracy for America and MoveOn all told HuffPost that they did not have a position on the legislation. Our Revolution, which grew out of Sanders' 2016 presidential campaign, did not respond to a request for comment.
A spokesman for UltraViolet, a digital feminist organizing group, said the group opposed SESTA/FOSTA because it "multiplies" the violence facing women "in an industry already known for its physical dangers." The organization does not feature the issue on its website, however, and it is not clear whether it participated in any activism on the issue.
"If you're Bernie Sanders and you're on the fence on this issue, and MoveOn isn't telling you, 'Hey we're gonna pull our knives out,' WFP isn't, and you know you are going to take a lot of shit and you're also up against some pretty powerful branding [about sex trafficking] … you're not gonna do it," McElwee said.
Democratic socialists leading the way
Among major organizations on the left, only the Democratic Socialists of America has made defending the rights of sex workers a key part of its activism. The group's college branch, the Young Democratic Socialists of America, issued a statement condemning SESTA/FOSTA and "all legislation which threatens sex workers at the federal, state, or local level." YDSA encouraged its dues-paying members to phone-bank against the legislation and join mass marches for sex workers' rights on June 2, which is International Whores Day.
"It's a huge labor issue," said Michelle Fisher, a student at Wesleyan University who co-chairs YDSA's National Coordinating Committee. "Socialists and sex workers are in alliance with each other because sex work is work."
And as with other types of workers, the degree to which any Democratic elected officials have been willing to communicate with sex workers has often correlated closely with their success organizing as a mass bloc.
To that end, the same digital tools that sex workers used to find and screen clients prior to the passage of SESTA/FOSTA have enabled many of the women in the world's oldest profession to coordinate on political issues in ways that they previously did not.
Laura LeMoon, a former sex worker who now runs a harm reduction nonprofit for sex workers in Seattle, became active on sex workers rights several years ago through friends on Facebook.
On the first of the month, LeMoon was one of dozens of sex workers who traveled to Washington as part of the first-ever Sex Worker Lobby Day on Capitol Hill ― an event timed to precede International Whores Day. She was pleasantly surprised to find polite receptions with staff members from the offices of Reps. Denny Heck (D-Wash.) and Jimmy Gomez (D-Calif.). [Another sex worker, Liara Roux, reports having an engaging conversation about SESTA/FOSTA with an aide to House Minority Leader Nancy Pelosi (D-Calif.).]
"There has been a huge shift in visibility of sex workers. People now are interested in the conversation," LeMoon said. "And they're not just interested in one side."
UPDATE: June 27 ― Alexandria Ocasio-Cortez won the primary election in New York's 14th Congressional District on June 26, knocking Rep. Joseph Crowley, the House Democratic Caucus chairman, out of the race. Suraj Patel, who ran in New York's 12th, lost his primary race to Rep. Carolyn Maloney (D).
This story has also been updated with comment from a spokesman for Maloney's re-election campaign.
Popular in the Community