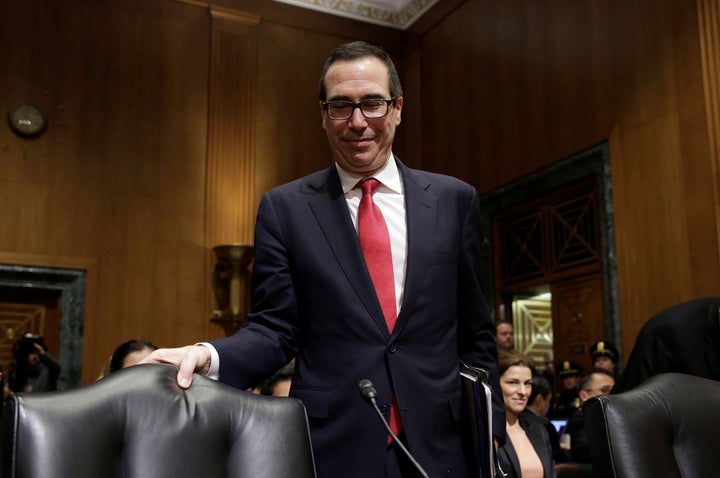 Senate Democrats were presented with an easy opportunity on Thursday to deflate the populist bluster of the incoming Trump administration.
For more than 5 hours, a second-generation ex-Goldman Sachs partner and hedge fund manager who owned and led a bank that foreclosed on tens of thousands of Americans in the wake of the 2008 financial crisis testified before the Finance Committee. Instead of sustained, focused questioning about Steve Mnuchin's role running what activists called a "foreclosure machine" and personally reaping an estimated $380 million in the process, Democrats tried to pin Trump's treasury secretary pick down on a huge swath of tax, trade and regulatory policies.
Mnuchin was, unsurprisingly, largely noncommittal and where he did make specific pledges ― like beefing up the IRS' budget ― it's unlikely his word will mean much in any coming fight.
And so what Democrats came out of the hearing with were small promises that Mnuchin can simply unwind in the future.
Beyond Sens. Sherrod Brown (D-Ohio), Bob Casey (D-Pa.), and to a certain extent Robert Menendez (D-N.J.), Democrats largely let Mnuchin skate by and present himself as an executive who helped 101,000 people get loan modifications. (As Casey noted, those were only offers. Mnuchin couldn't say how many of those people actually got modifications or how many were foreclosed on.)
Sen. Dean Heller (R-Nev.) put Mnuchin in a very awkward place when he forced the nominee to admit he did not know how many people OneWest foreclosed on in Nevada, which was hit particularly hard by the housing crisis. Heller said he'd asked Mnuchin seven times and never received it. Foreclosure data is notoriously bad, but no senator pushed Mnuchin on why he hadn't responded or if OneWest indeed had this data for Nevada or nationally.
Mnuchin repeatedly defended OneWest saying that some foreclosures had been errors that were later corrected. When Sen. Brown (D-Ohio) asked him about 54 active military duty families that the bank had initiated foreclosure proceedings against, Mnuchin defended his record.
"We unfortunately did foreclose on certain people in the military. It was quite unfortunate, it was inappropriate, we responded to those people and made them whole," he said. "Every single person had the opportunity to have their mortgage reviewed and we corrected any errors. It's not that I'm being defensive; I'm proud of our record."
The Treasury Department chairs the Committee on Foreign investments in the United States, which is charged with making sure foreign investments in the United States don't jeopardize national security. When senators tried to push Mnuchin on his authority to review a foreign investment in Trump Organization, he repeatedly noted that he took the issue seriously. 
"I think we can all acknowledge that we're in a little bit of a unique situation that we haven't had a president like this that owns these types of businesses," he said.
When Sen. Claire McCaskill (D-Mo.) pointed out the importance of having an independent auditor for Trump's business, Mnuchin said he was optimistic that Trump would release more information on the arrangement, even though the president-elect has declined to release even his tax returns.
"I think you've raised some very interesting comments and I'd be happy to follow up with you and I'm sure the president-elect will put out more information on this and I'm happy to inquire with him," Mnuchin said.
After Trump suggested during the campaign that he would refinance U.S. debt, Mnuchin said he supports raising the debt ceiling "sooner rather than later." He also said that he does not support lifting sanctions against Russia right now, but needed more information on whether additional sanctions were needed against the country.
The former Goldman Sachs banker also defended his failure to disclose $100 million in assets and his role as a director at an investment firm housed in the Cayman Islands. He blamed the lack of disclosure on the fact that he had to fill out a lot of complex paperwork and said it was "unintentional." Sen. Elizabeth Warren (D-Mass.), who isn't on the Finance Committee, noted that was not an excuse afforded to homeowners OneWest foreclosed on.
Calling all HuffPost superfans!
Sign up for membership to become a founding member and help shape HuffPost's next chapter