WASHINGTON (Reuters) - More than 190 Democratic lawmakers sued President Donald Trump in federal court on Wednesday, saying he had accepted funds from foreign governments through his businesses without congressional consent in violation of the U.S. Constitution.
The complaint said Trump had not sought congressional approval for any of the payments his hundreds of businesses had received from foreign governments since he took office in January, even though the Constitution requires him to do so.
The White House did not immediately respond to requests for comment but has said Trump's business interests do not violate the Constitution. The Trump Organization has said it will donate profits from customers representing foreign governments to the U.S. Treasury but will not require such customers to identify themselves.
At least 30 U.S. senators and 166 representatives are plaintiffs in Wednesday's lawsuit, representing the largest number of legislators ever to sue a U.S. president, according to two lawmakers who are among the plaintiffs.
The Constitution's "foreign emoluments" clause bars U.S. officeholders from accepting payments and various other gifts from foreign governments without congressional approval.
"The president's failure to tell us about these emoluments, to disclose the payments and benefits that he is receiving, mean that we cannot do our job. We cannot consent to what we don't know," said Senator Richard Blumenthal, one of the lawmakers bringing the lawsuit, in a conference call on Tuesday.
Representative John Conyers, another plaintiff, added: "President Trump has conflicts of interest in at least 25 countries, and it appears he's using his presidency to maximize his profits."
The Justice Department declined to comment.
Similar lawsuits have been filed in recent months by parties including a nonprofit ethics group, a restaurant trade group, and the attorneys general of Maryland and the District of Columbia.
They allege that Trump's acceptance of payments from foreign and U.S. governments through his hospitality empire puts other hotel and restaurant owners at an unfair disadvantage and provides governments an incentive to give Trump-owned businesses special treatment.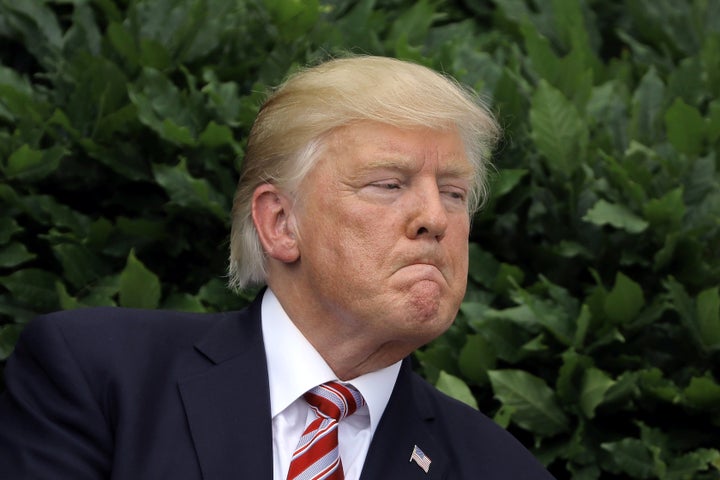 RARE TO SUE PRESIDENT
In a motion to dismiss one such lawsuit on Friday, the Justice Department argued that the plaintiffs had not shown any specific harm to their businesses, and that Trump was only banned from receiving foreign government gifts if they arose from his service as president.
On Monday, White House press secretary Sean Spicer said "partisan politics" was behind the lawsuit by the Maryland and District of Columbia officials.
Lawmakers rarely sue the president, so there are few federal court decisions the legislators can cite to prove their legal standing to bring Wednesday's case, said Leah Litman, an assistant professor specializing in constitutional law at the University of California, Irvine.
"But the constitutional provision they're suing to enforce gives them a role in how it's carried out, and that gives them a powerful standing argument," Litman said.
The lawmakers in Wednesday's lawsuit will be represented in court by the Constitutional Accountability Center, a public interest law firm in Washington. Each lawmaker is paying a share of the legal fees from personal or campaign accounts.
Popular in the Community