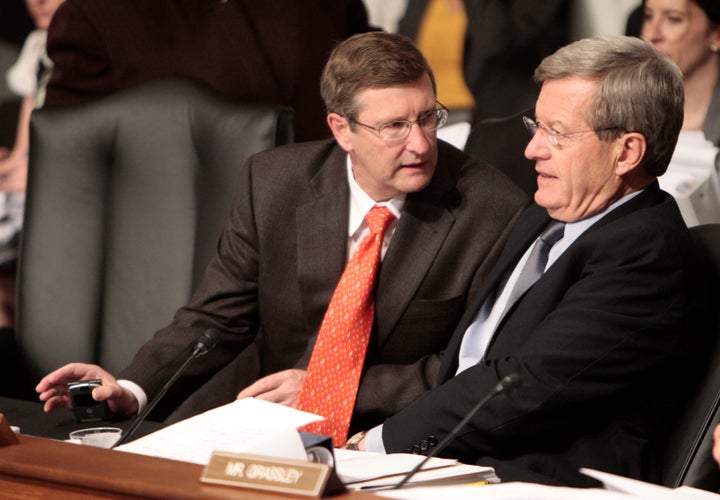 WASHINGTON -- The much-discussed "super committee," created as part of a bill to raise the nation's debt ceiling and tasked with finding $1.5 trillion in cuts over the next decade, is starting to take shape.
On Monday, President Barack Obama said that he hoped the committee would be able to find common ground and take a collaborative approach, in light of the decision by Standard & Poor's to downgrade the United States' debt and Monday's subsequent market selloff. He also announced that he would be submitting a debt reduction plan of his own for the committee's consideration.
To whom he will be submitting the plan remains the major mystery. But over the weekend, information about potential committee members began to leak from Capitol Hill. According to multiple Democratic sources, Senate Democratic leaders are winnowing down the names on the short list and they are leaning strongly against including some of the party's most notable budget hawks.
Two senators, in particular, were said to be unlikely to end up on the committee: Max Baucus (D-Mont.), who chairs the Finance Committee, and Kent Conrad (D-N.D.), who chairs the Budget Committee.
Final decisions have not yet been made, two aides cautioned. But two other Democratic aides with knowledge of deliberations said they would be very surprised if either ended up on the final list.
"The committee is built for failure -- everyone will either stack it with loyalists to leadership and the caucuses or with partisan firebrands to make sure those folks defend key priorities," said one of those aides. "If they don't, they will immediately regret it. You need grown-up smart pros that know the issues, know the caucus position and will not waver."
It appears that Conrad himself does not expect to make the cut. On Aug. 1, the night before the debt ceiling deal was signed, a reporter told him that a few people had floated his name as a super committee member. "I'm sure it's a very few," the senator responded.
The exclusion of Conrad and Baucus could have major implications for the committee's tenor and the actions it will ultimately take. During the debt ceiling debate, Conrad pushed far-reaching deficit reduction proposals that included entitlement and tax reform and called for one dollar in spending cuts for every dollar in tax revenue raised. Baucus is more protective of entitlements but enjoys close ties to the financial service industry. Both are considered senior statesmen among Democrats on debt related negotiations. They are also distrusted by the party base, primarily because of their long records as fiscal hawks.
There are, in the end, ideologically similar figures who can sit on the committee instead -- specifically, Sen. Mark Warner (D-Va.), who spearheaded the Gang of Six negotiations and has emerged as a leading champion of comprehensive deficit reduction. His office did not immediately return a request for comment. Many other lawmakers have petitioned leadership to be on the final list. In the end, it seems likely that members who are unlikely to operate independent of party interest will be chosen, a clear sign of how delicate the committee process has already become.
Time is running out for Senate Majority Leader Harry Reid (D-Nev.) to finalize his selections. Party leaders have until Aug. 16 to name their respective committee members. One of the three Reid chooses will end up co-chairing the committee alongside a House Republican.

REAL LIFE. REAL NEWS. REAL VOICES.
Help us tell more of the stories that matter from voices that too often remain unheard.