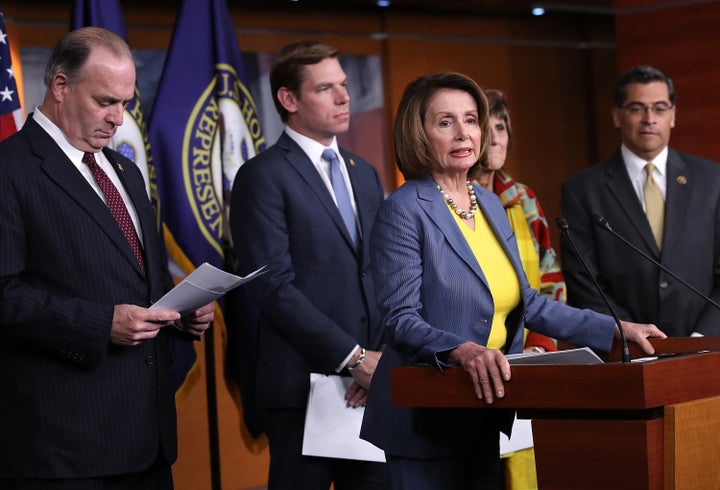 But after Election Day, if those gains are more modest than considerable, Democrats might rightfully ask if thoughts that they could win the House were less of a possibility and more of a dream.
There's no shortage of theories on why Democrats would have a hard time taking back the House. Ask aides at the Democratic Congressional Campaign Committee, and you'll likely get some combination of factors including a gerrymandered map and some close districts ― take Staten Island, New York, for example ― where Trump isn't such a drag on the ticket.
But ask aides at the National Republican Campaign Committee, and they'll give you a simple answer: Democratic candidate recruitment.
"The DCCC's recruitment efforts have been an unmitigated disaster, and that's being kind," said Katie Martin, a spokeswoman for the NRCC.
On Thursday, NRCC Chairman Greg Walden (R-Ore.) told reporters at a National Press Club event that Democrats had "multiple recruitment failures" that will help Republicans keep a healthy majority in the House.
The DCCC counters that the NRCC hasn't been without its own failures, with the NRCC's preferred candidate losing the primary in five open races.
"The NRCC's decision to completely ignore their recruitment responsibilities, especially in open seats, has yielded fatally flawed candidates and will undoubtedly cost them in November," DCCC spokeswoman Meredith Kelly told HuffPost.
Trump's Questionable Down-Ballot Effect
Failures on both sides notwithstanding, Republicans appear confident they will hold onto the House, even with Trump at the top of the ticket. As Walden argued Thursday, the DCCC's playbook of tying Republicans to Trump isn't working as well as Democrats had hoped.
"Show me the data," he said.
Walden conceded that Trump was unfavorable in the 24 closest races that Republicans and Democrats are battling over. But he noted that Clinton's unfavorability was almost just as high in those districts. And there's good evidence that many Republicans can outperform Trump ― meaning that even if the majority of those 24 districts go to Clinton, it doesn't mean House Democrats will win them.
Democrats' best hope for taking back the House is a late-October collapse from Trump that motivates Republicans to stay at home. But barring a Trump catastrophe, Democrats might not be poised to pick up many more additional seats than they would under more normal conditions. And many vulnerable Republicans are finding themselves in an unexpectedly better position because of weak Democratic opposition, or no opposition at all.
Take for instance Republican Adam Kinzinger's Illinois district, which Mitt Romney won in 2012 with 53 percent of the vote. When HuffPost asked Kinzinger this week how he had managed to not draw a challenger, his answer was simple: "Because I'm awesome."
(When Kinzinger got a little more serious, he noted that he's tried to represent his entire district, not just Republicans, and has developed a reputation as a moderate unafraid to break from his party.)
Kinzinger is right that any Democrat running against him, even in his relatively split district, would have trouble. And he represents one of the most evenly divided districts in all of the House. But he's far from the only Republican to draw a nonexistent challenger.
"As you look across the country, would we have liked to have been able to recruit in 100 percent of these districts? Absolutely," DCCC Chairman Ben Ray Lujan (D-N.M.) told HuffPost this week. "But when you look at the expanded battlefield that we're in now, there's many districts that are in suburban areas that weren't on the map before."
Lujan said there were more than 30 competitive seats, and that he expected Clinton to win with "profound numbers." But when asked repeatedly whether the House was in play, the DCCC Chairman wouldn't say.
Lujan mentioned gerrymandering from the 2010 redistricting as a major obstacle, as well as the Citizens United ruling, which allowed corporations to spend unlimited amounts of money on political ads. "Democrats will be outspent by secret outside money from Republicans," Lujan said.
2016 Looks Good For Dems. But How Good?
Lujan insisted that Trump had accelerated a positive trend for Democrats ― that more suburban, educated and affluent districts are moving toward their party.
That means there are some GOP districts that suddenly look to be in play because of Trump. They include Rep. Erik Paulsen's Minnesota district, which he won with 62 percent of the vote in 2014; an open seat race in Pennsylvania that's currently represented by Republican Michael Fitzpatrick, who beat his last Democratic opponent by nearly 24 points; and David Young's Iowa seat, which Young won by double-digits last election.
But the truth is that all those seats should be in play, particularly in a year where Trump is at the top of the ticket. According to the Partisan Voting Index ― a measurement of how strongly Republican or Democratic a district is ― Paulsen's district is an R+2, Fitzpatrick's is R+1 and Young's is even.
There are just over 50 congressional districts held by Republicans with a PVI of R+4 or better, and seven seats even have a Democratic rating. In a year when Trump is the nominee, many of those R+4 districts could go for Clinton. And that's before considering that districts with even more favorable PVIs could go for her too.
Kansas's 3rd District, an R+6 represented by Republican Kevin Yoder, currently has Clinton leading Trump there 45 to 31. But even with a double-digit Clinton lead, Yoder is on top of his Democratic challenger 49 to 37.
Of course, Yoder's challenger, Jay Sidie, could still win. As the DCCC pointed out in an email blast on Wednesday, that polling, conducted at the end of August, shows Yoder with a 32 percent favorability rating. (Thirty-nine percent say they have an unfavorable opinion of him.) And Kansas Gov. Sam Brownback has an 18 percent favorability rating in the district.
In short, the environment looks right for an upset in Kansas. But is that true? Of the 53 R+4 or better districts, the Cook Political Report rates 19 of them as "Solid Republican," five of them as "Likely" Republican, 12 as "Lean Republican" and just 13 as "Toss Up." (There are four seats currently held by Republicans that Cook rates as "Lean Democrat.")
Again, there are other races where Democrats can play ― Yoder's district is one them ― and the DCCC notes that PVI isn't always the best indicator of a seat's vulnerability. The DCCC has its own rating system, the Democratic Performance Index, which better takes into account the demographics of a district and voter willingness to break with the top of the ticket. But there's a limited universe of areas where Democrats can play, and they're not even playing in them all.
And if Clinton isn't competitive in a district, there's little reason to believe a Democratic House candidate will be.
A Clinton Win May Not Be Enough
Split-ticket voters have been disappearing in politics. The number of districts that went for one party for president and the other for the House reached a 92-year low in 2012 ― 5.7 percent. Many Democrats believe Clinton winning big is the key to Democratic gains in the House.
Minority Leader Nancy Pelosi (D-Calif.) told Politico this week that it's possible for Democrats to take back the House. "If Hillary were to win 54-46, oh my God, it's all over," she said.
But a national average isn't really the best way to look at the race for the majority. Clinton could severely run up the score in some areas, and still, with so many of these districts neatly carved out in the GOP's favor, Republicans could hold on to the House. Even an 8-point drubbing at the top of the ticket might not change the outcome.
Perhaps a better measurement is how many districts Clinton wins. Obama beat Romney by 4 percentage points in 2012, and he won 209 congressional districts compared to Romney's 226. House Democrats performed worse, only winning 201 House seats.
Even in scenarios where Clinton wins a majority of districts, it's not difficult to imagine Republicans outperforming Trump and holding on to the House. For context, Republican Bob Dold (R-Ill.) holds one of the most vulnerable seats in the House. He's in a D+8 according to Cook, which nevertheless rates the race as a toss-up. And according to the DCCC, Clinton is winning in Dold's district 56 to 25 ― a 31-point margin. Still, Dold is only down by 6 points, 46 to 40, to Rep. Brad Schneider.
Walden noted on Thursday that in those 24 most competitive races, Trump is behind Clinton by 2 points. But the current head-to-head has most Republicans up.
The DCCC counters that much of the House campaigning has yet to really begin, and Democrats could close the gap in a lot of races in October as voters get to know these candidates. In a DCCC poll conducted in early August, Democratic challenger Stephanie Murphy, who was down in the initial head-to-head, pulled ahead of 23-year incumbent John Mica (R-Fla.) by 7 points in the informed vote, once respondents were told of Murphy and Mica's positive biographies.
The question remains, however, how many seats are actually in play?
As David Wasserman of Cook Political Report and NBC pointed out this week, even if you added 6 percentage points to every Democrat's performance in 2014, and took 6 percentage points from every Republican, that would only flip 21 House seats ― meaning Democrats would still be nine seats short of the majority. (Furthermore, when you break out those races, six of the 21 seats are currently rated as Solid Republican.)
Again, Democrats point to the new suburban seats where they're competitive because of Trump. They also note the handful of seats with high minority populations ― like Florida 26 and Texas 23 ― that are vulnerable.
But both of those seats were represented by Democrats until last cycle anyway. And the Republicans representing those districts, Will Hurd and Carlos Curbelo, are two minority candidates themselves, who are widely recognized for running smart campaigns.
Most pundits expect Democrats to pick up some seats. It wouldn't matter if the GOP candidate were actually a good campaigner with a strong field operation or Donald Trump, a candidate largely campaigning through free media and Twitter.
For House Republicans, defending 247 seats was always going to be a tall order. But Democrats picking up 30 seats and taking the majority might be even taller.
Sign up for the HuffPost Must Reads newsletter. Each Sunday, we will bring you the best original reporting, longform writing and breaking news from the Huffington Post and around the web, plus behind-the-scenes looks at how it's all made. Click here to sign up!
Before You Go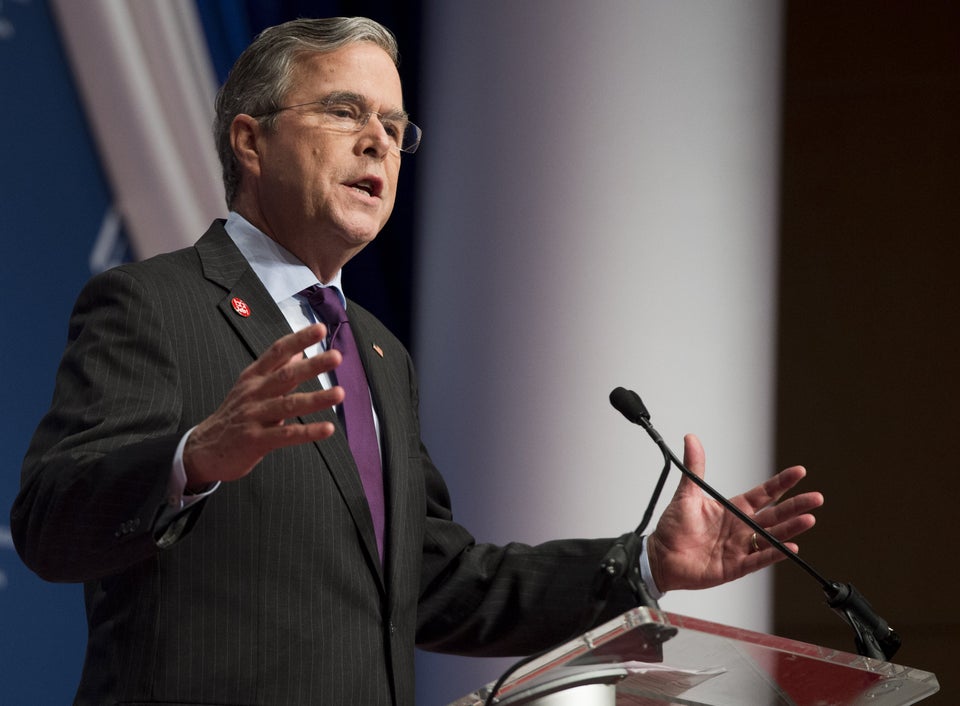 14 Worst Anti-Gay Statements By GOP Presidential Candidates
Popular in the Community