WASHINGTON — Midterm elections may be a year and a half away, but in Texas' 21st Congressional District the race to rid Washington of one of its most stalwart deniers of near-universally accepted climate science is already well underway.
At least nine Democratic candidates are vying for a chance to unseat 16-term Republican Rep. /science.house.gov/news/press-releases/smith-subpoenas-ma-ny-attorneys-general-environmental-groups"}}" data-beacon-parsed="true">Lamar Smith, chairman of the /science.house.gov/"}}" data-beacon-parsed="true">House Committee on Science, Space, and Technology and an early and loyal supporter of President Donald Trump. And the Democratic primary field in the district, which stretches from Austin to San Antonio and into West Texas, is only expected to grow.
"Smith has really put a target on his back," said Adam Reiser of The Race to Replace, a group of Democratic organizers working to support progressive candidates capable of ousting Smith. 
Reiser said left-leaning voters in central Texas are anxious to unseat Smith: "People are paying attention in a way that I've never seen in my life."
It won't be an easy race for whoever eventually becomes the Democratic nominee; the district is both heavily gerrymandered and historically Republican. Smith's Democratic opponent last November, Tom Wakely, tallied just 36 percent of the vote to Smith's 57 percent.
But both Reiser and Jason Sugg of TX21 Indivisible, another liberal group working in the district, are hopeful 2018 will be different. Blue voters are moving into cities like Austin and San Antonio, and polls show that the majority of the district's residents believe in and support taking action to combat climate change, putting Smith at odds with most of his constituents. Furthermore, last year was the first time Smith's percentage of the vote dipped below 60.
"I think, especially with the prospect of a wave election in 2018, that this is a district that could really be one of those surprise wins," Sugg said. "There's a lot of potential here when you actually drill down and look at the numbers."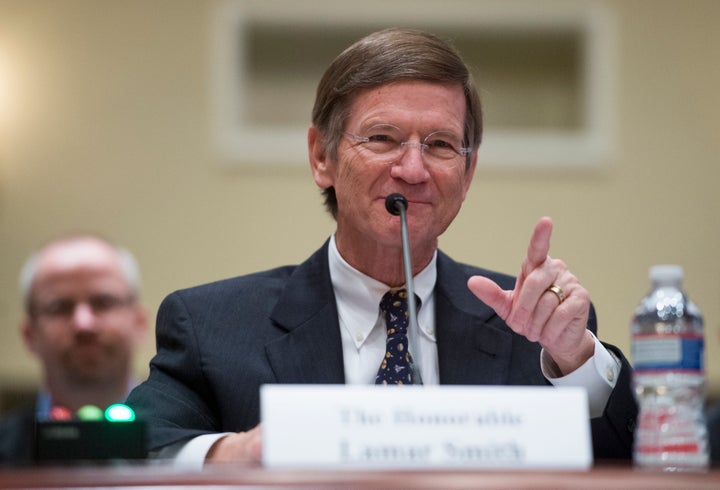 Smith is among a trio of Republicans that nonprofit political action committee 314 Action is targeting for their anti-science views. Smith's office did not respond to HuffPost's request for comment.
TX21 Indivisible hosted a town hall in Austin last month, where several aspiring candidates fielded questions from voters. And on May 1, The Race to Replace hosted the first in a series of candidate forums it is organizing throughout the summer. The resounding message at both events was that it's time for Smith to go.
The Race To Replace isn't backing any particular candidate, though Reiser did say there are a number of "strong" contenders. Instead the group is focused on galvanizing energy to remove Smith and field strong, progressive, electable candidates for the March 2018 primary and November general election.
It's still very early in the race, and the field of candidates will almost certainly change between now and March. But there's a lot more interest this year than there has been in the past. Smith didn't even have a Democratic challenger in 2014.
"These things kind of step out of plain old conservatism and step into out-and-out cruelty," Sugg said. "It's been shocking, I think, for people to see the Trump election and then also to be sitting here in central Texas and watching what's unfolding in the Texas Legislature. I think there's a sense that we have to do something — and it's possible to do something."
Below is a list of those who have announced their intention to run in the Democratic primary for the district: 
Calling all HuffPost superfans!
Sign up for membership to become a founding member and help shape HuffPost's next chapter
BEFORE YOU GO
PHOTO GALLERY
What You Can Do Right Now To Stop Donald Trump's Dangerous Climate Agenda