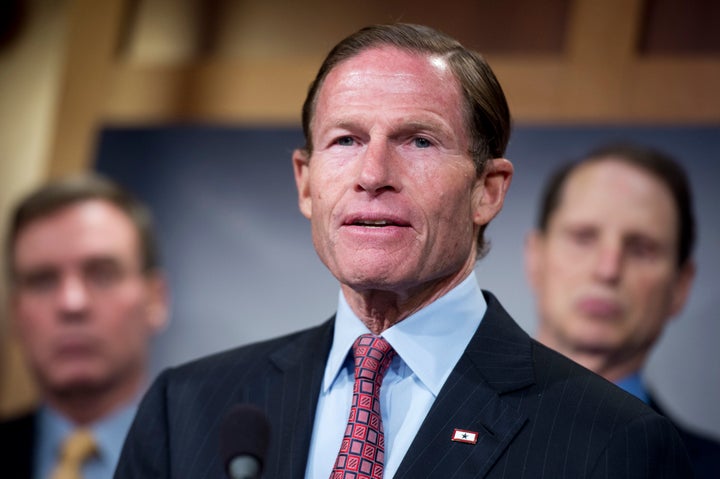 Democratic senators from Connecticut announced Friday that they are introducing a bill to close a loophole that allows people who have not completed background checks to buy guns. 
Sens. Richard Blumenthal and Chris Murphy (D-Conn.) are sponsoring legislation that would ban the "default to proceed" loophole, which allows gun dealers to sell guns to people if the FBI does not notify them that the sale is against the law within 72 hours. Some states already ban such sales, but many other states do not, and federal law doesn't require it. 
There is no evidence thus far that the gunman who perpetrated the mass shooting in Roseburg, Oregon, on Thursday benefitted from this loophole. But Dylann Roof purchased one of the guns he used in the Charleston, South Carolina, church massacre through "default to proceed," Blumenthal noted in an interview on CNN Saturday with Michael Smerconish. The FBI did not complete a background check for Roof in time because of a clerical error that concealed his arrest for drug possession in February. 
"The point is not only that specific instances would have been prevented, but simply that America can be made safer by keeping this wash of weapons out of the hands of dangerous people," Blumenthal said. 
In 2012, "default to proceed" sales allowed 3,722 people with criminal records or mental health issues who would otherwise be barred from buying guns to purchase them, and allowed 2,500 to do so in 2014, according to the Law Center to Prevent Gun Violence.
Walmart, the nation's largest gun seller, does not allow "default to proceed" gun sales. Blumenthal, Murphy and 11 other senators called on other top dealers like Cabela's, EZ Pawn and Bass Pro Shop to do the same in August, but they have refused to change their policies.
These businesses' refusal to end default sales voluntarily is part of what motivated the lawmakers to propose banning the practice nationwide, Blumenthal said on Saturday.
Connecticut, Blumenthal's home state and the site of the infamous massacre at Sandy Hook Elementary School, is one of the states that bans "default to proceed" gun sales.
He argued, however, that other states' looser gun laws endanger the residents of states with stricter regulations because weapons can easily move from state to state.
"The weakest link in the system among the states can populate the rest of the country with guns," he said, "because our boundaries and borders are so porous that illegal trafficking means that guns can spread across the country, can come to New York or Connecticut, [which have] tough gun laws, through the means of transport from the Southern states, where there are relatively weak laws."
Federal law does not require background checks for private unlicensed gun sales, such as those at gun shows, enabling convicted felons and others ineligible to buy guns to purchase them in states that have not subjected these sales to background checks individually. Blumenthal also said he supports mandating background checks for unlicensed sales nationwide.
Blumenthal and Murphy's bill faces an uphill battle, since Republicans control both houses of Congress and almost uniformly oppose new gun safety legislation.
Clarification: This story has been updated to clarify that while background checks for unlicensed gun sales are not mandated by federal law, some states do require them. 
PHOTO GALLERY
Politicians React To Umpqua Community College Shooting
REAL LIFE. REAL NEWS. REAL VOICES.
Help us tell more of the stories that matter from voices that too often remain unheard.