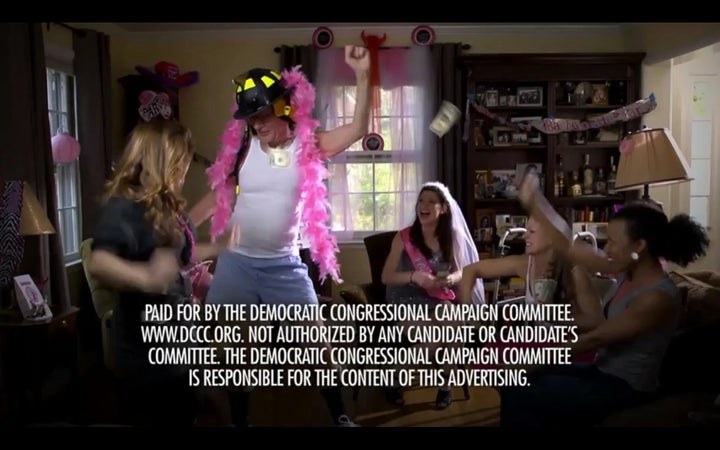 This story has been updated to include additional reporting.
WASHINGTON -- After getting mocked by GOP operatives for launching an "offensive" on 25 vulnerable Republicans with minuscule ad buys Tuesday, Democrats are turning the tables with a new stunt aimed at putting some muscle behind their Medicare media campaign.
And they're doing it in the district of House Speaker John Boehner (R-Ohio).
In an email sent to supporters around 9 a.m. Wednesday, the Democratic Congressional Campaign Committee Chairman Rep. Steve Israel challenged donors to pony up $25,000 by midnight -- in order to run a pointed spot in Boehner's backyard.
It would mark the DCCC's first TV buy of the 2012 cycle.
"Let's go big," Israel writes, offering to splash the spot featuring an older man mowing lawns with his walker and doing a strip tease to afford his Medicare under the budget plan written by Rep. Paul Ryan (R-Wisc.) earlier this month.
"After House Republicans rammed through a disgraceful budget that would end Medicare -- while giving millionaires and billionaires another tax cut -- we knew we had to have an eye-popping response," Israel said.
"We just cut a creative new ad to break through the clutter and take the fight directly to Republican Speaker John Boehner," he said. "I won't ruin the ending for you, but trust me, this ad is like nothing you've ever seen before."
The gambit comes a day after the DCCC launched a radio campaign that the National Republican Congressional Committee derided as both a scare tactic and a joke.
"[Democrats] are continuing to use partisan scare tactics and insist on the ability for Washington to continue spending money we don't have," the NRCC's Paul Lindsay emailed reporters.

"Well, if you have heard their radio ad you're one of the lucky few," Lindsay added. "Based on early reports on the size of this buy, they are spending a whopping $60.00 in many of the 25 districts."
$25,000 will likely impress the GOP a little more, especially in a district like Boehner's where relatively small sums can go a long way.
The publicity also will likely aid the DCCC's effort to spread the ad further.
Lindsay said he wasn't tickled by the spot, and suggested the ad left out what was actually obscene -- what he described as the Democrats' unserious approach to the deficit.
"Steve Israel was smart to leave out the X-rated part of this ad," Lindsay said. "That's the version where Democrats tease Americans into believing their party is serious about tackling the deficit, dance around the issue until Medicare is obsolete, strip seniors of the benefits they have been promised, and force small businesses to foot the bill when the time is up."
Popular in the Community