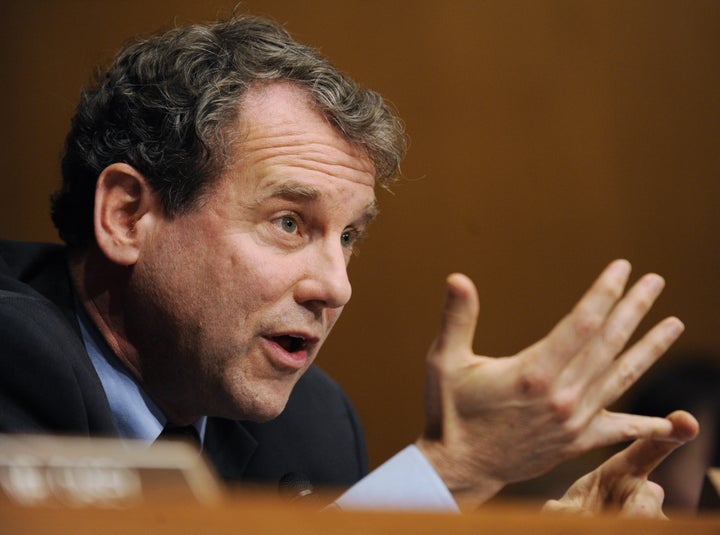 Senate Democrats intend to elect the chairs of committees when the next Congress convenes, which could upend a tradition that prioritizes seniority over party loyalty, legislative effectiveness or any other merit-based criteria.
During a question-and-answer session with progressive media, video blogger Mike Stark asked lawmakers why the Democratic caucus hasn't yanked Sen. Blanche Lincoln's chairmanship of the Agriculture Committee, considering her opposition to Democratic legislative efforts. In Arkansas, her gavel is a top selling point as she battles a progressive primary challenge.
"We're going to elect committee chairs next year," said Sen. Sherrod Brown (D-Ohio). "The current chairs that are sitting there now understand that we'll be electing chairs next year," he added, saying the idea had been cleared with Senate leadership.
Under current rules, members of the caucus can weigh in by objecting to an overall Senate organizing resolution, but don't have an up-or-down vote on each chair.
Historically, the seniority system has been one of the chief obstacles to legislative progress. It is more difficult to continuously get elected to the Senate -- or to get elected at a young age -- in a big state, rather than a small state. That imbalance means that the most senior members of the Senate are almost all from rural, conservative states, giving them outsized influence in a chamber where they already have outsized influence because of minority protections and the two-per-state makeup of the chamber.
Sen. Debbie Stabenow (D-Mich.) chairs the Steering and Outreach Committee, which oversees the organization of the caucus. But the process is effectively controlled by Senate Majority Leader Harry Reid (D-Nev.).
"I don't think Sen. Reid has decided, but that is something that has been proposed," Stabenow told HuffPost, calling it a "serious proposal."
At the same time, she said, "It's important that people feel comfortable." Upending seniority would bring about a lot of discomfort for those at the top.
The new strategy being pushed by Brown and others, of course, assumes that Democrats will still have chairmanships to revoke. Brown didn't specify which exact chairs might be pulled, but said that each one would face an up-or-down vote.
"I'm not predicting who or [that] anyone will be defeated, but they're certainly going to get a message. And one or two might [be defeated]. There's going to simply be a yes or no. Should Tom Harkin stay as chairman of health? Yes or no? And it will be yes for him, of course. But for some others, it may not be," said Brown.
Consumer advocates are also deeply concerned that Sen. Tim Johnson (D-S.D.), who has a history of supporting Wall Street and payday lenders, is in line to take over the Banking Committee. Johnson, too, would face an up or down vote.
Calling all HuffPost superfans!
Sign up for membership to become a founding member and help shape HuffPost's next chapter