WASHINGTON ― Democratic National Committee chairman Tom Perez became the first head of the party to demand ideological purity on abortion rights, promising Friday to support only Democratic candidates who back a woman's right to choose.
"Every Democrat, like every American, should support a woman's right to make her own choices about her body and her health," Perez said in a statement. "That is not negotiable and should not change city by city or state by state."
"At a time when women's rights are under assault from the White House, the Republican Congress, and in states across the country," he added, "we must speak up for this principle as loudly as ever and with one voice."
Perez's statement follows the DNC's controversial embrace of Heath Mello, a Democratic mayoral candidate in Omaha, Nebraska, whose years-long history of voting against abortion rights in the state Legislature drew fire from progressives this week. Daily Kos, a liberal website that raises money for lesser-known Democratic candidates, pulled its endorsement of Mello this week after discovering his history on the issue, and NARAL Pro-Choice America President Ilyse Hogue slammed the DNC for adding him to its cross-country unity tour.
"The actions today by the DNC to embrace and support a candidate for office who will strip women — one of the most critical constituencies for the party — of our basic rights and freedom is not only disappointing, it is politically stupid," Hogue said in a statement.
"Every Democrat, like every American, should support a woman's right to make her own choices about her body and her health."
Perez initially defended the DNC's acceptance of an anti-abortion Democrat.
"Our job at the DNC is to help Democrats who have garnered support from voters in their community cross the finish line and win ― from school board to Senate," Perez said. "The biggest threat to women's reproductive rights is the relentless Republican attacks on women's health care, including legal, accessible abortion services. And I won't let anyone get in the way of our fight to protect a woman's right to choose."
But Perez changed course Friday and delivered a big victory to the reproductive rights movement, saying that he "fundamentally disagree[s] with Heath Mello's personal beliefs about women's reproductive health" and that "every candidate who runs as a Democrat should do the same, because every woman should be able to make her own health choices. Period."
Perez's statement will likely alienate some high-profile anti-abortion Democrats in the party, including Louisiana Gov. John Bel Edwards and Sens. Bob Casey of Pennsylvania and Joe Manchin of West Virginia. Edwards said at the Democratic National Convention in 2016 that the party might be more successful in the Deep South if it allowed more anti-abortion candidates to rise in the ranks.
"It's hard to remain a big-tent party if you have a very small platform," he said. "We have to make our voices heard."
Reproductive rights advocates agree with Perez that the party must stand firm on the issue. Hogue celebrated the victory for the movement on Friday.
"Kudos to Chair Tom Perez and the DNC for recognizing that we are a stronger party when we stand for our core values," she said in a statement to The Huffington Post. "Women across the country who are, and have always been, the heart and soul of the Party, are breathing a sigh of relief to know that the DNC has our backs, and we look forward to a day when we don't have to fight this fight again."
Before You Go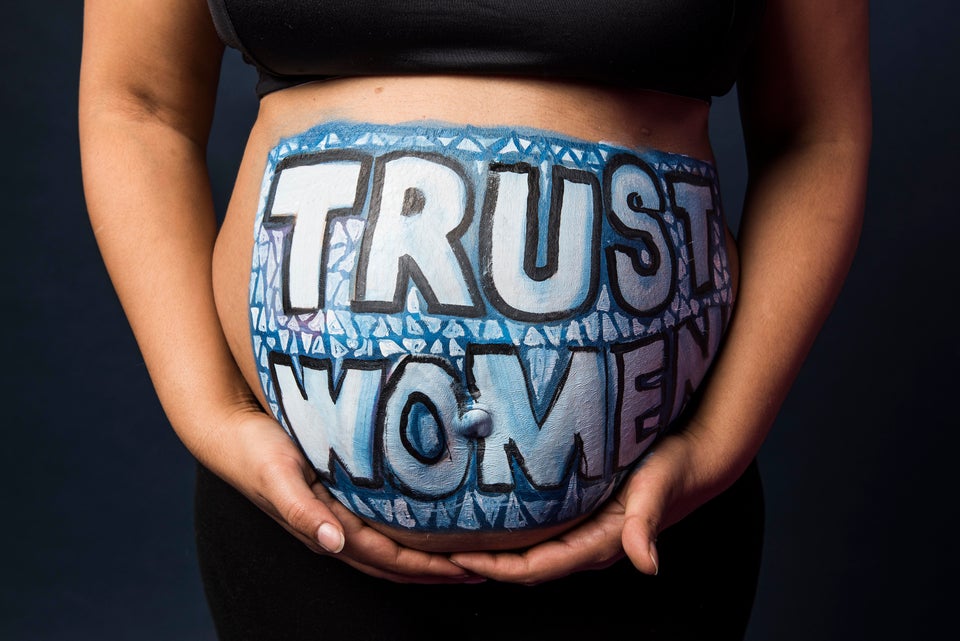 Pregnant And Pro-Choice
Popular in the Community