Senate Democrats on Tuesday called out Sen. Tommy Tuberville (R-Ala.) for repeatedly defending white nationalism and claiming that militant white people who believe they are superior to all other racial and ethnic groups are simply "Americans."
"This isn't a joke. This is deadly serious stuff," Majority Leader Chuck Schumer (D-N.Y.) said on the Senate floor, in an unusually direct condemnation of a GOP colleague.
"For a member of the United States Senate to speculate about what white nationalism means as if it's some benign little thought experiment is deeply and terribly disturbing," Schumer said. "I urge my Republican colleagues to impress upon the senator from Alabama the destructive impact of his words and urge him to apologize."
Tuberville has been making excuses for white nationalists for months. He did it again on Monday night, when asked by CNN if he agreed that white nationalists should not serve in the U.S. military. He said it was "some people's opinion" that white nationalists are racist.
"That's not an opinion," interrupted CNN host Kaitlan Collins. "What's your opinion?"
"My opinion of a white nationalist … to me, is an American," Tuberville said.
When pressed by Collins on why he was defending white nationalists, the Alabama senator said they have "a few probably different beliefs" and that he is "totally against it" if they are racist.
"A white nationalist is racist, senator," Collins said.
"Well, that's your opinion," Tuberville replied. "That's your opinion."
Tuberville's colleagues on both sides of the aisle disagreed with him in interviews Tuesday. Sen. Raphael Warnock (D-Ga.), one of just three Black senators, said the senator needs to knock it off.
"White nationalism is racism, by definition," Warnock told HuffPost. "It's not a matter of opinion. For the senator to play games with this is dangerous stuff. He should apologize and change course."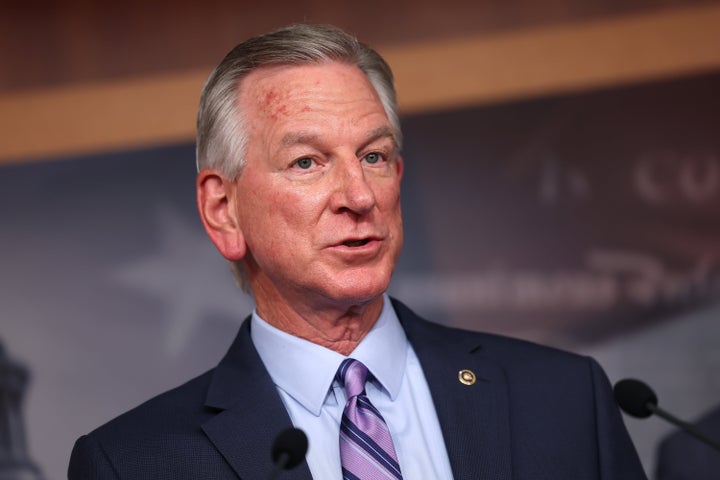 Sen. John Thune (S.D.), the No 2. Republican in the Senate, said, "I am not sure exactly what he was trying to say there. ... I would just say that there is no place for white nationalism in our party."
Sen. Katie Britt, the junior GOP senator from Alabama, echoed Thune's remarks.
"White supremacy and racism have absolutely no place in our country," she said. "Period. The end."
Tuberville has been causing all kinds of headaches for his party in recent weeks. The senator's unprecedented hold on more than 250 top military promotions over a Pentagon abortion policy has left the Marine Corps without a confirmed leader for the first time in 164 years, a move that Democrats and Defense Department leaders say is undermining national security. GOP leaders have tried to get him to stand down, but he hasn't budged.
The Alabama Republican wasn't interested in engaging with reporters about the topic on Tuesday morning, saying only that "racism is bad."
"Racism is totally out of the question," he said. "Next question."
By Tuesday afternoon, after some back-and-forth with reporters, Tuberville seemed to back down. "White nationalists are racists," he conceded while in a hurry out of the Capitol.
But when asked about Democrats calling on him to apologize, Tuberville held his ground. "He needs to apologize," he said, referring to Schumer. He didn't say why.
Support HuffPost
The Stakes Have Never Been Higher
Popular in the Community