Senate Democrats unveiled a slate of trade policy proposals aimed at benefiting American manufacturers and workers on Wednesday, adding to the party's new economic agenda, which it's calling "A Better Deal."
The proposals, announced by Senate Minority Leader Chuck Schumer (D-N.Y.) and five senators from manufacturing-heavy states, include plans to create a new international trade prosecutor to fight foreign countries' alleged violations of trade agreements; establish a new board to review how foreign purchases of American companies will impact American jobs; penalize federal contractors that offshore domestic jobs; and renegotiate the North American Free Trade Agreement, or NAFTA.
Crucially, the press conference offered Senate Democrats an opportunity to show their determination not to be outflanked by President Donald Trump on trade policy, an issue that helped Trump pick up Democratic votes in Rust Belt states.
"Nothing is more central to creating jobs and increasing take home pay, than rewriting our backward trade laws that have put foreign workers ahead of American workers, that have put big multinational corporations ahead of the needs of hardworking average American families," Schumer said.
Schumer fused some of the anti-corporate rhetoric more common in Democratic speeches with a smattering of the nationalist tropes Trump has championed. At the start of his remarks, for example, Schumer praised his assembled colleagues for "putting American workers first."
He later dubbed China "rapacious" for helping its corporations and investors gobble up American companies even as it failed to reciprocate by letting in American products like Hollywood films.
Schumer's vow to put "American workers first" arguably echoed Trump's promise to put "America First" in his inaugural address. 
At the press conference, the senators made overtures to Republicans to collaborate on various pieces of legislation, including a bill Sen. Tammy Baldwin (D-Wis.) introduced in March that would require American-made steel and iron to be used in drinking water infrastructure projects.
"We need Republicans to stand with us, and with our manufacturers and with American workers," Baldwin said.
Even Baldwin's reference to her own "Buy America" bill, however, was an opportunity to call out Republicans for failing to uphold President Trump's promises to pursue trade policies aimed at helping American workers. Trump said in April that he supported Baldwin's legislation.
Yet House Speaker Paul Ryan (R-Wis.) stripped similar language out of a water bill last year, a development Baldwin attributed to the fact that "foreign steel companies bought Washington lobbyists to kill it." (At the time, Ryan argued that the provision could unduly obstruct companies from getting federal contracts.)
"Congressional Republican leadership continues to stand in the way. America and their workers deserve a solid commitment from us on a strong Buy America standard that rewards their hard work," Baldwin said.
The White House did not immediately respond to a request for comment on whether Trump planned to demand that congressional Republicans pass the bill.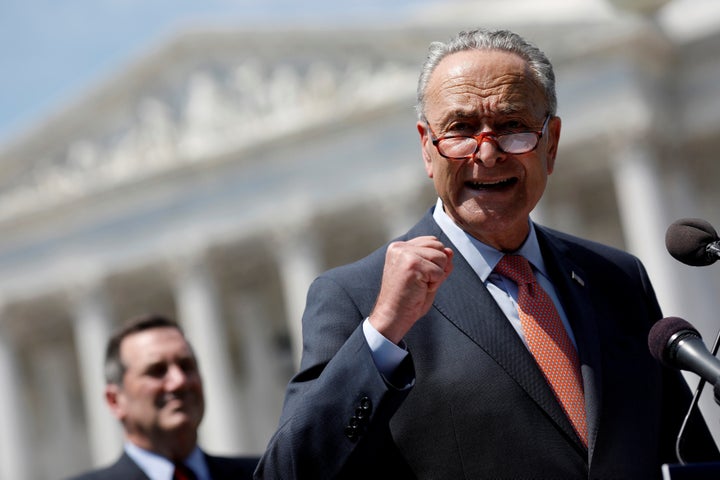 More than once, the Democratic senators disparaged Trump for failing to deliver on his ambitious promises to crack down on foreign trade practices that violate existing agreements.
"President Trump has talked a good game on trade but done virtually nothing on trade but study it," Schumer said.
Indeed, on the campaign trail, Trump routinely fulminated against China, Mexico and other nations with which the United States has a trade deficit. He promised to act swiftly to rebalance trade, including by labeling China a "currency manipulator" and threatening it with tariffs. 
But since arriving in office, Trump's attempts to rectify those imbalances have consisted mostly of commissioning studies to examine them. An executive order in April calling for a review of how well the U.S. government adheres to "Buy American" preferences when it issues federal contracts, for example, was due to last 220 days before action could be taken.
Many trade experts believe the president has the authority to act much sooner.
In addition, the administration gave Congress a 90-day notice in May that it would renegotiate NAFTA.
But Commerce Secretary Wilbur Ross has stated that the starting point for reform would be expanding NAFTA's removal of trade barriers for digital commerce and intellectual property ― something Canada and Mexico agreed to as part of the Trans-Pacific Partnership, a 12-nation Pacific Rim trade agreement that former President Barack Obama brokered and that Trump shelved upon taking office.
That has raised fears among skeptics of recent trade agreements that the Trump administration plans to make changes to NAFTA that actually increase offshoring, so long as they can formally brand them "reform."
"We need to focus on ... renegotiating NAFTA, but seriously renegotiating NAFTA ― not just some kind of a rewrite of TPP," said Sen. Bob Casey (D-Pa.).
The Democratic Party's embrace of more enforcement-focused trade policies is an extension of the larger economic platform it introduced last week that earned plaudits from progressive leaders for embracing strong new antitrust regulation and efforts to lower prescription drug prices.
In the wake of Trump's surprising victory, Democratic leaders are convinced that reclaiming their 20th-century mantle as the party of the working class is essential to their future electoral success.
Trade is long an issue that has divided Democrats, with business-friendly members supporting international trade accords that representatives of industrial areas and left-leaning activists often bitterly oppose.
Many labor unions, American manufacturers and economists argue that the United States has failed to prioritize the interests of domestic workers in recently negotiated trade deals. They criticize the federal government for advocating for the intellectual property rights of prescriptions drug companies and software firms, while failing to aggressively enforce other trade rules that disproportionately benefit American workers. China's questionable trade practices, for example, contributed to the loss of 3.4 million American jobs from 2001 to 2015, according to the Economic Policy Institute.
Obama's relentless advocacy for the TPP made it harder for Democratic presidential nominee Hillary Clinton to credibly oppose it in her 2016 battle against Trump. Prior to Clinton's 2016 run for office, she had spoken about the accord supportively.
"Senate Democrats have put forth a solid plan to help America's factory workers through better trade policy," Scott Paul, president of the Alliance for American Manufacturing, said in a statement to HuffPost. "We look forward to working together to producing real change that will grow manufacturing jobs in the United States."
REAL LIFE. REAL NEWS. REAL VOICES.
Help us tell more of the stories that matter from voices that too often remain unheard.
BEFORE YOU GO
PHOTO GALLERY
2017 Scenes From Congress & Capitol Hill