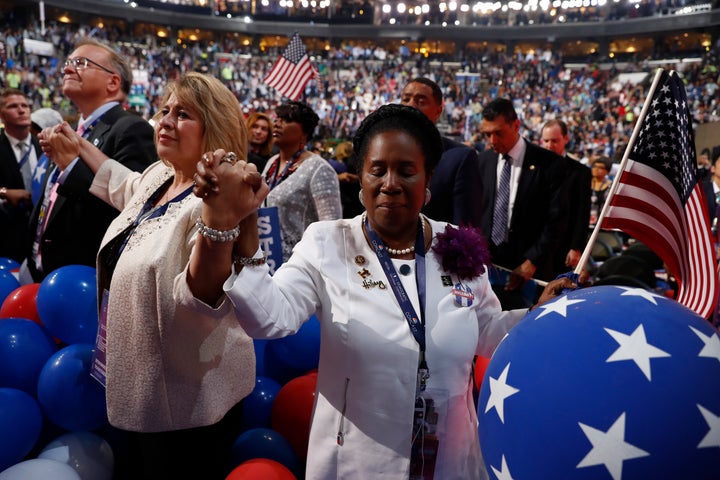 As a result, the tidal wave of first-time candidates wound up recruiting hundreds of first-time campaign managers, finance directors and field organizers.
Now, established Democratic operatives are nervously assessing their ability to keep those new political workers involved.
"The struggle now that the campaign is over is: What do they do?" said Kelly Dietrich, who founded the National Democratic Training Committee to tackle this kind of problem two years earlier. "The Democrats do not have a good structural answer for how to retain all of these talented new people. It's a gap in our infrastructure."
But Democrats are making a serious push to change that. Dietrich's is one of several groups on the left trying to bridge the gap — to convince all these newcomers to keep working in politics; to mold them into more effective, attractive hires for 2020; and to help them plug into the hiring networks, which are still largely word-of-mouth.
Arena, a progressive nonprofit and political action committee, plans to spend $4.5 million next year with the goal of training 1,000 campaign staffers and placing 450 of them in key races. More than 24,000 people used the National Democratic Training Committee's online tools at some point in this election cycle, and it has plans for the 2020 cycle to top the $5.2 million it spent this year. The Democratic National Committee launched a series of free trainings for campaign staffers in 2018 ― including in states where Democrats hadn't previously been competitive, like Oklahoma, Mississippi and Utah — as well as an initiative to pass on the best practices of federal races to state and local contests. The training arm of EMILY's List, spurred by the range of history-making candidates, partnered with Native American groups in a major way for the first time.
For many on the left, though, all these new efforts underscore how much work lies ahead.
"The Democrats experience a lot of brain drain cycle by cycle," said Kate Catherall, an Arena co-founder. "There's a patchwork of groups doing really great work, but it's not yet enough. … We've underinvested."
The problems they see are manifold. For one, because Democrats haven't invested heavily in training, they haven't acclimated their biggest donors to the idea that training funds might matter more than, say, a TV commercial in a close Senate race. That means paying the costs is a perennial issue. Many people within Democrats' most important constituencies lack the wealth or political connections that would help them discover and attend training sessions. This month, Wellstone, the premier training group on the left, will offer a limited number of scholarships to attend RootsCamp, its huge annual gathering of progressive organizers. But most of the attendees must pay between $95 and $180, plus the cost of travel, themselves. With that in mind, the DNC and groups like Arena are placing more emphasis on online training sessions.
Another issue is that Democratic groups host many of their most important training sessions on the East Coast — where travel and lodging is pricey — or in places that are already Democratic strongholds. Until the past few years, there was a dearth of events in the parts of the South and Southwest where black and Latino communities are gaining more political power.
The system for finding a job remains patchy and opaque. When the DNC created a resume bank/job board for campaigns and campaign workers this year, it was the first time the party had undertaken that kind of matchmaking in a centralized way.
For the campaigns of 2018, the party's efforts weren't enough.
Amy Pritchard, who founded Democratic GAIN, a political professional association that serves as one of the biggest job boards for the left, said she received calls daily from campaigns desperate for potential hires. So did Catherall and Dietrich, who said he even heard from candidates who were part of the Red to Blue campaign, the Democratic Congressional Campaign Committee's list of high-priority races for taking back the U.S. House. And while they agreed that the newbies who joined campaigns performed well, Catherall heard from multiple first-timers who struggled to parse advice from more experienced but self-interested consultants.
Failing to change the system, Dietrich said, could mean an identical scramble in 2020, when Democrats will be defending their gains in an even costlier, more frenetic political cycle.
Catherall, Dietrich and other Democrats claim that the other side has a much longer-standing and more robust network of groups to recruit, train and place campaign workers — a network that often offers its training for free or with a stipend.
It doesn't necessarily look so rosy from that other side.
"I think both sides, occasionally, think the grass is greener on the other side," said David Fenner, vice president of programs for the right-leaning Leadership Institute.
The reality is probably a more even match, he said. When Fenner sat down several years ago to compare the number of prominent training groups on the right and the left, he counted 13 on both sides, plus several nonpartisan groups whose graduates tend to lean left. That didn't account for the significant campaign work performed by unions, which run their own trainings and large turnout operations on behalf of Democrats.
Still, there is a difference in the various groups' reaches and legacies. Some of the most stalwart organizations on the left, such as the Midwest Academy and the Great Lakes Political Academy, focus on one state or region. Wellstone is the Leadership Institute's closest counterpart on the left, but it was founded nearly a quarter-century later. Since 2002, Wellstone has trained 90,000 campaign workers, candidates and activists; the Leadership Institute, which began in 1979, has trained more than 194,000. In 2017, the Leadership Institute trained roughly 13,000 people to Wellstone's 10,000.
The bottomline seems to be that conservative donors are more readily convinced to contribute time, bodies and money to political boot camps. Fenner suspects that conservative donors are less skeptical of the whole idea. "They're your investor class," he said. "They're folks who believe in an initial investment and a long-term yield."
There's one other reason Democrats may be feeling jealous. The easiest way for either party to retain its political talent is to win — to turn campaign staffers into congressional and legislative staffers. Between 2010 and this year's midterms, Republicans picked up nearly 1,000 state legislative seats, plus dozens of congressional and gubernatorial seats. Each loss can cost Democrats multiple pathways for building a career in politics.
Some Democrats see those losses and the failures to invest in building a professional bench as one and the same.
"The amount of money spent on campaigns shows the money is there. But we don't begin to do enough of it," Pritchard said. "I get calls almost daily [from] people asking for recommendations of talent but not really feeling like there is a pool or a place to go to in order to look."
She said she'd received at least three such calls in the last 48 hours: two from high-powered consulting firms and one from a 2020 presidential campaign.
Support HuffPost
The Stakes Have Never Been Higher
Popular in the Community