WASHINGTON -- Wearing rainbow ribbons, House Democrats organized a press conference for the second day in a row to talk about gun safety in the wake of the shooting at a gay nightclub in Orlando, Florida that left at least 49 dead.
"We are all Orlando," said House Minority Leader Nancy Pelosi (D-Calif.), who donned a rainbow wristband as well as a ribbon in solidarity with the LGBT victims of the attack.
House Minority Whip Steny Hoyer (D-Md.) called on Congress to "empathize with the fear the LGBT community is experiencing right now."
Rep. Xavier Becerra (D-Calif.), chair of the House Democratic Caucus, also acknowledged the pain that the Latino community, "hit especially hard" in the attack, was feeling.
And then the grief turned to anger. Voices rose as the Democratic leaders excoriated their Republican colleagues for blocking attempts to bring Republican-authored legislation to the floor that would bar people on terrorist watch lists from purchasing firearms.
While Democrats predict the bill would garner enough Republican support to pass if it reaches the floor, it's not without controversy. A number of Republicans in both chambers say it denies due process rights to people on the watch lists. Gun rights advocates, as well as civil liberties groups, have also expressed concerns about the legislation.
Pointing to public polling and the need to take action, Democrats argued that the bill is a step in the right direction. Becerra said Democrats weren't urging a vote on an assault weapons ban because they are "tired of not being able to do anything."
"We certainly have a number of us who are supporters of the assault weapon ban, but let's try to get something done and let's see how far Republicans are willing to go," he added.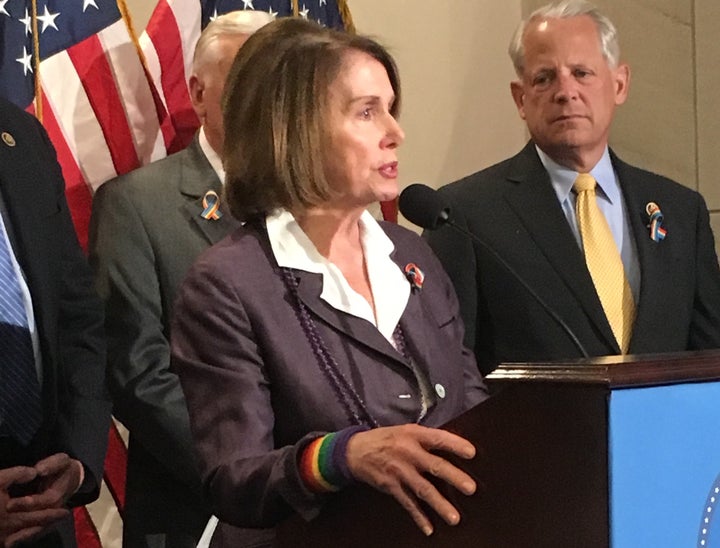 According to a New England Journal of Medicine study conducted in the wake of the 2012 Sandy Hook Elementary School shooting, 86 percent of gun owners supported barring people on terrorist and no-fly lists from buying weapons.
"Refusing to enact 'no fly, no buy' is a form of political criminal negligence," Rep. Steve Israel (D-N.Y.) said of House Republicans.
Hinting at potential consequences for the GOP come November, Israel didn't try to hide Democrats' agenda, saying they plan to latch onto this message to pressure Republicans and grab the public's attention.
"Every time Speaker [Paul] Ryan (R-Wis.) tries to gavel us down, we're going to speak louder," he said. "He may be able to use a gavel as a tool against us, but we're going to use common sense and public sentiment against them, and you can absolutely count on that."
Asked if they were encouraged by presumptive GOP presidential nominee Donald Trump's intention to meet with the National Rifle Association about prohibiting gun sales to those on terrorist watchlists, Democrats seemed wary.
"If con man Don can convince the NRA to move forward on this, God bless him," said Rep. Joe Crowley (D-N.Y.). "But again, this just goes to show the power of the NRA that their presidential nominee will go on hand and knee, begging for them to give them a pass on this issue so that it can trickle down to all the other members of the House."
Trump's position on the issue "is irrelevant," Israel said, pointing to the division among Republicans over their presumptive nominee. On Tuesday, Republicans scrambled to avoid questions about Trump, and even insisted that the GOP doesn't have a nominee. 
"If Donald Trump decides today that he supports 'no fly, no buy,' it will be just the latest disagreement that House Republicans say they have with him," said Israel.
REAL LIFE. REAL NEWS. REAL VOICES.
Help us tell more of the stories that matter from voices that too often remain unheard.
BEFORE YOU GO
PHOTO GALLERY
Vigils Held In Honor Of Victims Of Orlando Nightclub Shooting