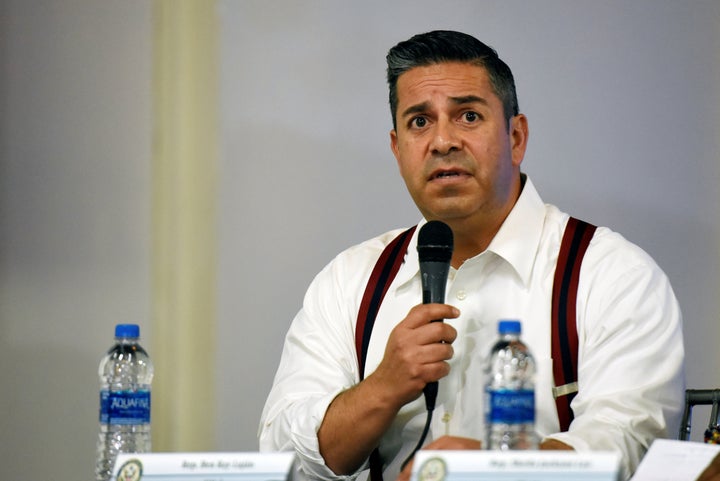 BROWNSVILLE, Texas ― Among the many children Democratic lawmakers saw during a trip to child detention facilities on the U.S.-Mexico border on Monday were two infants who had been separated from their family members for more than a month.
Lea and Roger, both around 1 year old, were two of about 40 kids who had been separated from their parents and held in Casa El Presidente, a child detention facility in Brownsville, Texas, lawmakers said.
It wasn't that the children seemed to be getting improper care in the facility, which is operated by the nonprofit Southwest Key. Roger and Lea were in an infant room at the center, along with at least two other babies whose minor-aged mothers were also in the facility but were away in class. The infant room was colorful and the staff seemed to be caring for the babies well. Two baby boys in the room were wearing matching orange and white striped shirts and Lea was giggling, lawmakers said.
But Roger and Lea weren't with their families.
"That poor little boy and that poor little girl and those children," Rep. Ben Ray Luján (D-N.M.) told reporters, adding that he had to walk out of the room briefly out of frustration. "If the president had a heart, how could he let this happen?"
"They were being taken care of by good people, but there was no determination as to when they might be reunited with their natural relatives and/or mother," Rep. Sheila Jackson Lee (D-Texas) said, noting that pediatricians have criticized the separations. "That is child abuse, because that comfort is not there," she added.
The Trump administration is under fire for a new zero-tolerance policy for illegal border crossings that has resulted in the separation of at least 2,000 kids from their parents after the families were apprehended along the border.
The administration claims it doesn't separate children under the age of four from their parents except under extreme circumstances ― such as if the adult has a prior criminal or immigration record, if there's evidence of abuse or uncertainty about whether the child actually belongs to the parent, or when there's insufficient space to detain a family unit if they are all present.
The administration also says that families are only separated when the parent is being prosecuted. But there have also been reports of children being taken from asylum-seekers who did not break the law.
Luján and Rep. Joaquín Castro (D-Texas), two of the six Democratic members who visited the facility, said they learned few details about how Roger and Lea ended up in government custody. Staff told them Roger's mother is deceased and that he was apprehended traveling with an older sister and separated from her, and that Lea was split from her family as well.
But they're skeptical that they can trust Trump and his officials to keep their word on separating young children only in extreme circumstances.
"The Trump administration has been very untruthful about a lot of things in this whole process," Castro told HuffPost. "It's a morally bankrupt process. I don't think they've told us the truth. I don't think they've told the American people the truth."
"It's a morally bankrupt process. I don't think they've told us the truth. I don't think they've told the American people the truth."
Trump has said he does not like the separation of families. He has claimed repeatedly that the separations are the fault of Democrats, sometimes falsely claiming they passed a law necessitating that families be split up and other times blaming them for his policy because they do not support his other hard-line immigration demands like a border wall, cuts to legal immigration, restrictions to asylum and expansion of family detention.
But the president and top officials have simultaneously intensified the policy that is causing children to be taken from their parents. Department of Homeland Security Secretary Kirstjen Nielsen said in a speech Monday morning that the administration would not apologize for enforcing the law. She decried the prior practice of putting immigrant families in removal proceedings rather than prosecuting parents for illegal entry, likening it to a "get out of jail free" card. Later, at a White House briefing, she accused opponents of the president's immigration policies of supporting an open border.
Democrats have called on Trump to stop the zero-tolerance policy and are pushing for legislation that would limit the practice. But they are in the minority in both the House and Senate. A number of Democrats visited the border over the past two days to see what's happening for themselves, draw public attention to the policy and conduct oversight.
The Democrats who visited Brownsville facilities on Monday urged Trump to do the same and see what is happening there.
"He should come see one of these little babies," Luján said. "Maybe hold one. ... Maybe it will set something right in him."
Before You Go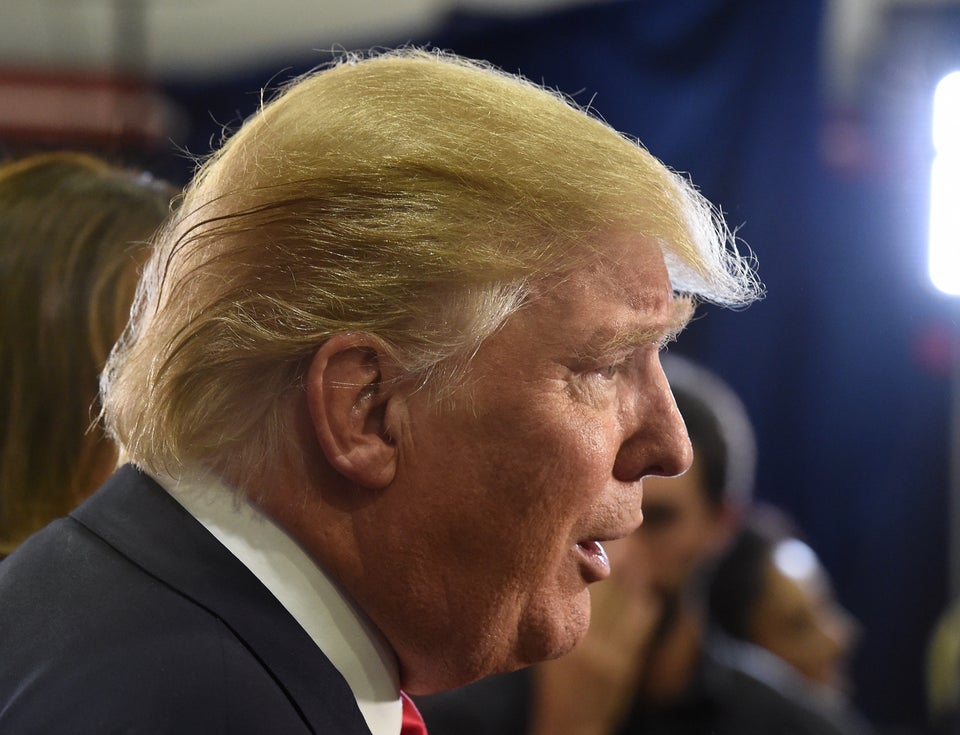 How Donald Trump Talks About Undocumented Immigrants
Popular in the Community