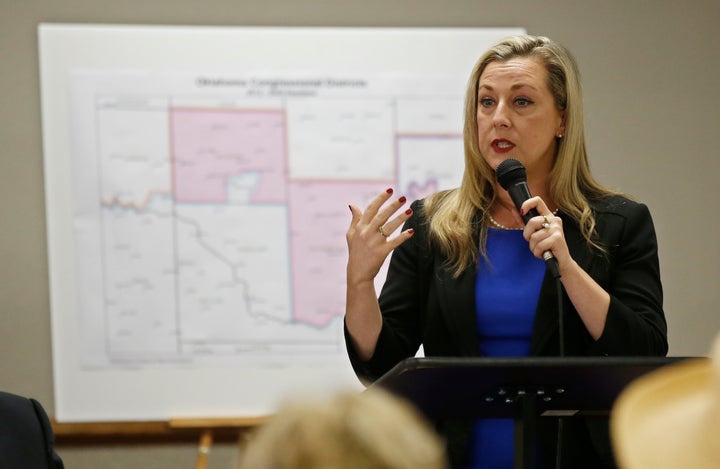 Josh McCall lost his congressional race on Tuesday. It wasn't even close.
McCall, a Democrat, received just 21 percent of the vote against the incumbent, Rep. Doug Collins (R), in Georgia's 9th District.
But you know what? McCall is feeling fine. In fact, he feels like his race was a success.
"The ground results were great. Canvassing was amazing," McCall said.
McCall received almost 58,000 votes. The last time Collins had a challenger, in 2014, the Democratic candidate received only 35,000 votes.
Georgia's 9th District is one of the reddest in the country. No one thought McCall had a shot at winning. But across the country this cycle, political novices like McCall stepped up and ran for office or became involved in organizing in districts that the Democratic Party has traditionally written off.
And that strategy paid off. In Oklahoma, Democrat Kendra Horn flipped the state's 5th Congressional District in one of the biggest upsets of Tuesday night. In Kansas, Democrat Laura Kelly will be in the governor's mansion next year.
But even in places where they lost, Democrats believe they came out ahead. Having candidates run matters.
"We can't blame the people at the top if the people on the bottom aren't working," McCall said. "So one of the reasons I jumped in is because I thought, 'Why do Democrats always abandon districts like this?' Then I had to tell myself honestly that it's because Democrats like me in districts like this don't get out and work."
"This is not the 50-state strategy. This is the people in the 50 states deciding they're not going to wait for change from Washington ― which rarely occurs ― and they're going to force change."
When candidates run, at any level, work happens. They update voter files and register new voters. They also have conversations with voters who ― if they live in a place without competitive races ― may not hear from their politicians very much.
"Maybe they're talking to Republicans and independents and having conversations that short-term, may not come out ahead, but long-term will do more for the Democratic brand because there will be a person attached to the name of the party rather than just this idea," said Amanda Litman, co-founder of Run for Something, which recruits and supports Democrats running for down-ballot offices.
The 2016 elections were a shot in the arm for complacent Democrats. Groups like Indivisible, Swing Left and Run for Something popped up, driven by a bottom-up structure that focused on activism in local communities. People who weren't involved in politics started looking for an outlet, with many of them reinvigorating Democratic organizations in their towns.
"What's happening to us is absolutely fascinating," said Howard Dean, the former Democratic National Committee chairman who famously implemented a 50-state strategy and refused to concede any place as "unwinnable" for the party.
"This is not something that's coming from the top down," he added. "This is not the 50-state strategy. This is the people in the 50 states deciding they're not going to wait for change from Washington ― which rarely occurs ― and they're going to force change. They're going to do it their way. And I think it's been great."
In Georgia's Hall County, McCall said the Democratic Party there almost disbanded because there were so few people coming to the meetings. But once Trump was elected, the party grew.
Ilene Johnson, the communications chair for the Gwinnett County Democratic Party in Georgia, has been involved in local politics since 2010. At its first meeting after 2016, it didn't even have a headquarters, so members rented a room in the old city hall.
"Let me just say ― if the fire marshal had come by, he would've closed us down because we were just at capacity. So much more involvement [since then]," she said. "My work has tripled."
Johnson said she was "very happy" with Tuesday's results. Sure, the governor's race is possibly headed to a runoff. But at the county level, there were less-noticed Democratic victories.
Kate Howard Franch, the chairwoman of the Democratic Party in Greenville, South Carolina, was also feeling good this week. She pointed out five new candidates who ran for the statehouse. All of them lost ― but the fact that a diverse group of newcomers had decided to run was a big deal in that traditionally red area.
"We saw a lot of people we've never seen before, and we had a number of people come in and say, 'I haven't traditionally voted for Democrats, but I'm going to this cycle.' And not only that, they were coming in to get a yard sign for the governor's race. ... The fact that they were willing to stake that in their yard was really impressive to us and says a lot about what is changing here," Franch said.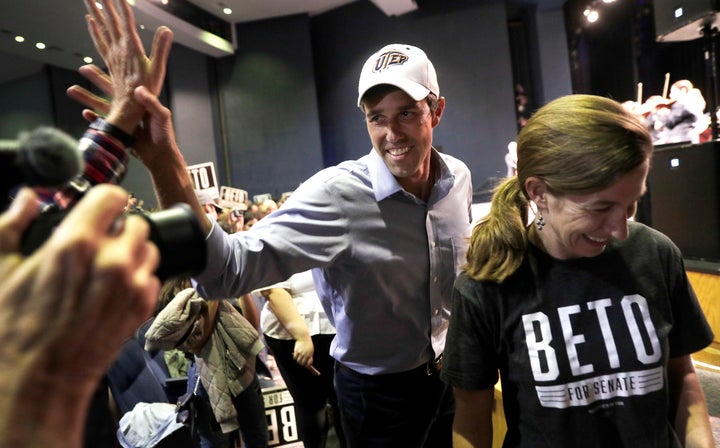 While having on-the-ground engagement is essential to win big races, having a strong candidate at the top of the ticket matters too. Texas was a key example. Rep. Beto O'Rourke (D) was always a long shot to win the Senate race. The national party wasn't going to invest its time and money there when it had so many other seats to defend. So O'Rourke looked to the grassroots.
O'Rourke raised a stunning, record-breaking amount of money ― $38 million, just from July to October. To put that in perspective, it's more money that Jeb Bush raised during his entire 2016 presidential run. And O'Rourke did it without taking any money from political action committees, instead relying on hundreds of thousands of small-dollar donations.
O'Rourke lost, yes. But he fell within 2.7 percentage points of Sen. Ted Cruz (R), outperforming expectations.
"It was money well spent," said Carisa Lopez, who now works for a progressive nonprofit in Texas and previously served as the executive director of the Travis County Democratic Party.
"If we're ever going to become a progressive state and we're going to elect progressive candidates, we have to put resources into building infrastructure," she said. "And that's exactly what happened. We're seeing a lot of organizations on the ground doing the work, along with Beto's campaign."
She also credited the O'Rourke campaign for recognizing that there were groups, like Battleground Texas, that were already doing work year-round ― and worked with those organizations.
"I was disappointed that Beto didn't get us over the finish line, but I was absolutely inspired by the 254-county strategy that he put into place. And that foundation is going to enable us to expand the electorate," said Democratic National Committee Chairman Tom Perez.
Having a candidate who generated so much enthusiasm paid dividends down the ballot. Democrats closed the margin in the governor, lieutenant governor and attorney general races. They also won two key House races, throwing out longtime GOP incumbents. And in Harris County, the largest county in Texas, 19 black women who ran for judicial seats all won their races.
Even in other places where particularly controversial GOP members were re-elected, Democrats felt like they had done something big by challenging them and exposing their records and rhetoric.
Rep. Chris Collins (R-N.Y.) represents New York's reddest district and was considered a shoo-in for re-election. But when he was indicted on insider trading charges, the seat suddenly became a target for Democrats. And the party was lucky it just happened to have a candidate. Nate McMurray, a town supervisor, decided to run on the Democratic side, even though no one gave him a shot at winning. He, however, gave the Democrats a chance to take the seat. (Many outlets have declared the race for Collins, but McMurray is demanding a recount.)
Rep. Steve King (R-Iowa), a white nationalist, won a ninth term to Congress on Tuesday. But during the campaign, he faced increased scrutiny over his racist positions.
"This district was supposed to be impossible, but the district swung 20 POINTS and King got wrestled to an almost tie in the most competitive race he's ever faced," said a progressive activist in Iowa who asked not to be named for fear of retribution from King's campaign. "This should be a source of pride and hope."
"King will be even more of an isolated pariah in Congress and in his party, with even less power over the next two years," he added. "Republicans will either primary him to lance the festering, infected boil that is Steve King and/or now that we know the race can be closed, focused resources and attention will pour in that King won't be able to match. I'm confident this is Steve King's last win."
Popular in the Community