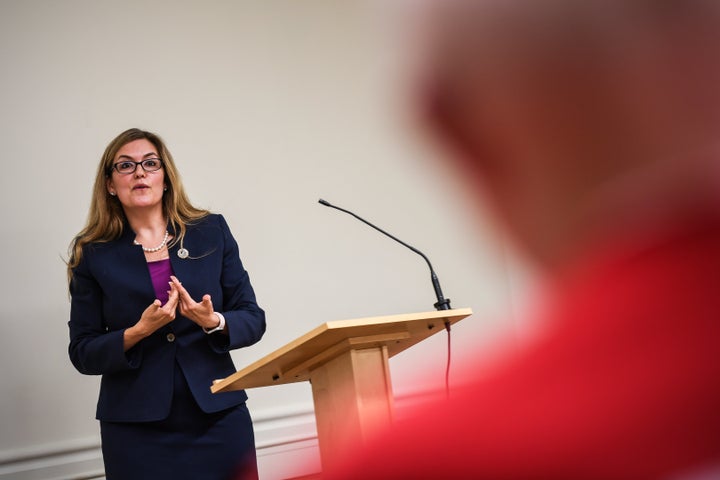 WASHINGTON ― The Democratic Party has a good problem going into the 2018 midterms: Things are starting to feel a little crowded.
Consider the jam-packed Democratic primary to unseat Rep. Barbara Comstock (R-Va.), a longtime Democratic target who party officials believe can finally be toppled thanks to President Donald Trump's unpopularity in the district. At last count, no fewer than eight Democratic candidates have declared for that race.
State Sen. Jennifer Wexton (D-Leesburg), initially considered the favorite to win the nomination, is facing an unexpectedly stiff challenge. After the first two fundraising quarters of 2018, Wexton has been heavily outraised by three opponents: former State Department official and anti-human trafficking advocate Alison Kiehl Friedman; Army veteran and business strategist Dan Helmer; and Obama administration alumnus and communications consultant Lindsey Davis Stover.
Friedman, already leading the pack in fundraising thanks to an early endorsement from the feminist activist and writer Gloria Steinem, is set to announce several high-profile endorsements in the days and weeks to come ― including one this week from Khizr Khan, an outspoken critic of Trump whose son, Army Capt. Humayun Khan, was killed while deployed in Iraq in 2004. In an endorsement letter provided to HuffPost, Khan, writing as "a proud Virginian patriot," praises Friedman's work "serving people who are often ignored or left out." Friedman, whose mother, Kristina Kiehl, co-founded the reproductive rights group Voters for Choice with Steinem, has benefited from deep ties to a nationwide network of progressive activists.
Friedman isn't the only rookie candidate lining up high-profile endorsements. Davis Stover is set to appear alongside reproductive rights activist and former Texas state Sen. Wendy Davis, and recently held an event with Sen. Tammy Duckworth (D-Ill.), who worked with Davis Stover at the Department of Veterans Affairs in the Obama administration.
"We bring a lot of depth of federal experience to this race," Davis Stover told HuffPost. "I've lived many of the challenges people are facing right now."
Helmer, meanwhile, has received a number of endorsements from the national security establishment ― which is heavily represented in Comstock's district, thanks to its proximity to Washington ― including former Obama administration official Michele Flournoy and the progressive veterans organization VoteVets.
That many of the most competitive candidates weren't even on the district's political radar a year ago is striking evidence of how the surge in political engagement on the left, prompted by Trump's contentious administration, is reshuffling just who makes up the party "establishment." This, in turn, is forcing Democratic Party officials to take a more passive approach to elections, as grassroots activists and members of the party's myriad factions jockey for position.
The Democratic Congressional Campaign Committee, House Democrats' campaign arm, had recruited Wexton and publicly heralded her entrance into the race earlier this year, but was forced to sit back as more candidates threw their hats in the ring. Now, instead of focusing its efforts solely on Wexton, the DCCC is providing assistance to a number of candidates and is coordinating anti-Comstock messaging where it can.
Wexton still sports the deepest endorsement bench, including Reps. Gerry Connolly and Donald McEachin, both Virginia Democrats, as well as a slew of state legislators, county supervisors, school board officials and other local political operators.
In an interview, Wexton said her ties to the district set her apart from the crowded field and could tip the balance in the party's favor next November, calling herself "a proven vote-getter here in the district."
She attributed her underwhelming fundraising numbers to her donor base being centered in Virginia ― drawing an implicit contrast with her opponents who have enjoyed an influx of outside money.
"We've had a lot going on in Virginia," Wexton said. "I have no doubt that my number will continue to be strong. I don't think that the one with the most money always wins."
Multiple Democratic Party officials, all requesting anonymity to speak candidly, say they still favor Wexton, citing her history in the district and her connections to Loudon County, which proved to be a major swing county in recent elections. However, these same officials remain confident that Wexton's major primary challengers would be well-positioned to unseat Comstock next November.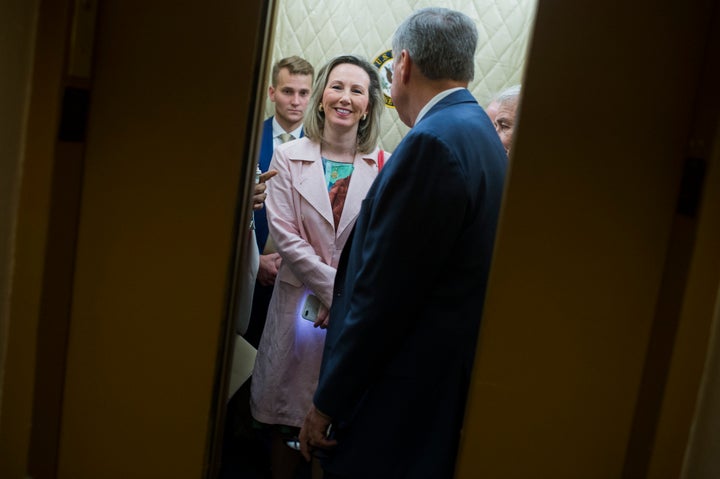 "This is the problem you want to have," said Lowell Feld, editor of the progressive political site Blue Virginia, of the glut of strong Democratic candidates.
Feld noted that while the party's recent gubernatorial primary pitted former Rep. Tom Perriello (Va.), a progressive, against the state's more centrist Lt. Gov. Ralph Northam, the ideological differences in the Virginia 10th field are less pronounced. Candidates will ultimately distinguish themselves, he said, by which issues they focus on.
"You also have to have your own personal and political narrative," Feld said. "People want to be for something."
Virginia's 10th District is ― not to mince words ― a gerrymandered monstrosity that covers large swaths of the state's northeastern border with West Virginia and Maryland before oozing into D.C.'s western suburbs. Stare at it long enough, and you might think the state legislature was aiming to replicate mainland Greece with its mix of peninsulas and isthmuses dipping into the Washington area.
The district includes rural Frederick County, which borders West Virginia and voted 65 percent for Trump in the 2016 election, as well as large portions of Fairfax County, which voted 65 percent for Hillary Clinton.
As Virginia microcosms go, you couldn't find a better example than the 10th District. Like the Commonwealth itself, the 10th leans Democratic thanks to a very liberal professional population around Washington, offset by a large, mostly conservative rural constituency. However, as a congressional district that is ostensibly supposed to possess a coherent demographic identity, it's a mess.
Clinton won the district in November by 10 points, but Comstock outperformed the top of the Republican ticket by roughly 15 points. Feld attributes much of Comstock's success to an erroneous assumption among voters in the district that she is more moderate than her record suggests. FiveThirtyEight found that Comstock has voted in line with Trump's presidential agenda 95 percent of the time.
"I don't think people follow it that closely and the Post gave her a free license," said Feld, referring to The Washington Post editorial board's decision to endorse Comstock in 2016.
Alison Kiehl Friedman also attributed much of Comstock's support to the district's politically keyed-in population.
"I think a lot of voters made the choice to support her as a check on a Clinton presidency," Friedman said. "I think the congresswoman has historically been able to get by without having to dive down into the issues or really taking a stand for much, and she's not going to get by this time."
The Comstock campaign did not respond to requests for an interview. However, Maddie Anderson, a regional press secretary for the National Republican Congressional Committee, cited the congresswoman's previous electoral wins as evidence of her political strength.
"The Democrats have run the same failed strategy in all five of Rep. Comstock's victorious races in which they threw almost $20 million down the drain which could have been used on closer races every election," Anderson said in a statement provided to HuffPost.
Comstock's support of Trump's agenda is likely to be a key factor in the race. Democrats across the country are planning to make the Trump administration a central issue of the midterms, and indeed the ascent of Trump is what prompted many of the candidates to run in the first place.
Lindsey Davis Stover recalled participating in the Women's March on Washington with her two daughters the day after Trump's inauguration.
"I think it's such an important time when we can no longer sit on the sidelines, and we have to do things we'd never thought we'd do before," she said.
Dan Helmer says he was contacted by New Politics, an organization that, per its website, helps "promising national service alumni and military veterans run for public office."
He described Trump's victory as an animating moment. "On January 20th," he said, "as [my wife] and I watched the inauguration, we asked ourselves, 'What are we going to tell our sons what we did?'"
Popular in the Community