WASHINGTON -- House Democrats on Wednesday knocked down a GOP bill that would have delayed a key Wall Street reform known as the Volcker Rule, stunning Republican leaders who had expected it to pass with ease.
"It's disappointing so many Democrats who voted for these provisions just four months ago suddenly switched their votes in a transparent ploy to appease their far left-wing base," said Rep. Jeb Hensarling (R-Texas), chairman of the House Financial Services Committee.
The bill would have allowed banks to hang onto billions of dollars in risky collateralized loan obligations for two additional years by amending the Volcker Rule, which is part of the 2010 Dodd-Frank financial reform law. The rule bans banks from speculating in securities markets with taxpayer funds, requiring them to dump their CLO holdings. A Volcker Rule delay would be a major boon to the nation's largest banks. Between 94 and 96 percent of the domestic CLO market is held by banks with at least $50 billion in assets, according to federal regulators, who value the market at between $84 billion and $105 billion.
Wednesday's bill actually won a majority vote of 276 to 146, but that wasn't enough because of a GOP tactic that backfired. Expecting several dozen Democratic votes in favor of the bill, Republican leaders brought it to the House floor under special rules that prevented it from being amended, but required a two-thirds majority for passage -- which it did not meet.
The vote was a major test of the Democratic Party's willingness to fight financial deregulation. In December, Congress passed a $1.1 trillion budget bill that included subsidies for risky derivatives trades, the complex contracts at the heart of the 2008 meltdown. Pelosi, Rep. Maxine Waters (D-Calif.) and Sen. Elizabeth Warren (D-Mass.) had organized resistance to that legislation, only to be narrowly outgunned by personal lobbying late into the night from President Barack Obama and JPMorgan Chase CEO Jamie Dimon. Passing another deregulatory measure on the second day of the new Congress would have been a serious blow to the financial reform wing of the Democratic Party and emboldened GOP efforts to repeal Dodd-Frank.
The fact that a bill to postpone a major part of the Volcker Rule was being considered at all showed the confidence of bank lobbyists just weeks after being hit with a barrage of negative press coverage over the derivatives measure.
On Wednesday, Pelosi actively worked the floor pressuring her members to vote against the Volcker Rule delay, with impressive results. Only 35 Democrats supported the legislation, meaning more than 80 percent of the caucus opposed it -- a rout by recent House standards for pro-Wall Street bills, which often passed with 100 or more Democratic supporters in the last two years. A host of usual Wall Street backers in the party rejected the bill, including House Minority Whip Steny Hoyer (D-Md.) and Rep. Joe Crowley (D-N.Y.). Just one Republican voted against the legislation: Rep. Walter Jones (R-N.C.), a persistent opponent of Wall Street perks.
Treasury Secretary Jack Lew told Pelosi early in the afternoon that Obama opposed the bill, according to a White House official.
After the vote, Pelosi and progressive House members issued a series of statements that sought to define Republicans as the party of big bank favoritism and against middle-class interests.
"The American people expect Congress to champion the paychecks of middle class families, not the profits of big banks. Wall Street giveaways introduced in the dead of night are no way to govern," Pelosi said. "Democrats will continue to fight back against Republicans' Wall Street wish list agenda."
"I'm proud House Democrats stood together today to protect critical Wall Street reforms," said Rep. Keith Ellison (D-Minn.).
"I am very pleased that House Democrats joined together to successfully fight against this Republican effort, a strong rebuke to their strategy," said Waters, the top Democrat on the House Financial Services Committee.
From the other chamber, Sen. Bernie Sanders (I-Vt.) called for more sweeping action. "Congress needs to stop too-big-to-fail Wall Street banks from gambling with taxpayer money, which is what the Volcker Rule is intended to do," he told The Huffington Post. "It is time to break up these behemoth banks so that they cannot blow up the economy again. Enough is enough."
And Sen. Sherrod Brown (D-Ohio) had warned, "It's clear Wall Street banks and their allies in the House will use any tool at their disposal to roll back this important safeguard for taxpayers. One financial services lobbyist called Dodd-Frank's passage 'half-time.' The scheduled vote in the House ... shows how prophetic the Wall Street lobby was back in 2010 and that we can expect more of the same from industry."
Yet Republicans had good reason to expect significant Democratic support. As recently as September, 95 House Democrats had supported legislation to delay the Volcker Rule and redefine CLOs to allow banks to continue holding many types of risky assets. After HuffPost ran a story late Tuesday night indicating that another delaying bill was in the works, progressive Democrats including Warren, Pelosi and Ellison publicly assailed the measure.
The Volcker Rule was finalized by regulators in 2013. Last year, the Federal Reserve gave banks a reprieve on offloading their existing CLOs until 2017. Wednesday's bill would have pushed back that deadline until July 2019.
After the vote, the White House said that Obama would have vetoed the bill, had it passed.
"We are opposed to this legislation and pleased that it did not pass," White House spokeswoman Jennifer Friedmann said in a statement. "Had the bill been presented to the President for his signature, he would have vetoed it. The President has been clear about his opposition to legislation that would weaken key consumer protections and provisions of the Dodd-Frank Wall Street Reform Act."
In a statement provided to HuffPost, former Federal Reserve Chairman Paul Volcker mocked proponents of further delays in the rule that bears his name.
"It is striking that the world's leading investment bankers, noted for their cleverness and agility in advising clients on how to restructure companies and even industries however complicated, apparently can't manage the orderly reorganization of their own activities in more than five years," Volcker said.
This story has been updated with comments from Sens. Bernie Sanders and Sherrod Brown.
Before You Go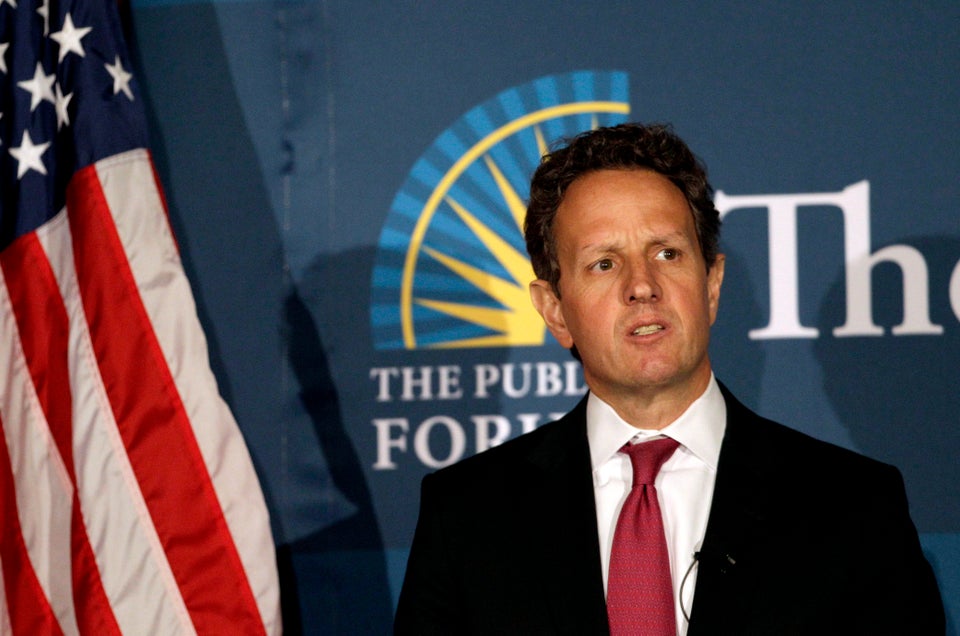 Political Figures Who Moved On To Wall Street
Popular in the Community