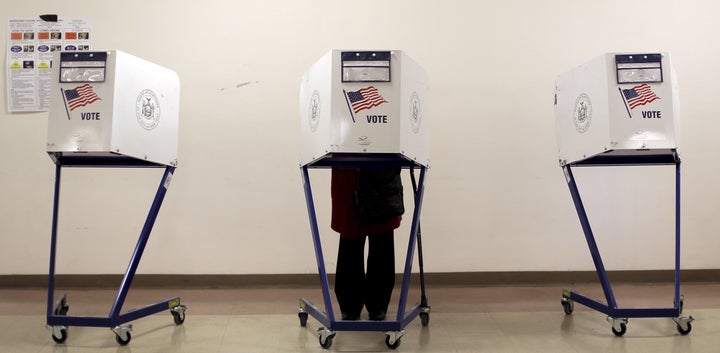 This presidential election year is the first without the full protections of the federal Voting Rights Act (VRA). In 2013, the Supreme Court issued a controversial 5-4 decision that struck down the VRA's most powerful provision, Section 5, which required states with a history of discriminatory voting procedures to run any changes to their election laws by the Department of Justice or get approval in federal court before they could take effect.
States like Texas and North Carolina that had previously been covered under Section 5 immediately passed new restrictions on voting, including strict voter identification laws, cutbacks to early voting and the elimination of same-day registration. For 17 states, this presidential election will be the first in which new voting restrictions are in effect, according to the Brennan Center for Justice.
Republicans say the flood of new laws restricting voting access is meant to prevent voter fraud and to cut costs. (They sometimes slip up and say such laws will help them win elections.) Democrats counter those claims by pointing out that voter fraud is exceedingly rare and that such laws make it more difficult for racial and language minorities, low-income people, seniors, students, people with disabilities and other Democratic-leaning constituencies to register and vote.
"We do use this as an opportunity to contrast our values, and our initiatives, and their values, and their tactics, of using election laws to make voting more difficult, said Pratt Wiley, the DNC's national director of voter expansion. "We want to make sure that voters understand that even though there are new obstacles put in place, that Democrats are working legislatively, through legal channels as well as through our campaigns, to ensure that voters are equipped with the tools they need in order to successfully cast a ballot."
On Tuesday, Democratic members of Congress launched a new Voting Rights Caucus to push for a restoration of the Voting Rights Act and to fight back against restrictive voting laws. No Republicans have joined. (Democrats and a handful of Republicans have tried to get Congress' GOP leadership to back efforts to get some states under federal pre-clearance, to no avail.)
Despite these stepped-up engagement efforts, a new HuffPost/YouGov poll reveals that a significant chunk of U.S. adults don't have fully formed opinions about which party is more committed to protecting the right to vote. Thirty-eight percent of respondents said they trust Democrats more on voting rights, 32 percent said they trust Republicans more and 30 percent said they were not sure.
Another poll question asked about cutbacks to early voting, since Republicans in states with GOP-controlled legislatures like Ohio, North Carolina, Florida, Georgia, Nebraska and Wisconsin have limited or tried to limit early voting hours and days. Twenty-three percent of respondents said eliminating early voting days and shortening the hours when people can vote is done as a cost-saving measure -- the oft-stated justification -- while 33 percent of respondents said such moves mainly done as an attempt to limit voting by minorities and low-income voters. Thirty-two percent of respondents said they don't know enough to take a stance.
There were other poll results that show Democrats need to do more to counter GOP talking points. They need to explain that voter fraud isn't a reason to restrict access and that proof-of-citizenship requirements make it difficult for voters without birth certificates -- or certificates that don't match their name -- to cast a ballot. When asked which they consider more important -- preventing voter fraud or making sure no one who is eligible to vote is prevented from doing so -- 53 percent of respondents chose the former and 39 percent chose the latter. And 68 percent said eligible voters should have to show proof of citizenship to vote, compared to 22 percent of respondents who said they should not.
Just 3 percent of respondents said voting rights was one of their top two issues that is most important to them when choosing whom to vote for, illustrating that Democrats haven't yet made voting rights a voting issue.
Trump, for his part, gave an unintelligible answer earlier this month to a question about whether he'd like to see laws changed to make voting easier. He said "you have places where people just walk in and vote," which apparently is a problem, and that there's a national epidemic of non-citizens voting. (There isn't.)
Ariel Edwards-Levy contributed reporting. 
The HuffPost/YouGov poll consisted of 1,000 completed interviews conducted May 20 - May 23 among U.S. adults using a sample selected from YouGov's opt-in online panel to match the demographics and other characteristics of the adult U.S. population.
The Huffington Post has teamed up with YouGov to conduct daily opinion polls. You can learn more about this project and take part in YouGov's nationally representative opinion polling. Data from all HuffPost/YouGov polls can be found here. More details on the polls' methodology are available here.
Most surveys report a margin of error that represents some, but not all, potential survey errors. YouGov's reports include a model-based margin of error, which rests on a specific set of statistical assumptions about the selected sample, rather than the standard methodology for random probability sampling. If these assumptions are wrong, the model-based margin of error may also be inaccurate. Click here for a more detailed explanation of the model-based margin of error.
Calling all HuffPost superfans!
Sign up for membership to become a founding member and help shape HuffPost's next chapter
BEFORE YOU GO
PHOTO GALLERY
Donald Trump's Potential Supreme Court Justices