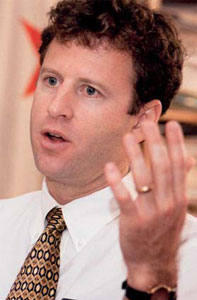 The top three Democratic White House hopefuls have faced withering criticism for refusing to commit to withdrawing U.S. forces from Iraq by 2013, the end of the next presidential term. But at least one prominent war proponent is commending Hillary Clinton, Barack Obama, and John Edwards for their newfound "flexibility."
Michael O'Hanlon, a senior fellow in foreign policy at the Brookings Institution and ubiquitous voice on Iraq war policy, spoke favorably of the Democratic frontrunners' recent statements on Iraq. In an interview with the Huffington Post, he touted the top-tier candidates for waiting to see the complete fallout of the President Bush's troop surge and for not committing to a war policy more than a year in advance.
"There is still fifteen months before [Clinton, Obama or Edwards] will be President. It's just factual that they cannot predict exactly what they are going to do in Iraq," O'Hanlon said. "I think the Democratic position allows all three of the top people to move in the Republican direction if things move around in the next twelve months... Clearly they aren't likely to do that unless things get dramatically better."
O'Hanlon -- whose New York Times op-ed with colleague Ken Pollack, entitled "A War We Might Just Win," was promoted enthusiastically by supporters of Bush's strategy -- acknowledged that his own views on Iraq fall well to the "right" of the Democratic field. But he praised the presidential frontrunners for resisting a firm pledge on Iraq withdraw, something consistently favored by the majority of Americans in public opinion polls.
"The only thing that would have concerned me would have been a repeat of 2003, where the populist's message of 'get out now' would overtake the Democratic Party... And low and behold we get to the election and Iraq is looking better and low and behold the Democrats lose the election," said O'Hanlon, who has given modestly in the 2008 cycle - two $200 contributions earlier this year to Senator Hillary Clinton.
O'Hanlon is a frequent target of war critics, who assail him for consistently advocating an aggressive U.S. policy in Iraq even after his previous predictions of success have proven false.
"Number one, before campaigns start taking the advice of Mr. O'Hanlon they should take a look at his track record on this issue," said former Rep. Tom Andrews, National Director of the Win Without War coalition. "Number two, most of us were very surprised that not a single one of the leading three Democratic candidates was able to give an emphatic and direct answer to that question. If you don't think you are going to have troops out by the end of your first term in office, then you have a fundamentally different idea of what is going on in Iraq and what is required to solve this catastrophe."
Despite generally agreeing that troops will remain in Iraq for the next six years, there are slight differences in the policies of the three Democratic frontrunners; although Andrews acknowledged that the differences are "murky." Obama has emphasized keeping troops in the region for diplomatic, humanitarian, and counterterrorism purposes. Clinton has talked about leaving combat troops in Iraq with the goal of fighting terrorism. Edwards, meanwhile, has stressed an immediate draw down of 40,000 to 50,000 troops, with a continual draw down soon thereafter.
"If you try to take the gist of the Democratic Party conglomeration, the message is, if things don't get a lot better we are going to limit our goals. We won't be doing as much patrolling, we are not going to be as willing to take casualties or bolster a political order," summarized O'Hanlon. "Whereas the Republican plan, if you were to aggregate it, would be that we continue downward on the Gen. Petraeus path, even beyond the plans he has for next summer."
Popular in the Community