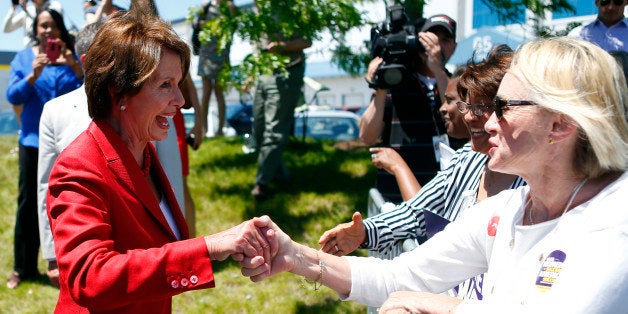 On the first night of their five-day bus tour from New England to the Midwest, a group of more than a dozen Democratic congresswomen started laughing so hard they were gasping for air.
Rep. Lois Frankel (D-Fla.,), speaking on a conference call with the tour's staffers and volunteers Sunday night, was trying to say that Rep. Rosa Delauro (D-Conn.) had conceived of the idea for the bus tour and planned it. But she ended up saying, "Rosa gave birth to this bus," and her colleagues lost it.
"The leader, she was egging me on," Frankel said on the bus the next morning, referring to House Minority Leader Nancy Pelosi (D-Calif.). "I mean, the image of Rosa giving birth to a bus! The leader cracked up, so I cracked up. And then I was trying to say who was on the bus, and I couldn't get one of the names right, and every time I tried it got worse."
"I've been on a trip with the leader before," Rep. Doris Matsui (D-Calif.) chimed in, "and I knew that once she started laughing, I just had to look away."
The camaraderie among the congresswomen was evident as they barreled through Massachusetts on a bus with a giant slogan splashed on the side: "When Women Succeed, America Succeeds." At each stop of the tour, which started in Seneca Falls, N.Y., and ended in Chicago on Wednesday, the lawmakers would pile out of the bus and talk to a gathering of mostly women voters about what's at stake in the November midterm elections, including Democrat-sponsored proposals like equal pay legislation, paid family and medical leave, expanding affordable childcare for working parents and raising the minimum wage.
"We're 17 votes away from women getting whatever they want," Pelosi told the crowd at a Middlesex Community College in Lowell, Massachusetts, Monday morning. Seventeen is the number of seats Democrats need to gain in order to take control of the House.
It's unlikely to happen. But the idea of the tour was to energize a base of voters -- particularly working moms and unmarried women -- that leans heavily Democratic, but also tends to sit out non-presidential elections. The Democratic Congressional Campaign Committee predicts that 20 percent more unmarried women will stay home this cycle than they did in 2012.
Rep. John Tierney (D-Mass.), the only congressman on the bus, is particularly vulnerable this November and is one of the members who could benefit the most from women turning out to vote. He is being challenged by Republican Richard Tisei, who he very narrowly defeated in 2012. Though Tierney was outnumbered on the bus, he did his best to fit in. "Guess who was the first member [of Congress] to start a daycare at their college?" he asked DeLauro over sandwiches.
"I did," he said. As student body president of Salem State University, Tierney said, he and two women set up a childcare facility for students who were working parents. "We got the faculty to pitch in, and we bought a house and fixed it up and got the whole thing started."
Both on and off the bus, the lawmakers talked about their commitment to making life easier for working moms. They also met with local women after the rallies and discussed their financial struggles.
Reps. Jan Schakowsky (D-Ill.) and Donna Edwards (D-Md.) huddled around Tiffany Payne, a mother of three young children who lives in a shelter in Lowell because she cannot afford childcare and housing with a part-time, minimum-wage job. "There are so many other women in the shelter that don't speak out like I can, because they're afraid to mention that they're homeless," she said.
"You have empowered your message, we have heard it," Edwards told Payne. "Now you're going to make us even more strident in fighting on the House floor. We're gonna raise your name up and say, 'This doesn't make any sense. We cannot function this way.'"
Carly Moskowitz McClain, a working mother who attends law school at night, told the members of Congress that she spends more on daycare for her children than she spends on food and housing. When her one-year-old son was enrolled in the cheapest local daycare program, he came home with welts on his behind from being spanked. "If you feel like your children aren't safe, you can't work," she said. "You can't even breathe."
Back on the bus, the lawmakers expressed their frustration at being the minority party in the House, powerless to pass legislation that they believe could lift these women out of poverty. "I'm getting angry," Frankel said. "It's wrong. The men are coming out to vote, they're having their say. But it's the women who aren't."
"They're balancing kids and working, and it's not a priority in their life," Matsui said. "Some of them are single mothers, and it's really sad, because they're the ones who are the most affected by the issues we're talking about, and if they came out we could really get these things done."
Republicans in Congress generally oppose the Democrats' economic agenda because they believe it's not the federal government's role to mandate higher wages, equal pay for women and paid sick leave, and they argue that such policies will cause employers to lay people off.
"Paid sick leave mandates sound like a good idea," Sen. Lamar Alexander (R-Tenn.), the top Republican on the Senate Committee on Health, Education, Labor and Pensions, said at a hearing last month. "But every time we impose new mandates, we sometimes destroy jobs."
But DeLauro said she feels like employers need to adopt these policies in order to retain their employees. When she was a Hill staffer working as chief of staff for then-Sen. Chris Dodd (D-Conn.), she was diagnosed with ovarian cancer. She said she broke the news to him the day before he announced his re-election campaign -- the worst possible time for him to lose his top staffer. But he told her to take as much paid time off as she needed. "He said, 'Rosa, you go get well,'" she said. "'Your job will be here waiting for you.'"
DeLauro has been fighting for Congress to pass the FAMILY Act, which would guarantee workers two-thirds of their income for up to 12 weeks of paid family or sick leave per year, so that every worker can have the type of safety net that she had. It's good policy, the Democrats argue, and also good politics, because workers, particularly women, agree that paid leave would help them balance work and family.
Only about a quarter of Democratic members of the House are women, but Frankel said she feels as if they dominate the caucus. "Most people in Congress have very strong egos, but we women are used to having to work harder than men to make our voices heard, so we feel no shame being the minority party and having to stand up for our rights," she said. "I don't think women dominate [the Republican] caucus at all."
"We look out for each other," DeLauro of her female colleagues, "in an environment where not everybody does that."
The lawmakers hoped to show voters the importance of electing more women to Congress. "If women aren't at the table, we're on the menu," Rep. Niki Tsongas (D-Mass.) said at the Lowell rally. "And we don't taste very good."
Tsongas read from a New York Times article about the Commonwealth's dismal record of electing women. "Since Puritans settled there in the early 17th century, more Massachusetts women have been hanged in the Salem witch trials (14) than have been elected to the House of Representatives, the Senate, or the governor's mansion," she said.
Back on the bus, Tierney fact-checked the article's account of history. "Only one of them was hanged," said Tierney, who represents Salem. "Most of them were stoned or drowned."
While Democrats face an uphill battle this November, at least a few women at the rallies said they were inspired by the lawmakers' effort to reach women of all income levels.
"When the women pull in and then they get off the bus and you realize all those women are making decisions in Congress for us, it just really gives you that energy you need to go out and ... make this country have more women to go to Congress," Sandy Wilson, 70, said after the event in Lowell.
Khedra Hollis, a 27-year-old non-profit worker, said hearing lawmakers talk about the gender pay gap was what resonated most with her.
"I mean, how can we survive and thrive if we don't make the same amount of money as a man makes?" Hollis said after the rally in Boston. "I knew all along that it was happening, and I've struggled my entire life."
Hollis and Wilson both said they were planning to vote in the midterms.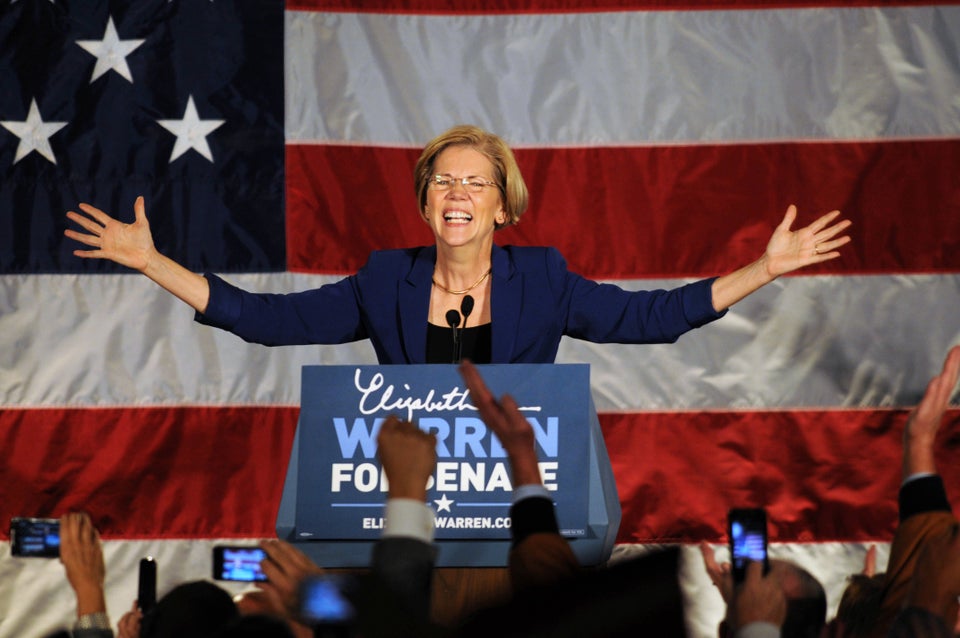 Women In The U.S. Senate
Popular in the Community