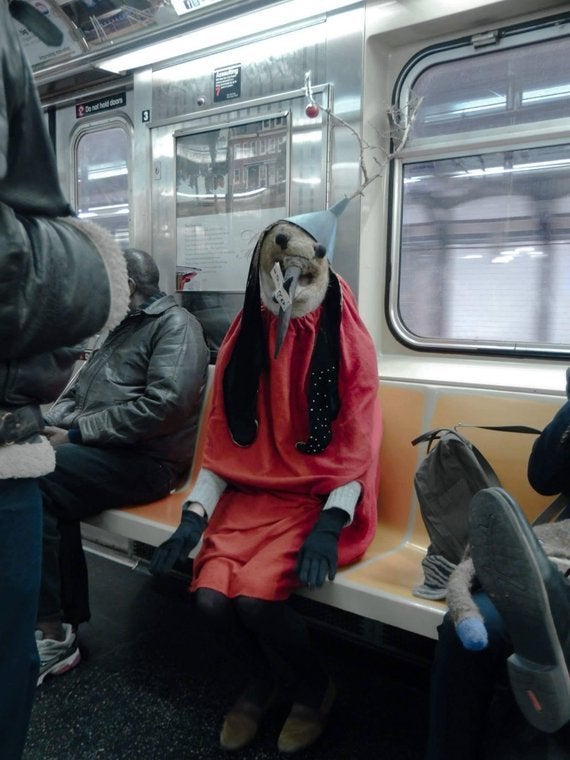 The New York City subway is a nightmare, especially if you're stuck sitting next to a guy with bad B.O. ― or a woman-sized demon-bird with long ears as dark as night, wearing a pointy tin hat with twigs sprouting from the top. In her beak, she holds a message written in a hieroglyphic code few can understand. Only in NYC!
Earlier this week, artist Alexis Moore tweeted a photo of the foul fowl described above while waiting on the platform for the Brooklyn-bound 3 train as an oblivious couple made out alongside them. The internet responded with collective fascination and horror: Who is she?
The haunting creature, for the art history-uninformed, was originally part of Early Netherlandish painter Hieronymus Bosch's 16th-century oil painting "The Triptych of Temptation of St. Anthony."
The triptych depicts the cruel and highly unusual torture suffered by Saint Anthony the Great ― also known as Anthony Abbott ― a Christian monk who absconded to the Egyptian desert around A.D. 300. This torment involved the aforementioned demon-bird, donning a red cape and skates on her feet.
We have artist Rae Swon to thank for bringing this feathery foe to life. The 29-year-old says she grew up in the "woods and fields of Iowa, on the outskirts of the little town of Fairfield which is the hub of the Transcendental Meditation movement," and today lives in Brooklyn.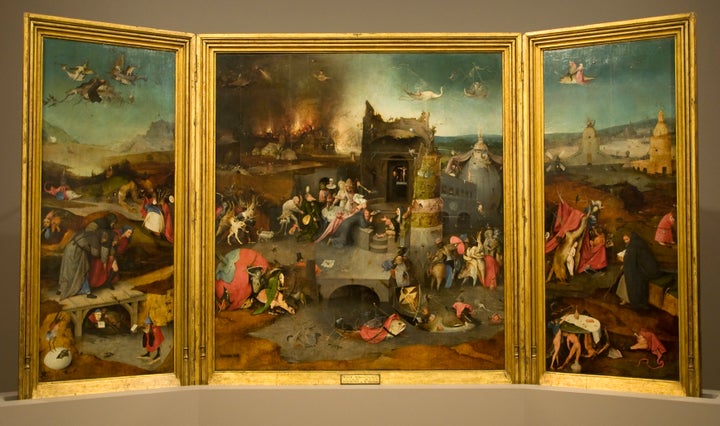 By day, Swon works as an artist at a glass gilding studio in Chelsea that makes glass doors, windows, tables, ceilings and wall panels. By night, she becomes a creator of otherworldly art objects, including costumes, needle-felted animals and prints, which she sells on Etsy.
The demon-bird ― which is sadly sold out ― is but one of the twisted creatures she's brought to life.
Because Swon is "rather shy, having grown up interacting with more plants and animals than people," we conversed via email.
You are clearly a big fan of Hieronymus Bosch's "Triptych of Temptation of St. Anthony." What moves you about the painting?
I love that while St. Anthony is the subject of all three panels, he is small and blends into this wider world full of other happenings. The other beings in the painting demand your attention in equal measure, and their life stories seem as interesting as St. Anthony's. To me, it shows a non-hierarchical way of viewing the world, though perhaps Bosch didn't intend it as such.
It's a niche choice in comparison to Bosch's classic "The Garden of Earthly Delights." Do you think people are obsessed with the wrong triptych?
The paintings in question are both extraordinary and exist in the same wild Boschian universe. It is important, though, to examine that which is unfamiliar, seeking out all that is yet unknown to you in both art and life.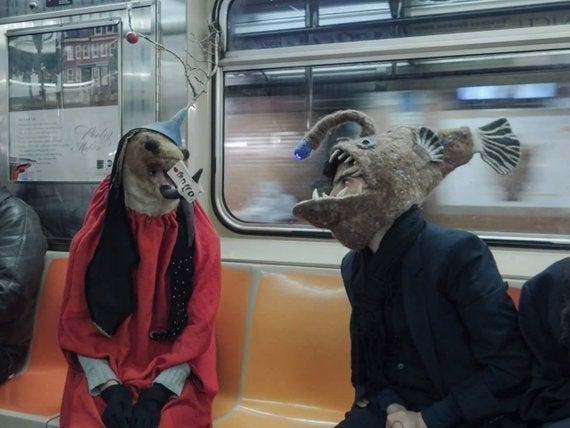 "St. Anthony" has plenty of fun, nightmarish creatures within it. How'd you decide to fabricate this one in particular? And, on that note, what exactly is it?
This is a beautiful demon-bird straight from Bosch's imagination. I wish I could ask Bosch about numerous elements of him and what, if any, symbolic significance they hold. I fell for this creature in particular because of that funnel hat! As a milliner, I always notice hats, and this one brings me great joy.
What kind of noise do you imagine this bird makes?
He cannot make a noise, as he has an important letter in his beak. When he finally rids himself of it, he will whistle in relief.
Walk me through the process of creating this death bird.
The head and eyes of the creature I needle-felted out of alpaca wool. Needle felting is a labor-intensive process of stabbing loose fiber repeatedly with a barbed needle until it mats together into stiff felt. The beak was hand-sewn and stuffed. I made his red cloak from a blanket, creating openings for the wearer's hands and hand-sewing it onto the mask. The long ears were sewn from velvet and given gold painted details. The funnel I hand-painted as well, to match the one in the painting.
Currently, they're all sold out on Etsy. How many did you make? Were you surprised at their success?
I don't mass-produce objects; this Bosch creature is all alone in the world. If someone else really wants one like it, I would consider doing a re-creation, but I'd prefer a commission of another Bosch creature or something entirely different. Making one-of-a-kind pieces is more interesting and challenging.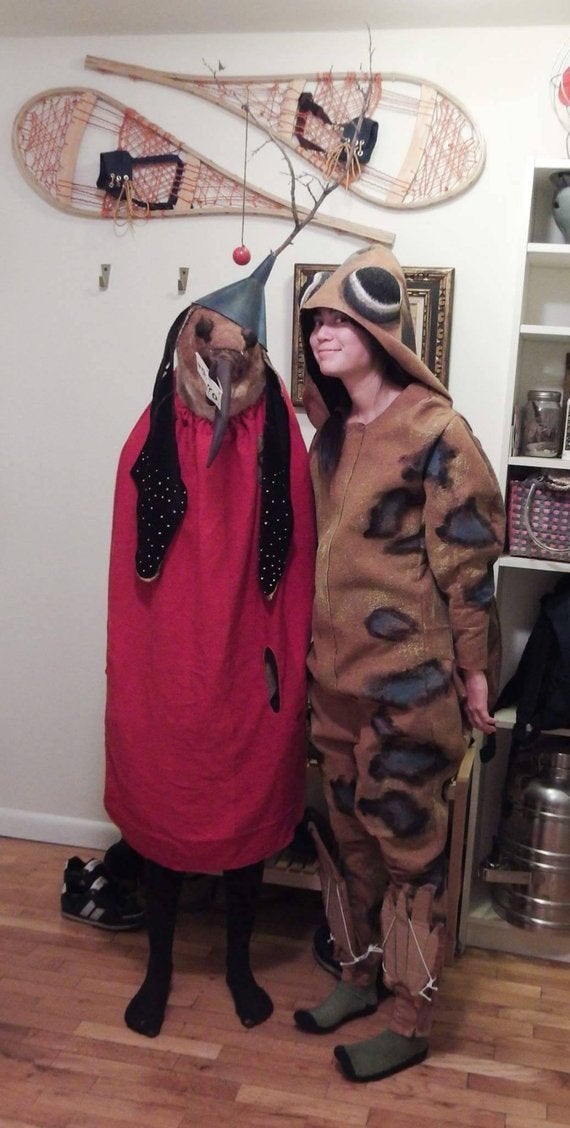 Which art history-informed creature are you going to create next?
I don't know if you would call it an art-creature, but I'm currently working on a larger-than-life needle-felted head of the beautiful stream-of-consciousness Brazilian author Clarice Lispector, with eyes made from gilded glass orbs.
Would you ever consider organizing a Halloween party exclusively for people who own this bird mask?
Since there is only one of these costumes in the world, it would be a very lonely party. I would love to host a party where everyone makes their own Bosch-inspired outfits, though!
Is 2018 more or less of a hellscape than the one in Bosch's painting, would you say?
This is an important question to consider. I think, for most of us, life is much better than it was, both in the year 1501, when this piece was painted, and during the time of St. Anthony's life three centuries before. A lot of human suffering in the United States comes from fear of the future and a crushing empathy for others.
But there are others here whose life is a continuous, physical suffering that surpasses Bosch's hellscapes. I am here referring to the animals confined in factory farms. I don't believe that life is suffering unless the greed of others makes it so.
Interview has been edited for style and clarity.
Popular in the Community