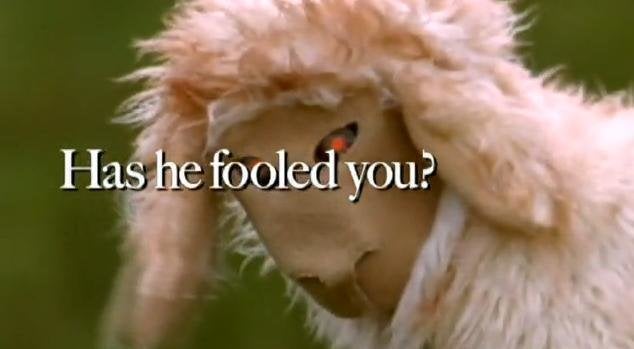 In this THREE-AND-A-HALF MINUTE LONG video, the Fiorina campaign goes after former California Congressman Tom Campbell, who leads the Republican field in the primary race to unseat incumbent Senator Barbara Boxer. The Fiorina campaign's main point is that Campbell is a "Fiscal Conservative In Name Only." It's a fairly standard issue claim -- or at least it would be, if the video that presented the argument didn't play like Terry Gilliam and Ingmar Bergman collaborated on a campaign-year sequel to "The Wicker Man".
The epic ad begins with a voice-over narrator intoning, "Purity...piety..." against the backdrop of galloping sheep. Then, Monty Python animation kicks in, elevating one sheep on a giant column into the ionosphere. Then: THUNDER! LIGHTNING! Darkening skies! A new voice-over narrator -- the cheapest Morgan Freeman imitator money could buy -- starts impugning Campbell, amid jump cuts of Campbell and sheep and pigs and graphs and quotes, while Satan's opera company chants dark recitatives in the background.
"And sadly, we're just getting started..." Cheap Morgan Freeman says. And sadly, THEY ARE! JUST! GETTING STARTED! More accusations and quotes and scary question marks, until it achieves its apotheosis: DEMON-EYED SHEEP!
By the way: this whole metaphor of Campbell pretending to be a heroic cutter of budgets and limiter of government DOES NOT REALLY WORK when you refer to him as a "wolf in sheep's clothing." Surely, the brave fiscal conservatives are the more vulpine breed! Ideally, the Fiorina campaign would want to contend that Campbell is a SHEEP in WOLVES' clothing. Right? Take off his disguise and he's just another member of the herd? I guess it's hard to work in the DEMON-EYED SHEEP image, in that case.
Also, when the ad gets around to mentioning that Fiorina is the better choice, maybe its makers should have killed the Satan Opera for a more optimistic piece of music?
Fiorina campaign: you should totally call me for ideas!
And OMFG, the poor guy who had to crawl around on all fours in a field wearing a sheep's pelt to make this ad! I have the most pity for that individual. I also have pity for California State Assemblyman Chuck DeVore, the twittering loser who is also running in this primary race that no one takes seriously, and who probably has a sad that he's not earned his own attack ad like this.
That said, this advertisement is just beyond belief. I dare anyone to top this.
[Would you like to follow me on Twitter? Because why not? Also, please send tips to tv@huffingtonpost.com -- learn more about our media monitoring project here.]

Related
Popular in the Community