Demonstrators toppled a Confederate monument at a courthouse in Durham, North Carolina, on Monday night.
During a public protest, a woman climbed the statue and tied a rope around it about 7 p.m. local time, according to Derrick Lewis, a reporter at the CBS affiliate in Durham. The crowd then pulled the rope and the statue fell.
That woman, identified as Takiya Thompson, was arrested Tuesday in connection with taking down the statue.
"No Trump, no KKK, no fascist USA!" the protesters were heard chanting as the statue was pulled down to the ground. Some demonstrators then kicked or punched the fallen statue.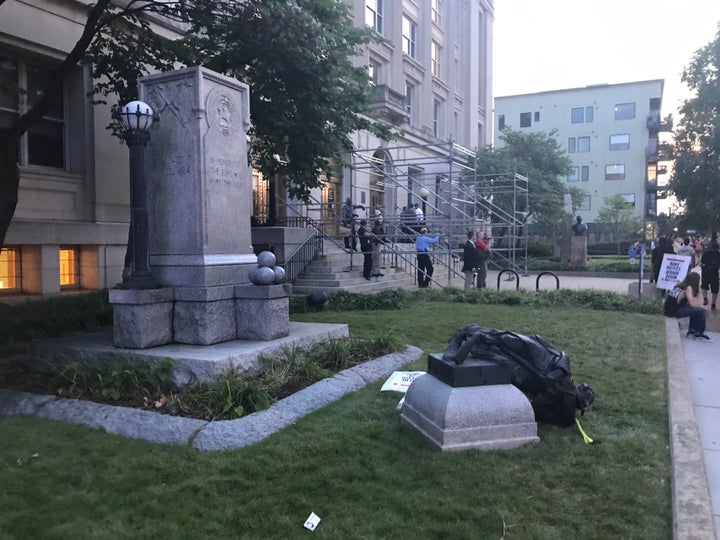 The monument stood in front of the Old Durham County Courthouse for decades, having been dedicated in 1924, according to a website maintained by the University of North Carolina at Chapel Hill that documents Southern history.
The monument, about 15 feet in height, depicts an armed and uniformed soldier. "In memory of the boys who wore the gray," reads the inscription on its granite base, which also bears the Confederate seal.
"I'm tired of white supremacy keeping its foot on my neck and the necks of people who look like me," Thompson said at a news conference before her arrest, according to WRAL. "That statue glorifies the conditions that oppressed people live in, and it had to go."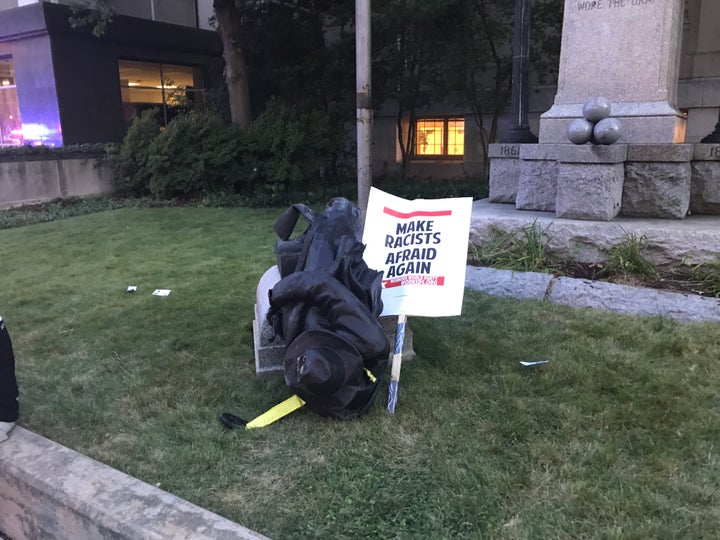 "It's an awesome day. I've walked by this statue for the last six years ― I knew someone was going to topple it," said Josh Reynolds of Durham, who dropped by with his 4-year-old daughter, Ida, after hearing about what had happened.
Democratic Gov. Roy Cooper responded to the incident Monday night, tweeting that even though the Charlottesville, Virginia, tragedy is "unacceptable," there's a "better way to remove these monuments."
Durham County issued a statement late Monday:
"Our elected officials and senior staff understand the unrest in our nation and community, particularly following the senseless acts that took place in Charlottesville, VA. We share the sentiments of many communities around the nation that admonish hate and acts of violence as we believe civility is necessary in our every action and response. Governmental agencies dedicated to public safety will continue to work collectively to ensure Durham remains a community of excellence where all of our residents can live peacefully, grow and thrive."
Durham County Sheriff Mike Andrews said Tuesday that his office would seek charges against the individuals who'd toppled the statue.
"As the Sheriff, I am not blind to the offensive conduct of some demonstrators nor will I ignore their criminal conduct," Andrews said in a statement. "With the help of video captured at the scene, my investigators are working to identify those responsible for the removal and vandalism of the statue."
"No one is getting away with what happened," he added. "We will find the people responsible."
The sheriff said he will pursue felony charges against Thompson and others involved in the toppling.
There are more than 700 Confederate monuments installed in public areas across 31 states, USA Today notes. They can be found in public parks, courthouses and capitols, among other locations. But those that remain have become increasingly controversial and are condemned by many as racist symbols.
A Confederate monument was at the center of weekend protests that turned deadly in Charlottesville. White supremacists descended on the Virginia city over the weekend to protest the city's removal of a statue of Confederate Gen. Robert E. Lee. The protest exploded into violence and death on Saturday when a car plowed into a crowd of counter-protesters, killing one and injuring at least 19 others. A 20-year-old white supremacist, James Alex Fields Jr., has been charged with second-degree murder in the incident.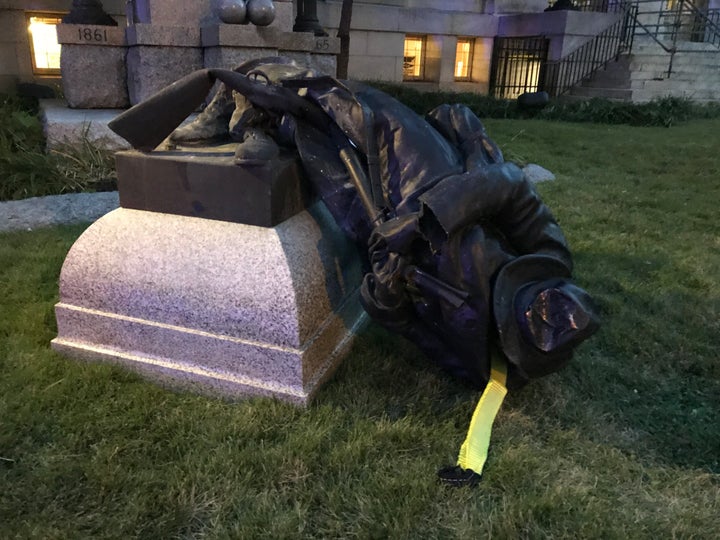 Acts of protest sprung up in other cities across the country Monday night. Hundreds gathered for "no hate" rallies in Minneapolis and Washington, D.C., where protesters could be heard chanting, "This is what democracy looks like."
Outside Trump Tower in New York, thousands of protesters displayed their scorn for the president with slogans like "No Trump, no KKK" and "New York hates you."
Yet in Boston, a 17-year-old allegedly threw a rock through one of the New England Holocaust Memorial's glass windows. It's the second time this summer that the monument has been vandalized.
Kate Sheppard and Willa Frej contributed reporting. The article has been updated to include Thompson's arrest and comments from Durham County and Mike Andrews.
Before You Go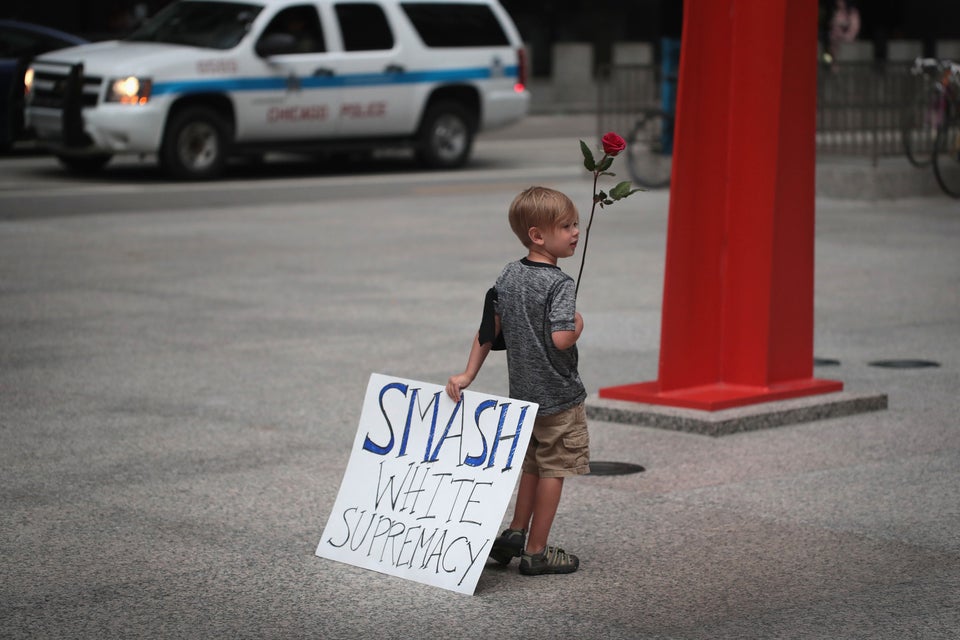 Powerful Signs From Charlottesville Protests Across The U.S.
Popular in the Community