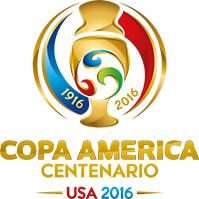 The Public House, Vermont Avenue, LA, 90027: I could not believe what I was seeing and hearing. Over 300, up to 400, cheering, jubilant American Outlaw soccer fans, complete with a drummer, counting down the last seconds of a Copa America Centenario 2016 quarterfinal game. Not quite fully understanding that by beating Ecuador, the USMNT, led by talismanic goal-scorer Clint Dempsey, was advancing to the Copa's semifinal and on course for a titanic battle in Houston against one of the true giants of international soccer -- #1 ranked Argentina and its own mercurial genius and possibly the sport's best player, Lionel Messi.
That's right, WTF? Clint Dempsey vs Lionel Messi on June 21? That's what they say. Maybe not quite the same cachet as some of the Euro 2016 offerings --Iniesta vs Modric, Bale vs Kane, Muller vs Lewandowski, or Ronaldo vs (himself).
But it's what the Copa America Centenario has served up right here on our American shores -- Dempsey vs Messi and USA vs Argentina.
The only other USA appearance in the Copa semifinals was in 1995, when it advanced to the final four by beating Mexico but then was eliminated by Brazil. Inspirational leader Dempsey, whose 52nd international goal (and assist) against Ecuador is only five behind Landon Donovan's American record, says, "I have been blessed to be able to step up in big games for my country. Hopefully I can keep doing that."
While coach Jurgen Klinsmann, who's always been his team's #1 cheerleader, enthuses, "This is a huge statement to teams in South America or whoever watched on TV. Our team has fantastic spirit and character." With the NBA finals finishing on the weekend, the USA has a perfectly timed opportunity to steal the American sports spotlight for a few days.
As for Argentina, the team is looking to hoist its first major senior international trophy in 23 years. And while Messi might've been rested for the early games, he set up two goals and tied Argentina's all-time scoring record as La Albiceleste cruised to a 4-1 win against Venezuela. He'll be leading a powerhouse lineup that also includes Gonzalo Higuain and Tottenham's Erik Lamela, who've both scored two goals so far.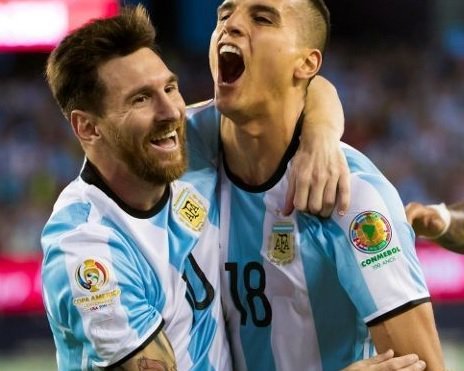 Albicelestes' Messi and one protege, Lamela - Fox Sports
In the other semifinal on June 22, it's Chile's awesome Eduardo Vargas (4 goals against El Tri in LaRoja's QF 7-0 tonking) against Colombia and its own goal king James. The semifinal winners square off in MetLife stadium, June 26, for the Cup of the Americas.
The cynics are downplaying it but this tilt against the "Albicelestes" may be the biggest game in USA soccer -- Soccer America says the team will be playing in "one of the most-hyped games in the program's history."
Okay, it's not quite a full-tilt boogie in the World Cup, but a competitive step up from the North American regional Gold Cup battles. I checked with USA soccer pals in New York and San Francisco, and with the American Outlaws -- this is HUGE! And, thanks to Fox Sports for bringing it!
It's all good. No one's expecting the USA to beat Argentina, and a third place game will offer some consolation. But upsets do happen, maybe not on June 21, but then again, why not? The American Outlaws will be passionately out in full force at the game and in bars across the country hoping for the shock of all shocks.

One thing more. I've got a little issue with the American Outlaws songs and chants. At best, they're hokey -- "Ole, Ole, Ole" and "USA, USA!" At worst, they lack cleverness -- "Argentina sucks!" Hello!
So this is an open blog letter to The American Outlaws, we love your passion and Dempsey rocks big time, but time to anti up the chants. Here's a take on one we Tottenham fans sing about Mousa Dembele: "My name is Clint Dempsey, I'm better than Messi, I come from a town in Texas. When I walk down the street all the girls that I meet say, 'Hey gorgeous what's your name?''
And if you want to get really saucy in a bar, how about this twist on a song we sing about our much hated rivals, the Gooners/Arsenal: "When I was just a little boy, my mother gave me a little toy. An Arsenal fan on a string, she told me to kick his f**kin' head in, his f**kin' head in..." So, just switch out Arsenal for any opposing team.
Or, as halftime and the end of the game approaches, sing: "Blow the f**kin' whistle! Blow the f**kin' whistle!"
Hey, they're just words, but so much more fun than chanting that dreary, "USA we are here, whoa whoa..." or, "We love ya, we love ya, we love ya/Where you go we'll follow..."
Come on, we're all adults here, we hear worse on Game of Thrones, or in that blockbuster hit, Deadpool! Loosen up, American Outlaws and bring the hot sauce and give it to Argentina! Nudge, nudge...
Calling all HuffPost superfans!
Sign up for membership to become a founding member and help shape HuffPost's next chapter